This post may contain affiliate links.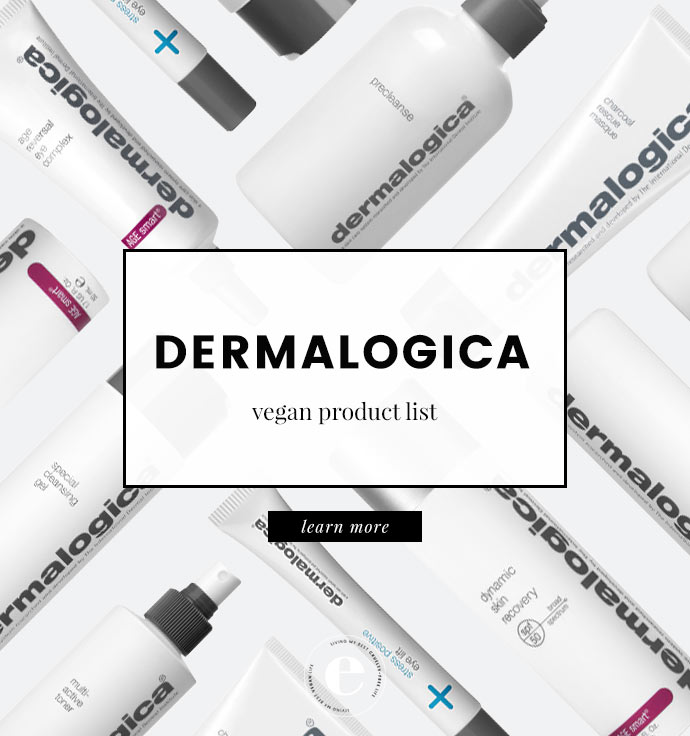 Is Dermalogica Vegan?
Answer: Not all of Dermalogica products are considered vegan as they do use beeswax, honey, silk amino acid, and pearl derivatives in some of their products. But most of Dermalogica products are considered vegan and don't contain any animal-derived ingredients.
Please note, Dermalogica is owned by Unilever, a coporation that still tests on animals. Decide for yourself if you wish to support or boycott cruelty-free brands owned by a parent company that is not cruelty-free. For more information about this, read more here.
Dermalogica Vegan Product List (2018)
Dermalogica vegan products are clearly labelled on their website, under each product description. But if you're out shopping in stores and want an easy reference to know which of Dermalogica products are vegan, use the list below.
Vegan Cleansers – Dermalogica
clean bar
clearing skin wash
dermal clay cleanser
precleanse
precleanse balm
skin resurfacing cleanser
special cleansing gel
ultracalming cleanser
Vegan Exfoliants – Dermalogica
daily microfoliant
daily resurfacer
daily superfoliant
gentle cream exfoliant
multivitamin thermafoliant
Vegan Moisturizers – Dermalogica
barrier repair
calm water gel
dynamic skin recovery spf50
intensive moisture balance
oil control lotion
power rich
pure light
pure night
sound sleep cocoon
super rich repair
Vegan Masks – Dermalogica
blackhead clearing fizz mask
charcoal rescue masque
multivitamin power recovery masque
sebum clearing masque
skin hydrating masque
skin refining masque
stress positive eye lift
Vegan Eye Treatments – Dermalogica
age reversal eye complex
intensive eye repair
multivitamin power firm
stress positive eye lift
total eye care with spf15
ultrasmoothing eye serum
Vegan Toners – Dermalogica
antioxidant hydramist
multi-active toner
ultracalming mist
Vegan Concentrated Boosters – Dermalogica
barrier defense booster
breakout clearing booster
extra firming booster
skin hydrating booster
skin renewal booster
Vegan Targeted Treatments – Dermalogica
biolumin-c serum
blackhead clearing fizz mask
C-12 pure bright serum
clearing mattifier
hydrablur primer
MAP-15 regenerator
multivitamin hand and nail treatment
nightly lip treatment
overnight clearing gel
overnight repair serum
overnight retinol repair
phyto replenish oil
rapid reveal peel
renewal lip complex
sound sleep cocoon
ultracalming serum concentrate
Vegan Primers & Tints – Dermalogica
hydrablur primer
ultra sensitive tint spf30
Vegan Shaving – Dermalogica
clean bar
close shave oil
daily clean scrub
invigorating shave gel
pre-shave guard
soothing shave cream
Vegan Body Therpy – Dermalogica
body hydrating cream
conditioning body wash
This vegan product list is updated as frequently as possible, please be aware that formulations may have changed since the publication of this post. If you have new information to suggest one of the above products isn't vegan, please email me at info@ethicalelephant.com to let me know.
Not Vegan – Dermalogica
active moist (contains silk amino acids)
essential cleansing solution (contains beeswax)
daily defense spf15 (contains sodium DNA)
gentle soothing booster (contains honey)
multivitamin power serum (contains beeswax)
oil free matte (contains sodium DNA)
redness relief primer spf20 (contains pearl powder)
sheer tint (contains hydrolyzed pearl and silk amino acids)
skin perfect primer spf30 (contains hydrolyzed pearl and silk amino acids)
skin prep scrub (contains honey)
skin smoothing cream (contains silk amino acids)
solar defense booster spf50 (contains sodium DNA)
soothing eye make-up remover (contains silk amino acids)
super sensitive shield spf30 (contains sodium DNA)
---