This post may contain affiliate links that at no additional cost to you, I may earn a small commission.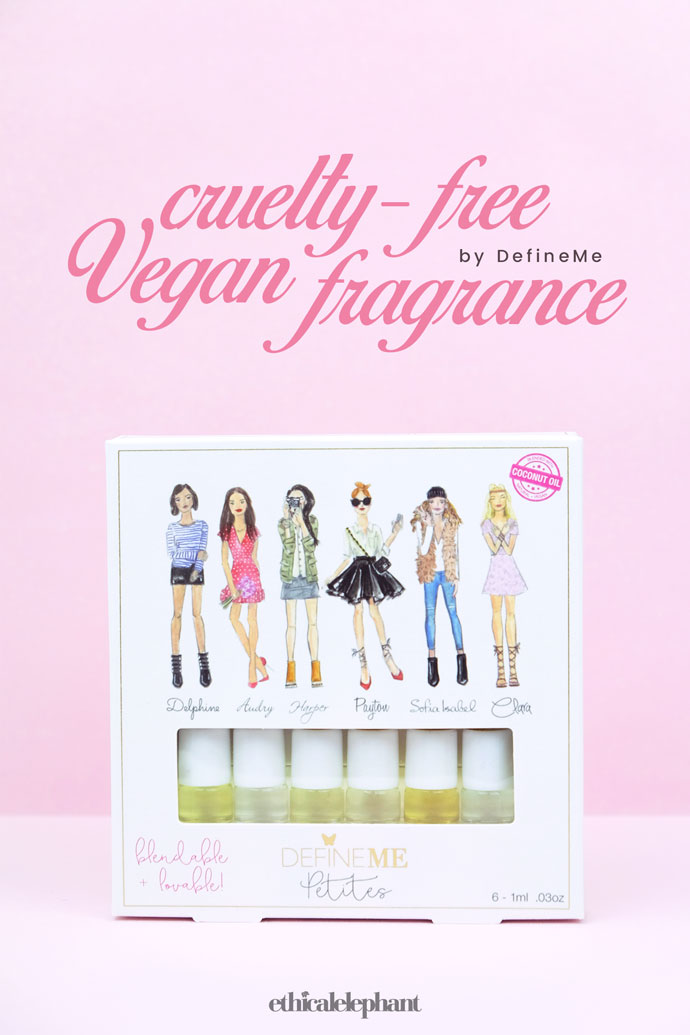 Shopping for a cruelty-free and vegan fragrance can sometimes be tricky because perfume makers are not legally required to label and include a list of all the ingredients contained in each bottle of perfume. That's because fragrances are considered "trade secrets" and the FDA can't force a company to share their trade secrets.
This makes it difficult for vegan consumers to know if there are some animal-derived ingredients lurking in fragrances.
What animal ingredients can possibly be found in perfumes and fragrances? Below are some ingredients used as a fixative in perfumes that could have been sourced from an animal:
Ambergris – from whale intestines
Castor – from muskrat and beaver genitals
Civet – from the glands of civet cats
Musk (Oil) – from musk deer, beaver, muskrat, civet cat, and otter genitals
I know what you're thinking, My god! There's gotta be another option for fragrances that do not contain animal genitals, glands, or intestines?!
Thankfully, there are cruelty-free and vegan perfumes available today and I'm excited to share with you all a 100% vegan fragrance brand called DefineMe!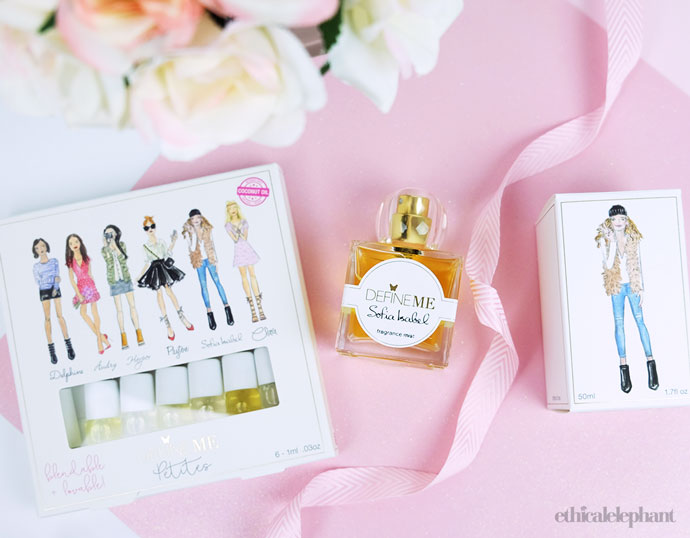 About DefineMe Fragrance
DefineMe Fragrance was created by boss babe, Jennifer McKay Newton, on a mission to create a beautiful yet empowering collection of fragrances that are never tested on animals and do not contain any of those nasty animal ingredients I listed above.
What makes DefineMe Fragrance unlike any other are the messages behind each bottle! Each scent is packaged and inspired by an It-Girl who is breaking molds and crushing barriers!
Audry – empowered by love + believes it is always the answer
Clara – lives life with gratitude + grace
Delphine – an artistic, creative soul who radiates an effortless elegance
Harper – walks through life fearlessly blazing her own path
Payton – exemplifies strength + passion by living her dreams to the fullest
Sofia Isabel – a free spirit who embraces life with confidence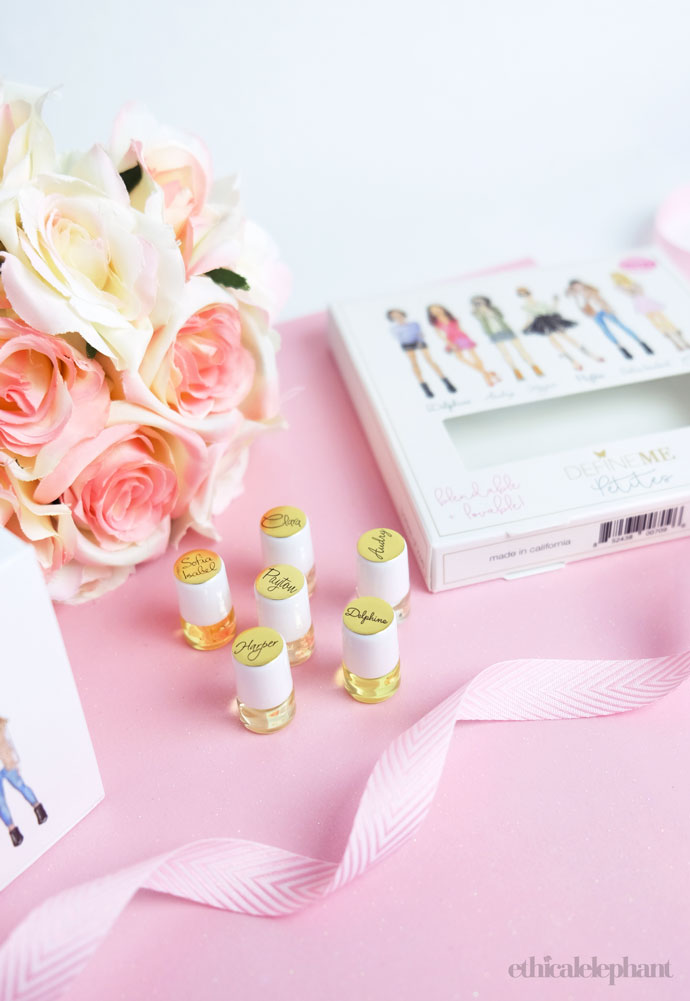 Not sure which one is for you? Take DefineMe's Fragrance Quiz to see which It-Girl's personality will empower you! Or check out their Sample Kit which includes all 6 scents with .03 oz of fragrance in adorable roller ball bottles!
"The intention is to be a wearable reminder of one's own confidence, strength passion, fearlessness + to empower!" – DefineMe
Sofia Isabel by DefineMe Fragrances
I received the fragrance mist in Sofia Isabel. The packaging is super adorable! It comes in a bigger box with a cute pink bow. When you open it, there's a smaller box inside which is what's photographed below. Inside you'll find an elegant glass bottle with a round cap and gold mist sprayer.
All of the packaging is super chic and I think this would make such a lovely gift!
You can shop for DefineMe Fragrances on their website or at Ulta.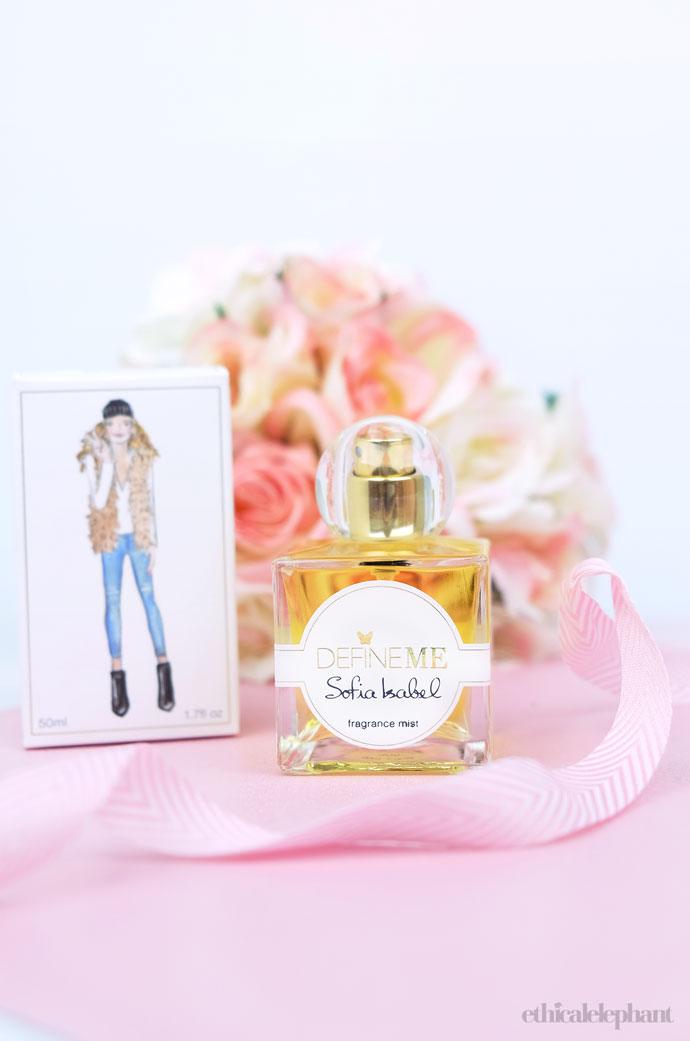 Sofia Isabel is described as a free spirit who embraces life with confidence and the smell is described as intoxicating, sweet, free-spirit – with notes of mandarin, black currant, jasmine + sugar.
Since I got the sample set, I got to try and smell all 6 scents and Sofia Isabel fits me the best! It's a balanced blend of floral and sweetness without being too overpowering. I don't typically wear perfume on the daily because I find I'm sensitive to strong fragrances but a tiny spritz of DefineMe's Sofia Isabel really helps to bolster my mood and energize me! Plus I feel super feminine and put together when I have it on! =)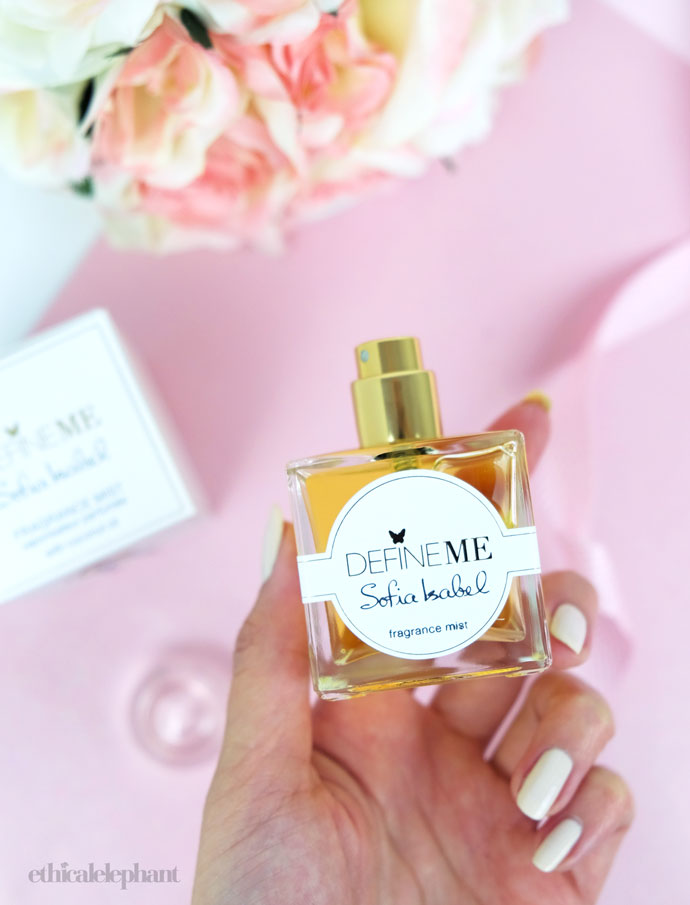 In addition to the fragrance mist, DefineMe also has each scent in a similar size glass bottle but as a fragrance oil with a rollerball applicator, as well as, a smaller travel-size mist spray. They recently came out with a hair fragrance mist which I'm super excited to try next!
I was also happy to hear about DefineMe's Dollar Program where they give $1 of every bottle sold to 'She's the First', a non-profit that provides scholarships to girls in low-income countries with the goal of creating first-generation graduates and our next generation of global leaders!
Overall, I would highly recommend DefineMe's cruelty-free and vegan fragrances for yourself or to gift to a special lady in your life who would appreciate the thoughtful and meaningful messages of women empowerment, self-confidence, and self-love in each bottle of DefineMe's fragrances!

I'd love to know, which of DefineMe's fragrances would you love to try?
---
Disclaimer: I received press samples in exchange for my honest review. I was not required to write a positive review nor was I compensated in any other way. All opinions expressed are always 100% my own.