This post may contain affiliate links that at no additional cost to you, I may earn a small commission.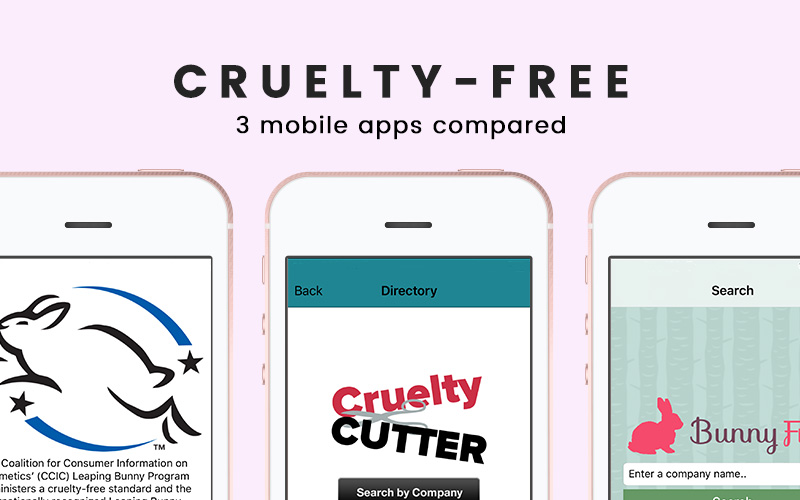 We all want quick and easy solutions to help us make better and informed consumer choices, and thankfully there are some helpful tools we can use that are available right at our fingertips – literally!
Currently, there are 3 mobile apps available on the market to assist you in the wonderful world of cruelty-free shopping. Whether you're looking for a new deodorant, dish detergent, or even furniture polish… these apps will help you out immensely, saving you time and energy!
In this post, I'm going to share with you my review and ratings of each app's features!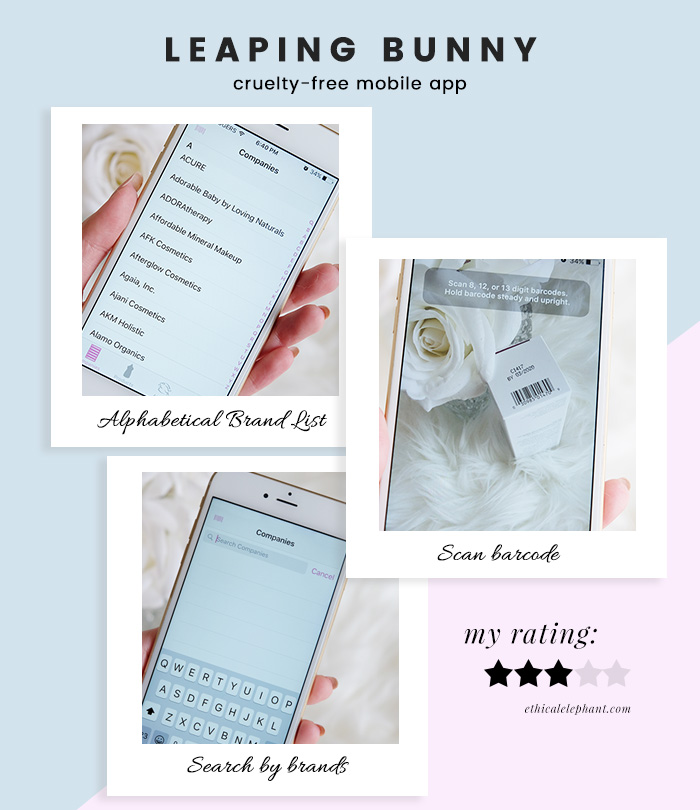 CRUELTY-FREE BY LEAPING BUNNY
The Cruelty-Free app is very straight-forward to use and it's available for FREE on both Androids and iPhones.
The Cruelty-Free app alphabetically lists over 200 U.S. and Canadian companies that are certified under the Leaping Bunny Program. You can also use the search bar at the top and type in a brand name.
There is another list available on this cruelty-free app where you can find cruelty-free brands within a product's category like nail care, dish detergent, self-tanners, and more.
The Cruelty-Free app also lets users scan a product's barcode to instantly know whether the brand is certified by Leaping Bunny.
What I Love About It:
The Cruelty-Free app is perfect for someone who swears by the Leaping Bunny program since it only lists brands that are certified under their accreditation.
What Could Be Improved:
This app doesn't say which brands are not cruelty-free. It's based on the assumption that if the brand is not listed, then it's not considered cruelty-free by Leaping Bunny. The app also doesn't let you filter to know which brands offer vegan products or tell you where we can buy from the brand.

---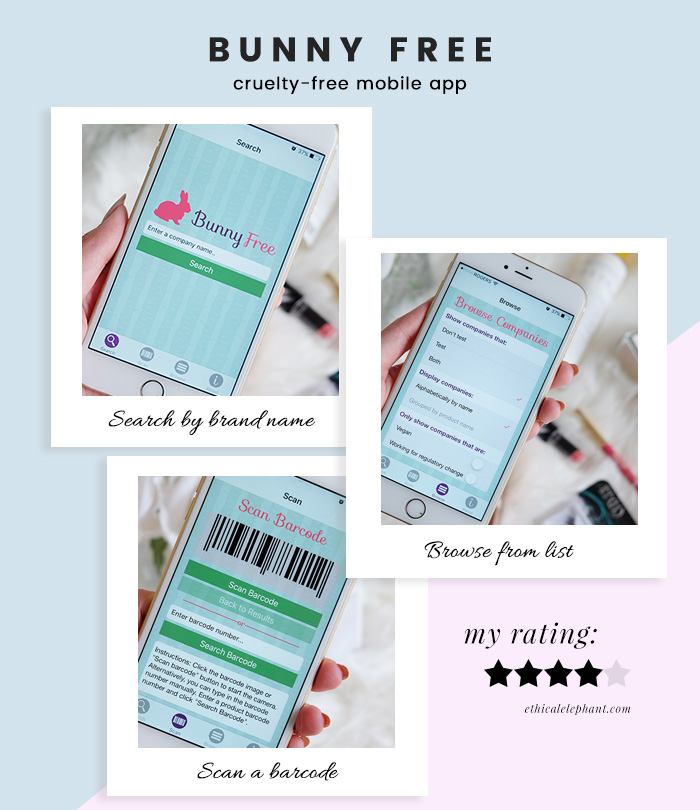 BUNNY FREE BY PETA
The Bunny Free app allows users to check to see if a company is cruelty-free using one of their three features; (1) Typing the company's name in the search box (2) Scan a product's barcode (3) Browse their alphabetically ordered brand list. It also provides you with the company's details like address, phone number, website, products and availability.
The app is FREE and is available for both Androids and iPhones. Bunny Free uses data from PETA's cruelty-free shopping guide.
What I Love About It:
Loving the simplicity of this app, it's great for consumers who want to quickly find out about a company's cruelty-free status. I especially love how this app tells you which brands are not cruelty-free and therefore should be avoided. There's also a filter option to only show companies that are vegan!
What Could Be Improved:
The Bunny Free app doesn't let you browse by product category. For example, if I was looking for a cruelty-free nail polish brand.. I'd have to go through the entire alphabetical list and click on each one to see if "Nail Polish" is listed under their Products description.
---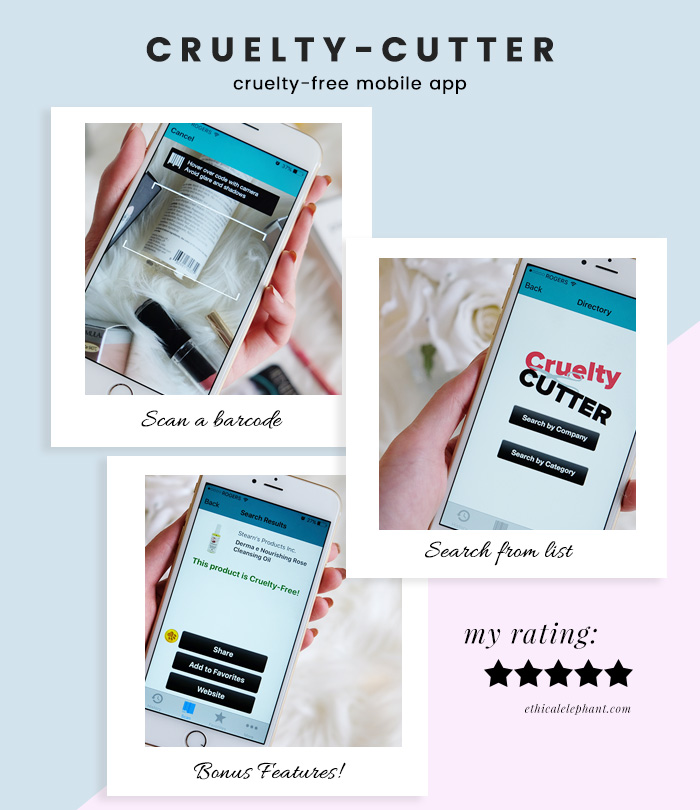 CRUELTY-CUTTER BY THE BEAGLE FREEDOM PROJECT
Cruelty-Cutter is my all-time favourite cruelty-free mobile app in which I had to write a separate blog post outlining the many cool features provided by the app and that you can click here to read.
In short, Cruelty-Cutter combines all the features available from both the Cruelty-Free and Bunny Free apps, and then some.
What I Love About It:
Scan a product
Search by company's name
Cruelty-Free directory list by company's name
Cruelty-Free directory list by category like nail care, dish detergent, self-tanners, and more.
Provides company's information like direct link to website, Facebook, and Twitter accounts.
Some additional features:
Keeps a log in your 'History' of all the products you scanned
You can add a product that you've scanned to your list of 'Favourites'
Ability to share your results with friends on social media with ease
Earn 'Doggie Dollars' when you take action which you can redeem them for deals on cruelty-free products
Cruelty-Cutter is available to download for a donation of $2.99 to the Beagle Freedom Project and available for iPhone and Android users.
Everything about this app is amazing!
What Could Be Improved:
Sometimes the data is questionable… this app includes companies that are not certified by either Leaping Bunny or PETA's Cruelty-Free Programs.
---
So there you have it!
Three great tools to help you shop cruelty-free because what you buy DOES make a difference!