This post may contain affiliate links.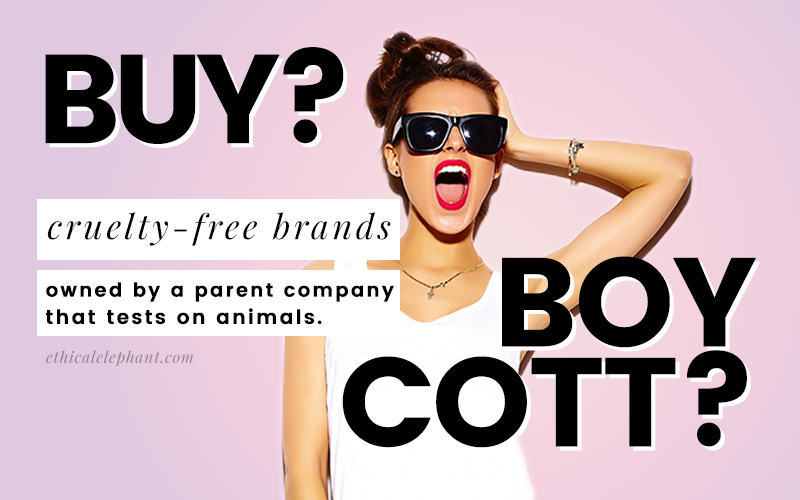 This is a hot topic and I've been going back and forth on whether I should continue to support cruelty free brands owned by a parent company that does test on animals or to boycott them all together.
My motto is ethical yet practical lifestyle choices. So boycotting all cruelty free brands owned by a company that tests on animals isn't practical in some instances. For those who live in remote areas and unfortunately don't have a variety of cruelty free brands to shop from, it's unreasonable to suggest you don't buy anything until cruelty free brands become available in your area.
I'd rather encourage you to buy from NYX and Urban Decay despite being owned by L'Oreal, than buying from brands that have admitted to testing on animals like Almay, MAC, or Neutrogena.
At the same time, there are so many incredible cruelty free brands that are independently owned that make quality and affordable products. So if given the option- there's really no need to support brands that are affiliated with a non-cruelty free company.
Before you decide which side you're on, here are some points to consider for and against supporting cruelty-free brands owned by a parent company that tests on animals.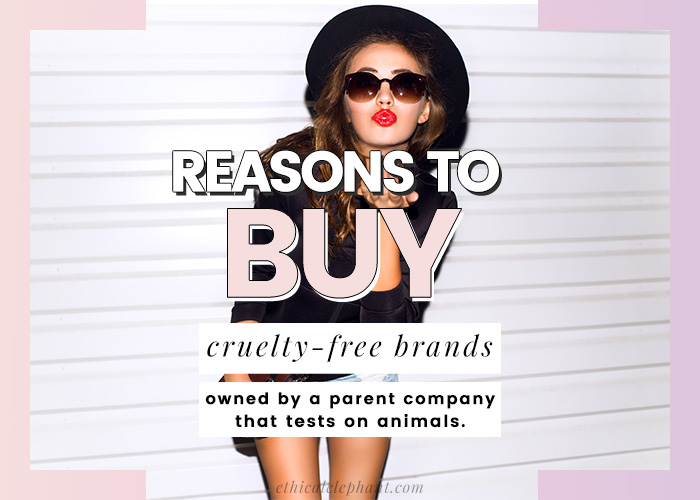 Reasons to Buy from These Brands
1. They're still cruelty-free!
Some of these brands are still deeply committed to their no animal testing policy despite being acquired by a parent company that tests on animals. Some brands have even maintained their cruelty-free certification with Leaping Bunny which means they have to meet a set of standards and show proof of documents that they don't test on animals anywhere in their supply chain.
In order to be certified cruelty-free by Leaping Bunny, these brands must promise to operate as stand-alone subsidiaries with their own supply chains and must continue to meet the requirements of the Leaping Bunny Standard in order to remain on their list.
2. Sends a message to the parent company!
Some caring consumers believe that if the parent company can see first hand that there is a growing demand for cruelty-free products and that it can be incredibly profitable, then they might want to consider going cruelty-free overall.
3. Still working towards eliminating animal testing!
When it comes down to it, if these cruelty-free brands are telling the truth and not testing their own products and ingredients on animals, then this ultimately means fewer animals are used in labs and for testing. As we mentioned earlier, we're better off supporting these cruelty free brands than unconsciously buying from other brands that do continue to test on animals.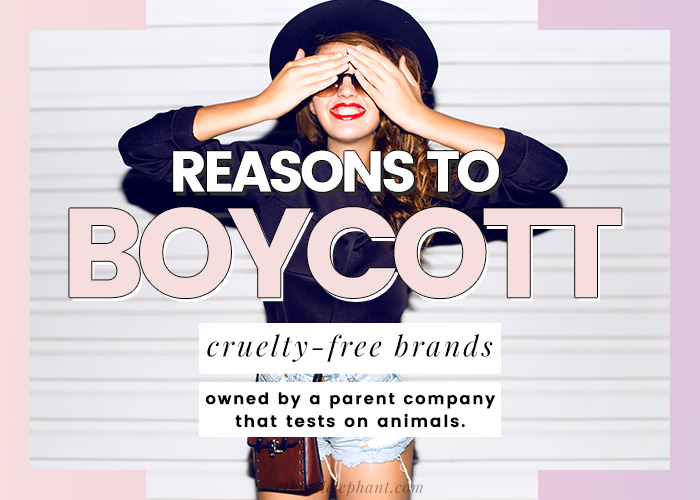 Reasons to Boycott These Brands
1. Our money is financially supporting the parent company! 
When purchasing from these cruelty free brands, the money from our purchase are essentially going into the pockets of their parent company and financially supporting them.
2. We are indirectly funding animal testing! 
At the end of the day, whichever brand (cruelty-free or not) you purchase from a parent company… the money is all under one big ass umbrella and you have no control over how and where they spend that money, which can go back to funding more animal tests!
3. Support more independent cruelty free brands!
Some of these giant cosmetic brands have ridiculous amount of resources and marketing budgets and they'll strive with or without our support. Instead, we should really be giving our money to independent cruelty free brands that need our support in order to survive!
4. They're sell-outs!

Some people believe that these cruelty free brands sold out for a fat paycheck and that if they really do care about animals as they originally claimed, then they shouldn't have accepted an offer to be bought by a company that is doing something they don't agree with.
Ultimately, It's your Decision
We want to encourage you all to make your own decision of whether you want to support these brands or not. Consider which of these points speak to you and are aligned with what you believe in. Also keep in mind that your opinions may change as you grow more comfortable and mindful about being and shopping cruelty free –and that's okay. We're all evolving and trying to be a better, kinder person.
I also want to make an incredibly important note here that we need to be more kind and gentle with one another when it comes to people's personal choices. There is absolutely no need to degrade someone who is consciously trying to make better choices; we're all entitled to purchase whatever the heck we want so don't scare people away with discouraging comments or pointing out how they're making the 'wrong' choices. Show compassion and kindness!
Let us know in the comments below if you're for or against supporting cruelty free brands that tests on animals and why? Did we miss an important point?