This post may contain affiliate links that at no additional cost to you, I may earn a small commission.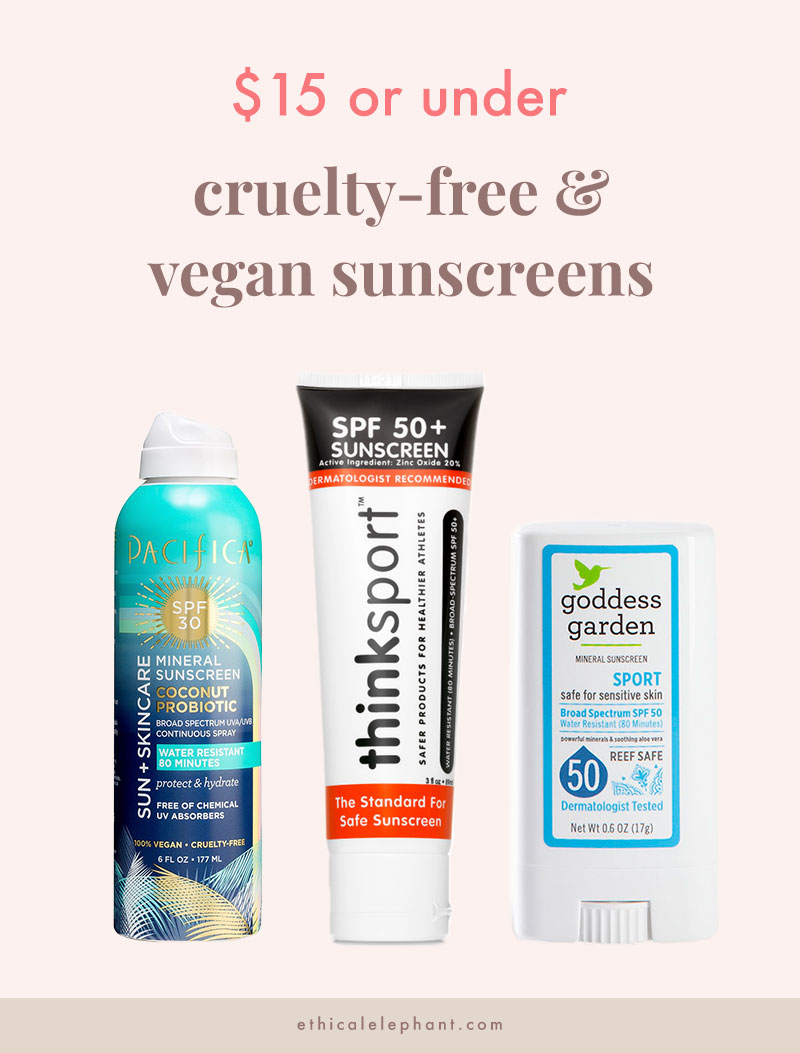 By now, I'm sure you know that you should be applying sunscreen every day and especially now that it's summer, you ought to be incorporating a daily sunscreen into your morning routine. I don't care if you don't plan on leaving the house, make it a habit to wear sunscreen every day!
And to ensure you don't have any excuses for not wearing sunscreen, I found 13 cruelty-free and vegan sunscreen options that are $15 or under.
None of these sunscreens are from brands that test on animals in 2019 or sell in mainland China, where animal testing is required by law for all imported cosmetics, and none of the sunscreens in this list contain any animal-derived ingredients or by-products, making them suitable for vegans.
So that you can protect your skin from UVA and UVB rays, avoid skin cancer, and premature aging all without any animals being harmed.
Although prices may vary depending on where you're from and/or date of purchase, I've tried my best to only include sunscreens that cost no more than $16 on the day this post was published.
Let's get into it!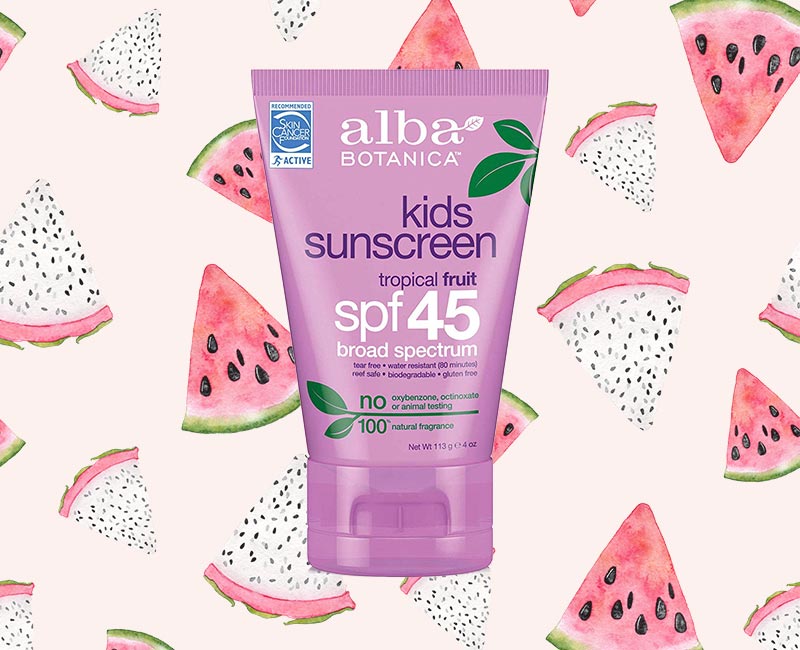 Alba Botanica Sunscreen ($6.35)
This vegan sunscreen from Alba Botanica is the best budget buy and only costs $6! It is a very emollient and moisturizing broad-spectrum sunscreen lotion with SPF 45. "Made with preferred sunscreen ingredients, this lightweight, fast-absorbing lotion is water resistant and tear-free. Palm Kernel Oil and Aloe Vera soften and moisturize skin while Lavender and Vitamin E provide soothing antioxidant protection. Biodegradable formula is certified by the Gluten-Free Certification Organization. Free of oxybenzone, octinoxate, PABA, nano-sunscreens and Vitamin A. *Free of ingredients identified to have a potential adverse impact to coral reefs." All of Alba Botanica sunscreens are vegan.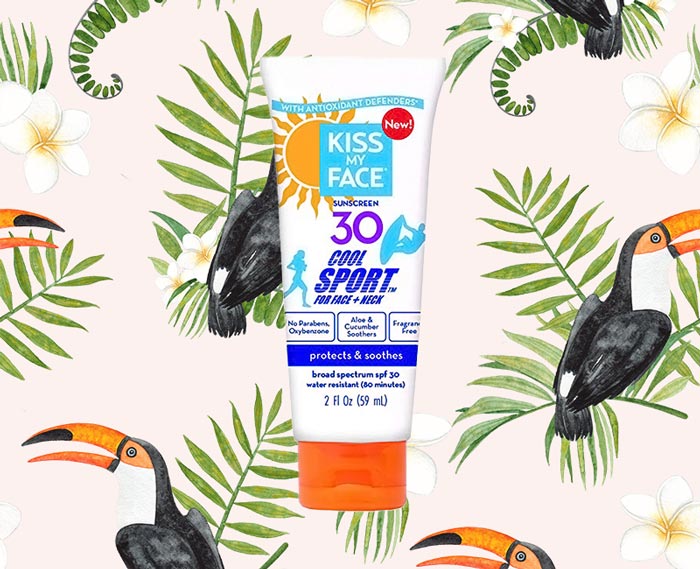 Kiss My Face Vegan Face Sunscreen ($10.78)
Practice Safe Sun with Kiss My Face Sunscreens. Cool Sport Face & Neck spf30 is great for protecting & soothing skin and is vegan and cruelty-free, broad spectrum SPF 30, sport-ready and water-resistant for 80 minutes, blended with cooling aloe, cucumber, and nourish green tea. This formula is fragrance-free, non-greasy, lightweight, and fast-absorbing. Some of Kiss My Face other sunscreens contain beeswax, but this one is vegan.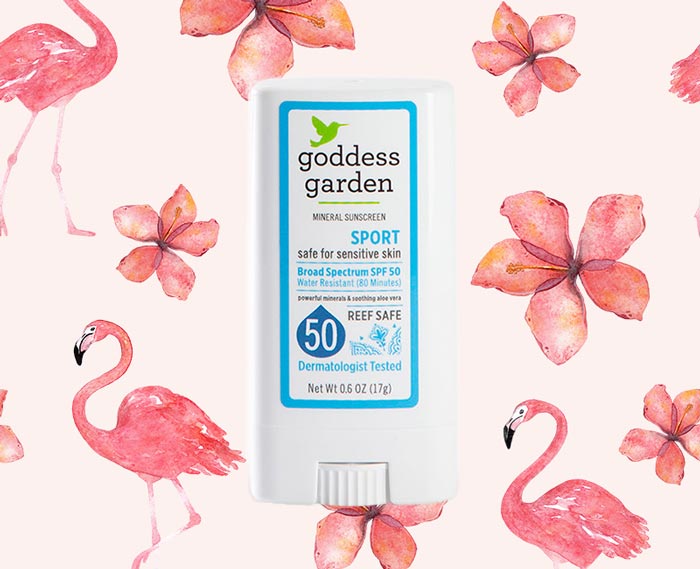 Goddess Garden Mineral Sunscreen Stick ($7.84)
If you prefer a vegan sunscreen stick, Goddess Garden's Sport Mineral Sunscreen Stick SPF 50 is a great option. It is an ultra-sheer and unscented formula made with organic, plant-based ingredients that go on smoothly and evenly while staying on through intense sweating offering water resistance for 80 minutes. "The mess-free oval stick fits easily into a pocket or pack during a session, making on-the-go protection easy and convenient."Goddess Garden's sunscreens are all vegan, reef-safe, and biodegradable.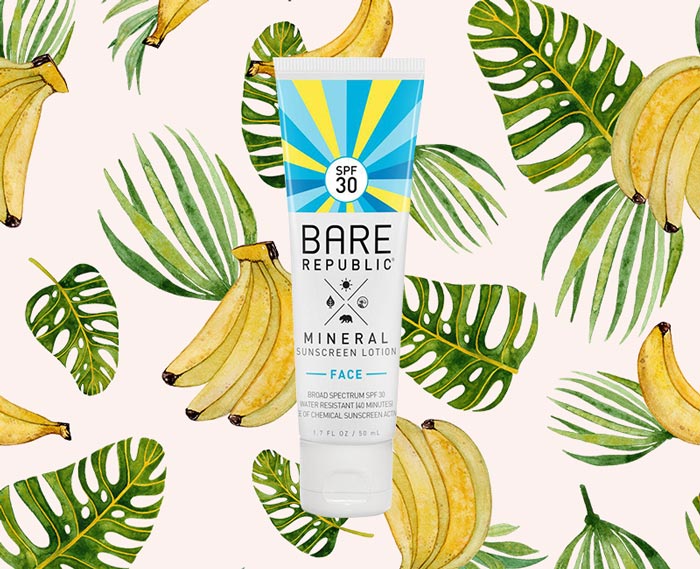 Bare Republic Mineral Face Lotion SPF 30 ($14.99)
Bare Republic's Mineral Face Lotion is a crowd-favorite, it claims to be a "surprisingly-soft, non-greasy, mineral matte sunscreen. Our innovative cream-to-powder formulation goes on as a silky, feather-light lotion that gently melts into skin for a sheer, powdery finish, while an infusion of antioxidant-rich raspberry, grape and carrot seed oils help fight free radicals and promote youthful-looking skin year-round." Some of Bare Republic sunscreens contain beeswax, but this one doesn't and is suitable for vegans.
JASON Vegan Sunscreen ($9.23)
JASON's Kids Broadway Spectrum SPF 45 is a cruelty-free, vegan, biodegradable, and reef-safe sunscreen. This one is water-resistant (80 minutes) and hypoallergenic. Contains chamomile extract to soothe and nourish the skin. All of JASON sunscreens are vegan.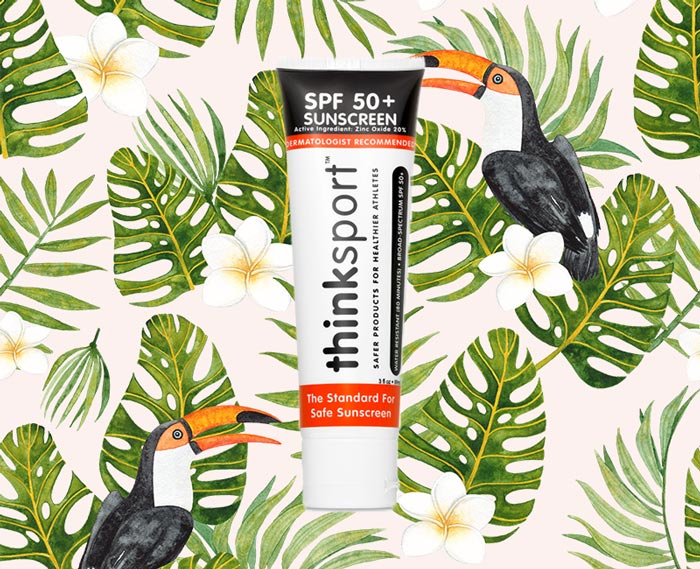 Thinksport Safe Sunscreen ($12.11)
Thinksport sunscreens are very popular and for all the right reasons. Thinksport Safe Sunscreen SPF 50+ is free of biologically harmful chemicals. No Avobenzone, Oxybenzone, or UV Chemical absorbers. Offers SPF 50+ Broad-spectrum UVA and UVB protection. Reef-safe, biodegradable, water-resistant (80 minutes). Applies and absorbs easily. Non-oily feel. Please note that not all of Thinksport sunscreens are vegan as some contain beeswax but this one is vegan.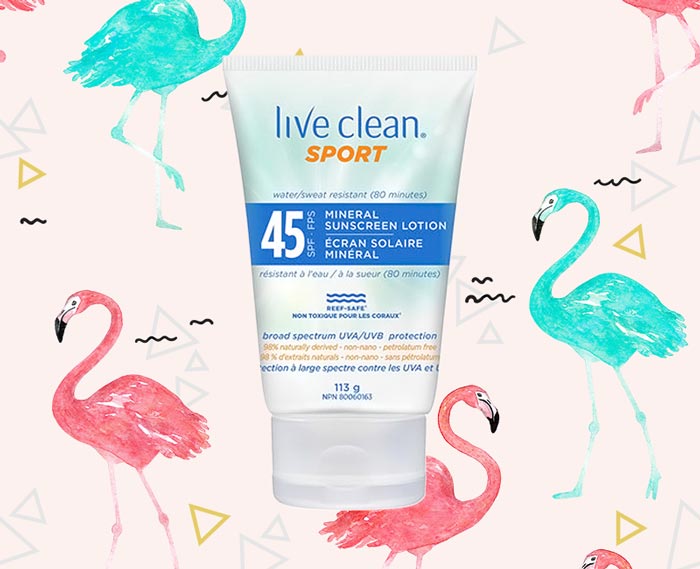 Live CleanMineral Sunscreen ($12.79)
"Powerful protection for your active lifestyle, Live Clean Sport Mineral Sunscreen Lotion SPF 45 gives you the kind of water-resistant protection you need. Our broad spectrum UVA/UVB sunscreen is 98% naturally derived, non-nano, petrolatum free, non-whitening. Zinc Oxide and Titanium Dioxide are the natural sun protection ingredients."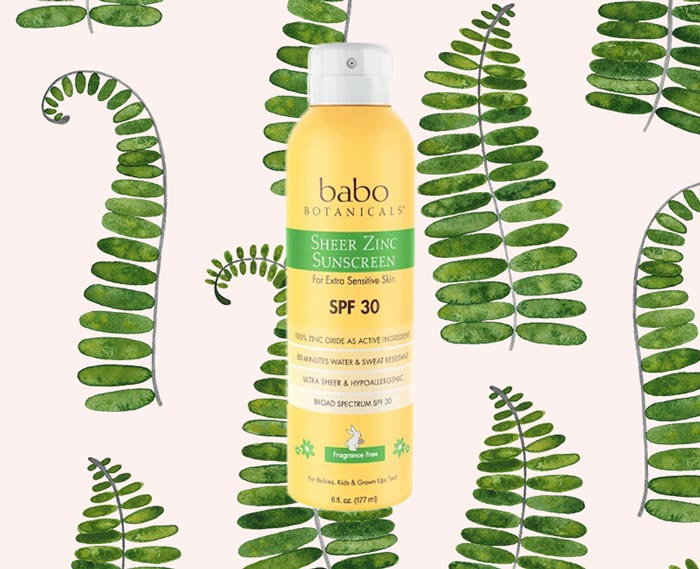 Babo Botanicals Sheer Zinc Sunscreen ($13.29)
"Introducing the 1st 100% Zinc Sheer Continuous Spray SPF 30 sunscreen for the entire family. Babo's fragrance-free sunscreen is perfect for extra sensitive skin, protecting your family against damaging UVA and UVB rays while providing 80 minutes of water and sweat resistance." Please note not all of Babo Botanicals sunscreen are vegan but this one is vegan.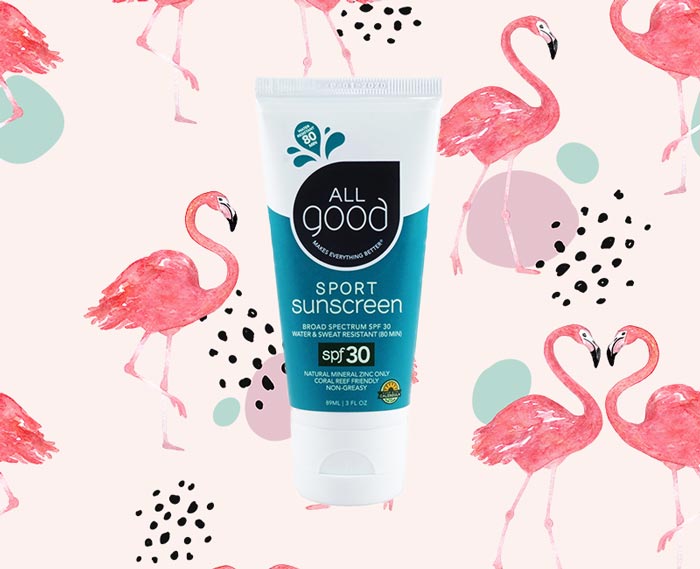 All Good Sport Vegan Sunscreen ($12.89)
All Good's Sport Sunscreen Lotion offer SPF 30 UVA/UVB broad-spectrum protection, 80 minutes water-resistant, and is oxybenzone-free, reef-friendly, and biodegradable. Claims to be a lightweight and non-greasy formula made with organic green tea, rose hips, and buriti oil for repairing damaged skin. Some of All Good Products' other sunscreens contain beeswax, but this one doesn't and is suitable for vegans.
MyChelle Sun Shield Sunscreen ($13.60)
MyChelle's Sun Shield Unscented SPF 28 is an "environmentally safe, unscented, full spectrum UVA/UVB sun defense that offers powerfully effective protection for face and body. Translucent Zinc Oxide and Titanium Dioxide provide a safe alternative to harsh chemical sunscreens. The addition of soothing Aloe and a high-performance blend of antioxidants, including Vitamin E, helps boost skin's natural defense system and reduce the signs of sun-induced irritation. The lightweight formula absorbs quickly for a smooth, clear, and matte finish. Gentle enough for infants and non-irritating to eyes." All of MyChelle sunscreens are vegan with the exception of Sun Shield Clear Stick SPF 50.
Pacifica Sun + Skincare Mineral Sunscreen ($16)
Pacifica's Sun + Skincare Mineral Sunscreen combines skincare into suncare, "this unique formula is designed to apply evenly while delivering hydration. Water-resistant (up to 80 minutes) so you can stay outside and play. Free of chemicals you don't want and full of skin-loving ingredients." Free of chemical UV absorbers, PABA, octisalate, octinoxate, and oxybenzone. Non-aerosol continuous spray. All of Pacifica products are 100% vegan.
DERMA E Sun Defense Mineral Oil-Free Sunscreen($15.80)
Derma E Antioxidant Natural Sunscreen SPF 30 Oil-Free Face Lotion "helps shield skin from harmful UVA/UVB rays, oxidative damage and premature signs of aging. With clear, nanoparticle-free Zinc Oxide, this formula provides safe, chemical-free broad spectrum UVA/UVB protection without irritating skin or clogging pores. Fortified with antioxidants Vitamin C and Green Tea — nutrients that have been shown to offer an additional layer of UV protection, help skin recover after sun exposure and fight and reduce the signs of aging for vibrant, younger-looking skin. Ideal for daily use alone or under makeup, this formula glides on evenly, absorbs quickly and leaves a sheer, lightweight, non-greasy finish." All of Derma E sunscreens are vegan.
ATTITUDE Natural Care Mineral Sunscreen ($14.99)
When you use ATTITUDE's Natural Care Fragrance-Free Mineral Vegan Sunscreen SPF 30, it forms a physical barrier that protects against both UVA and UVB rays. ATTITUDE's mineral sunscreen for kids uses worry-free, natural ingredients like non-nano zinc oxide, for the safest sun care possible. Easy to apply, smooth and clear, our mineral sunscreen has never made it easier to have fun under the sun!" All of ATTITUDE products are 100% vegan.