This post may contain affiliate links that at no additional cost to you, I may earn a small commission.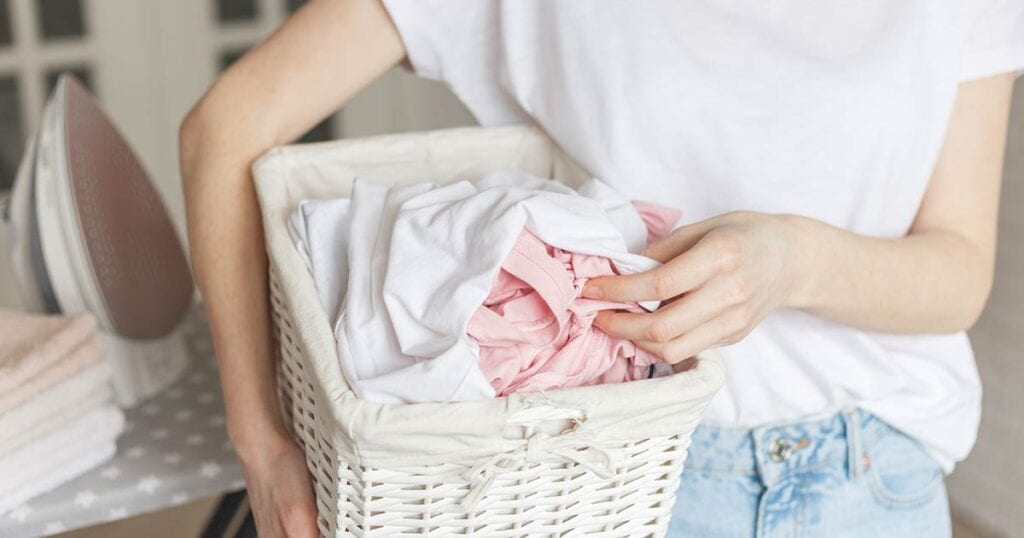 Looking for cruelty-free and vegan laundry detergent products but not sure where to start?
Most people are surprised to learn that not all laundry cleaning products are vegan and most of the household cleaning brands we buy at the grocery store are still testing on animals.
In this guide of cruelty-free and vegan laundry products, we explain what's not vegan or cruelty-free in conventional laundry detergent and cleaning products, as well as, sharing some of the best vegan alternatives to fight tough stains, brighten whites, and remove dirt and grime from clothes.
Why Isn't Laundry Detergent Vegan?
Let's begin by asking what animal ingredients are commonly found in laundry detergents and laundry products?
Processed animal fats are commonly used as a surfactant in laundry products. According to Veganissimo A to Z, some laundry detergents may also contain enzymes obtained from organs of killed animals. For example, lipase derived from the pancreas of animals (usually pigs) is added to many laundry detergents in order to improve the cleansing effect in soap production.
Unless it's clearly stated the surfactants and solvents are plant-based or plant-derived, we can't be sure whether it's vegan or not.
In addition, most mainstream laundry detergent brands continue to test their products or ingredients on animals.
Laundry Products from brands that DO test on animals and to avoid include: Tide, Gain, Arm & Hammer, Bounce, Clorox, Downy.
Note: Tide recently came out with their purclean™ plant-based laundry detergent but Tide is not cruelty-free as their products or ingredients are tested on animals when required by law.
On Tide's website, notice how they claim the final formula of their purclean products are not tested on animals,
"This final formula has not been tested on animals and we do not test on animals unless required by law." – Tide
But they fail to mention whether their ingredients are tested on animals and they also admit to allowing their products and ingredients to be tested on animals when required by law. Again, Tide is not cruelty-free.
What is Vegan Laundry Detergent?
We consider vegan laundry detergent as one that was manufactured from a brand that does not conduct, commission, or condone animal testing on its ingredients, formulations, or finished products, anywhere in the world. As well as, the laundry product itself must not contain any animal-derived ingredients or by-products.
The following cruelty-free laundry detergent brands do not test on animals and meet all of the criteria in our Cruelty-Free Checklist. And the laundry detergents mentioned down below are 100% vegan and do not contain any animal ingredients.
Best Vegan & Cruelty-Free Laundry Detergents
In this vegan and cruelty-free laundry product guide, I'm sharing some of the best and most-recommended liquid and powder laundry detergents, as well as, options for vegan laundry pods, stain removers, and fabric softeners.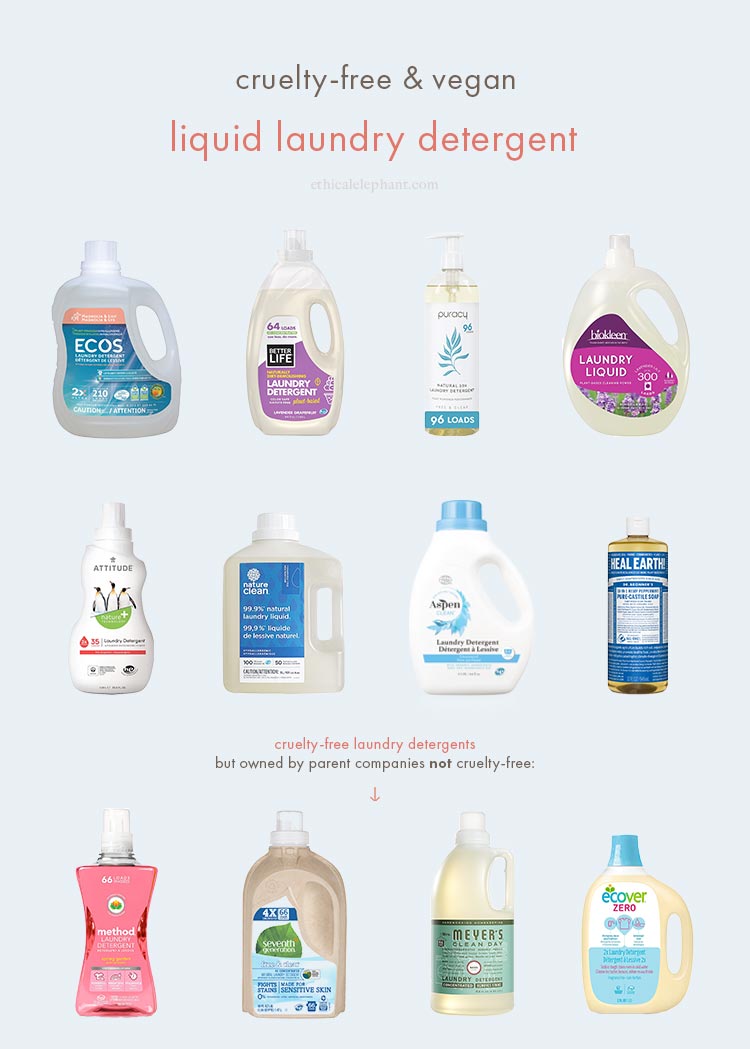 Cruelty-Free Liquid Laundry Detergent
If you're shopping at big box stores like Walmart or Target, I recommend ECOS laundry detergents. ECOS is the most popular and most recommended vegan and cruelty-free laundry detergent available. You can find their laundry products at most retailers, including on Amazon.
And if you support cruelty-free brands that are owned by a non-cruelty-free parent corporation, then you can easily find cruelty-free laundry detergent from Method*, Seventh Generation*, and Mrs. Meyer's Clean Day* at most stores.
Live in the UK? I recommend checking out Ecover's* plant-based hypoallergenic laundry detergents.
Note: Seventh Generation, Method, Mrs. Meyer's Clean Day, and Ecover are all cruelty-free but they're owned by a parent corporation that does test on animals.
In addition, you can find Biokleen and Better Life laundry products on Amazon, both offer cruelty-free laundry detergent made with plant-based ingredients and no harsh chemicals.
Live in Canada? and looking for vegan & cruelty-free laundry products? I suggest checking out ATTITUDE, Nature Clean, and AspenClean vegan laundry detergents!
For non-toxic and organic, vegan laundry detergent, we can't get enough of Puracy's Natural Liquid Laundry Detergent, and of course, Dr. Bronner's Pure Castile Liquid Soap, which is a must-have in every home as a multipurpose cleaning product!
---
Cruelty-Free Powder Laundry Detergent
It may be time to part way with your beloved Tide powder laundry detergent as the brand is not cruelty-free and time to try one of these cruelty-free & vegan powder detergents instead!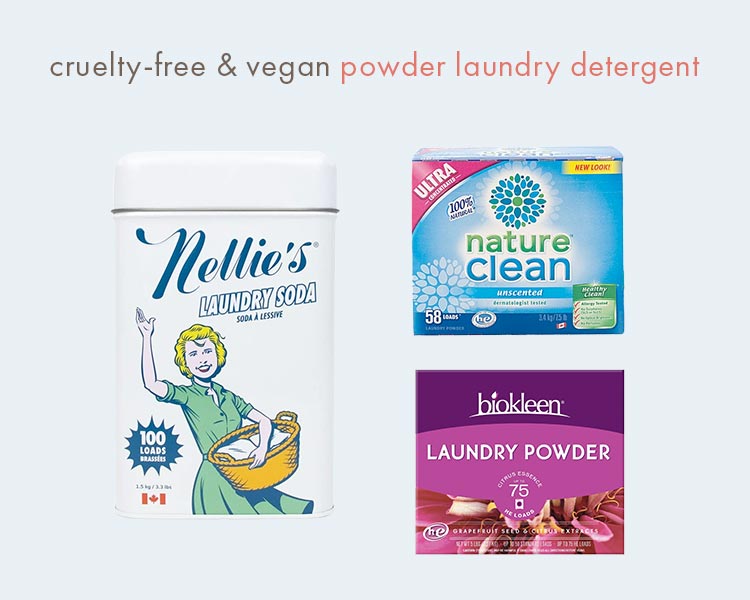 Nellie's Vegan Laundry Detergent Soda – I love this stuff! It's made up of only four ingredients: Sodium Carbonate, Linear Alcohol Ethoxylate, Sodium Chloride, Sodium Metasilicate. Leave clothes feeling soft, fresh, and clean without any residue or harsh chemical.
Free from: SLS, SLES, gluten, phosphates, chlorine, fragrance, optical brighteners, and solid synthetics.
Biokleen's Laundry Detergent Powder – Made in the US, Biokleen's laundry powder whitens and brightens whites and colors with the stain-fighting power of Oxygen Bleach.
Free from: Phosphate, chlorine, ammonia, petroleum solvents, butyl, glycol ether, brighteners, SLS or SLES, EDTA or DEA priority pollutants. No materials listed by the ACGIH as hazardous.
Nature Clean's Laundry Powder – An unscented, hypoallergenic, low foaming powder laundry detergent with a vegetable-based formula derived from corn and palm kernel oil. Claims to be safe for infant clothing and for high-efficiency machines.
Free from: Phosphates, potentially dangerous sulfates (SLES), chlorine, optical brighteners, enzymes, perfumes, and dyes. Claims to be safe for infant clothing and for high-efficiency washing machines.
---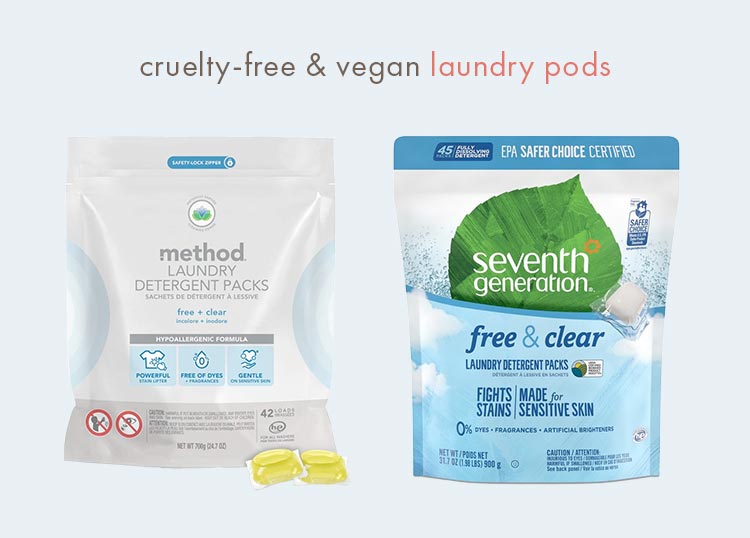 Cruelty-Free Laundry Detergent Pods
If you use Tide, Gain, or Arm & Hammer laundry detergent pacs and are looking for a cruelty-free alternative, we suggest switching to Method* and Seventh Generation's* vegan & cruelty-free laundry detergent pods.
Note: Method and Seventh Generation are both cruelty-free, however, they're owned by parent corporations that do test on animals when required by law.
---
Cruelty-Free Laundry Stain Removers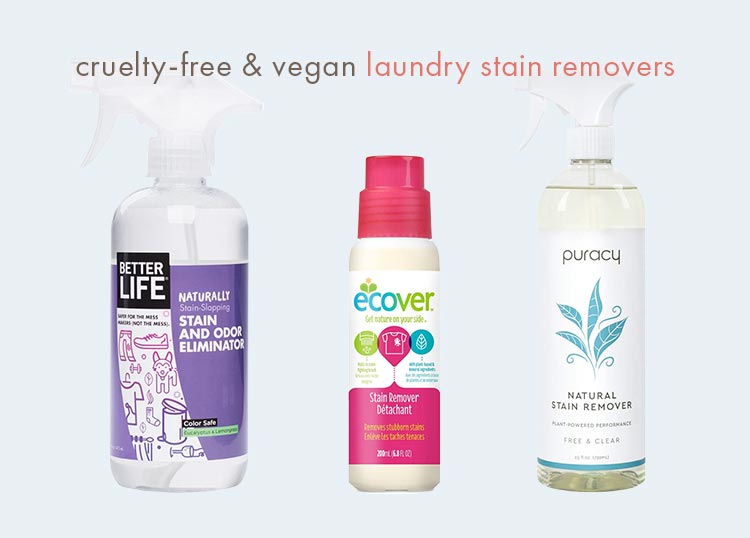 Replace your OxiClean, Shout, Tide-To-Go, Zout, or Clorox stain removers with these cruelty-free laundry stain removers alternatives that are better for the animals, the planet, and our health!
Better Life's Natural Stain & Odor Eliminator and Puracy's Natural Stain Remover both have rave reviews of gently and effectively removing stains from clothes. And I love Ecover's Stain Remover that comes with a built-in brush to remove stains on clothing effortlessly.
---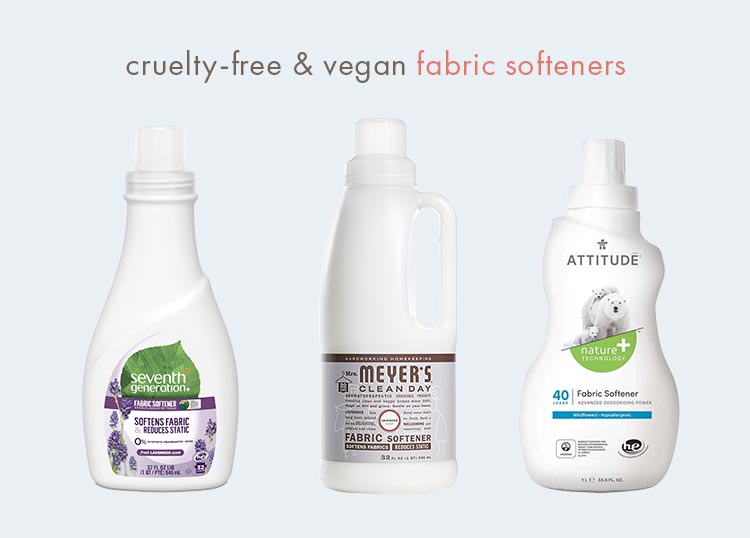 When choosing cruelty-free fabric softener, you'll want to avoid brands like Downy and Snuggle, as they are not cruelty-free. Instead, try vegan fabric softener from Seventh Generation*, Mrs. Meyer's Clean Day*, and ATTITUDE.
Note: Seventh Generation and Mrs. Meyer's Clean Day are both cruelty-free but owned by a parent corporation that does test on animals.
---
I hope this list of vegan laundry products helped you find one that works best for you and that maybe you discovered more cruelty-free brands to support because together, we can help end animal testing once and for all!
Have you tried any of these vegan laundry products before? Leave a comment below and tell us your experience!