This post may contain affiliate links that at no additional cost to you, I may earn a small commission.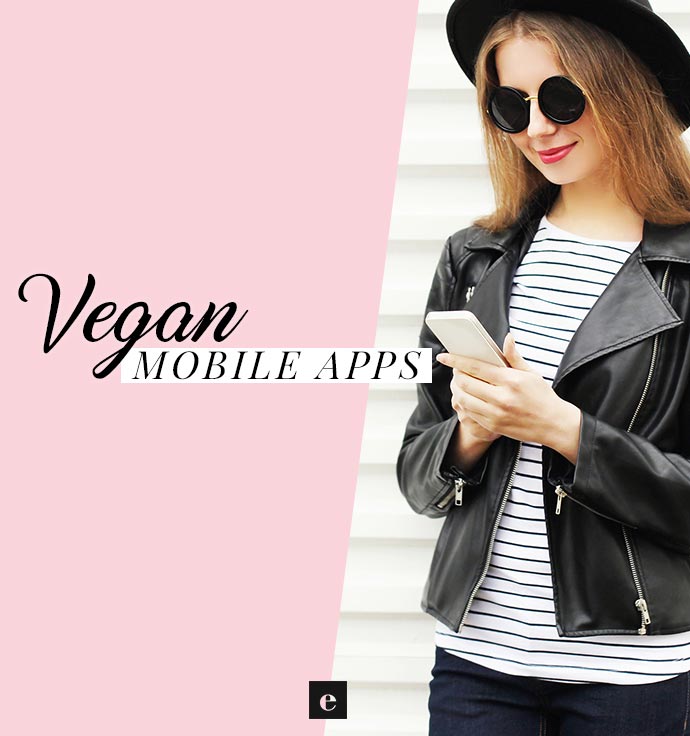 Whatever your reasons for avoiding animal-based ingredients in your diet, cosmetics, or lifestyle, there are a handful of helpful smartphone vegan apps that make it easy for you to go and stay animal-free and vegan!
Shopping? There are vegan apps that let you scan a product to know if it was tested on animals or contains animal ingredients.
Eating Out? Use one of these vegan apps to learn what's veg-friendly on the menu of popular restaurant chains.
Traveling? There's no better time to be vegan than the present because now there's vegan apps that'll help you find vegan food at the airport terminal and discover veg-friendly restaurants nearby!
Vegan Apps
I've listed below the top vegan apps, both free and paid, and some are available to download on both Apple and Android smartphone devices.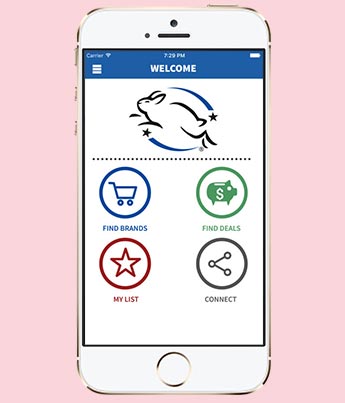 Cruelty-Free
FREE | Find Products Not Tested on Animals
The Cruelty-Free app is brought to you by the kind folks at Leaping Bunny! Use this app as a shopping guide to help you discover and find over 700 U.S and Canadian cosmetic, personal care, and household products brands that do not test ingredients, formulations, or finished products on animals.
Download: App Store | Google Play
---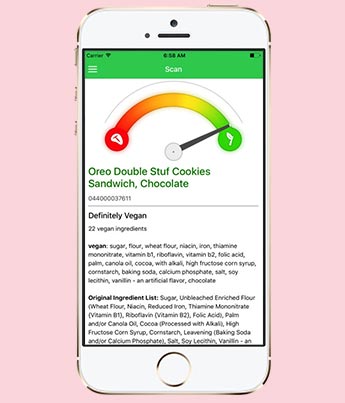 Is It Vegan?
FREE | Find Out if Food Contains Animal Ingredients
Scan a product's barcode and immediately know if it's suitable for a vegan or vegetarian diet. This vegan app will provide you with a detail summary of which ingredients are vegan, vegetarian, non-vegetarian, etc. This vegan app has "information on hundreds of thousands of food and beverage products and verifies each of them using a master list containing thousands of pre-classified ingredients."
Download: App Store | Google Play
---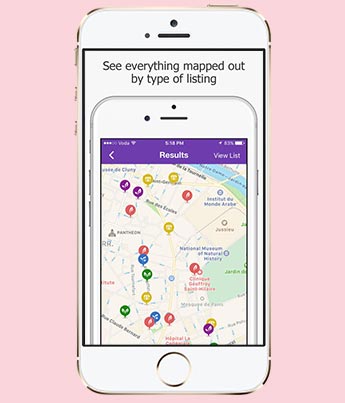 HappyCow
$3.99 | Find Local Veg-friendly Restaurants
The most popular vegetarian and vegan online restaurant guide, HappyCow, is available in an app! "Search HappyCow listings to find a local restaurant or cafe anywhere in the world, or search for reviews about a local vegan or vegetarian health food store."
Download: App Store | Google Play
---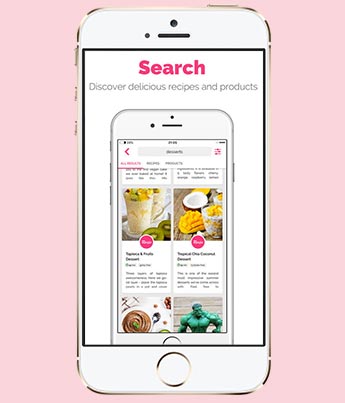 gonutss – Vegan Translator
FREE | Find Vegan Alternatives to Non-Vegan Food Items
Want to know some vegan alternatives for eggs used in baking? This vegan app lets you search for non-vegan food and then find vegan substitutes for you instead!
Download: App Store | Google Play
---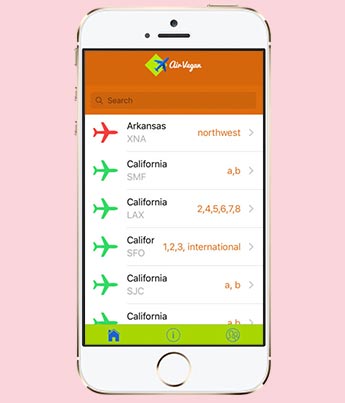 AirVegan
$1.99 | Find Vegan Options in Airport Terminals
If you travel a lot and find yourself struggling to find a restaurant inside an airport terminal that serves vegan food options, then this vegan app will help you out immensely! AirVegan lets you know which terminals in the airport have plant based options! I hear they have constantly been improving user flow with this app to make it a joy to use while keeping it fantastically vegan.
Download: App Store | Google Play
---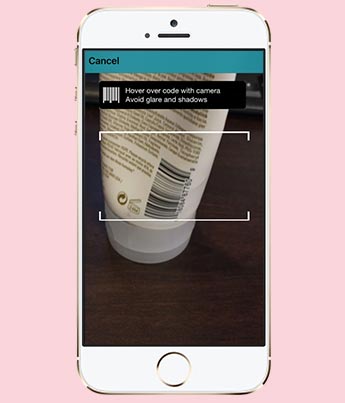 Cruelty Cutter
FREE | Find Products Not Tested on Animals
Scan a product's barcode to instantly know if it's cruelty-free or not! Don't have a product in front of you? Browse through this cruelty-free app's brand directory to learn if a company test or does not test on animals. "Cruelty Cutter app has every company in the Leaping Bunny and PETA lists and thousands more."
Download: App Store | Google Play
---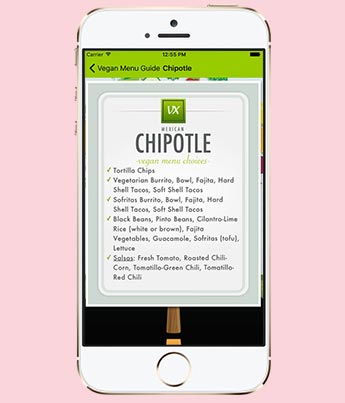 VeganXpress
$1.99 | Find Vegan Options on the Menu of Popular Restaurants
If you're out and about and find yourself unsure what is vegan on the menu of popular chain restaurants and fast food places, then this vegan app will solve all your woes (only if you're in the US). Whether you're at Chipotle, White Castle, Applebee's, or any other popular restaurant in the US, VeganXpress app will tell you what's safe on the menu for vegans to indulge in!
Download: App Store
---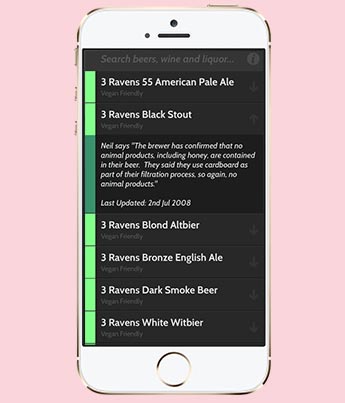 Vegaholic
$1.99 | Find Out if your Alcohol is Vegan
Using the data from popular online vegan alcohol guide, Barnivore, you can now access their searchable listings while on-the-go with the Vegaholic app! "Fast, offline, comprehensive list of vegan beers, wines, and liquor. The fastest way to quickly look up which alcohols are vegan friendly and which aren't."
Download: App Store
---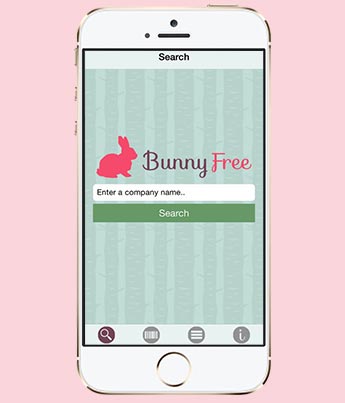 Bunny Free
FREE | Find Products Not Tested on Animals
Check to see if a company is cruelty-free using the Bunny Free app! Similar to the other cruelty-free apps where you can scan and search to see if a brand test on animals or not but this database only includes brands that are certified by People for the Ethical Treatment of Animals (PETA).
Download: App Store | Google Play
---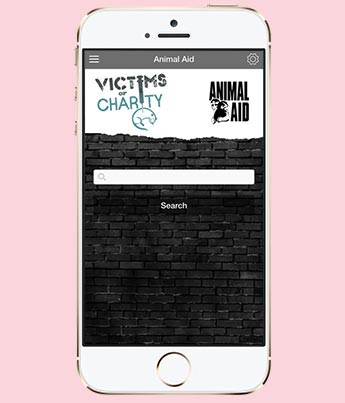 Cruelty-Free Giving
FREE | Find Charities that Don't Experiment on Animals
Use this cruelty-free app to check to see whether a UK research medical charity is experimenting on animals before you donate or support them! "The app provides a searchable database of medical charities and their policies on animal research, and includes nearly 290 organizations." Part of Animal Aid's Victims of Charity campaign with a mission to end the funding of animal experiments by medical research charities.
Download: App Store | Google Play
---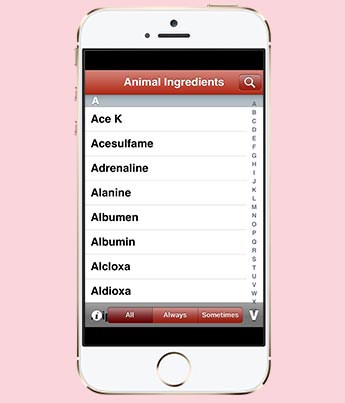 Animal-Free
FREE | Find Out if Ingredients in Food & Cosmetics are Animal or Plant-derived
Want to know whether a specific ingredient in processed food and cosmetics was animal or plant-derived? Use this nifty vegan app that will let you search and browse through a list of ingredients and then tell you if it's an animal or plant-based ingredient!
Download: App Store | Google Play
---
Which of these vegan apps have you tried and liked?