This post may contain affiliate links that at no additional cost to you, I may earn a small commission.
We're seeing a major shift in consumer awareness as more and more people are looking behind the labels to ensure the beauty products they're about to slather onto their skin are safe and ethically made. One thing caring consumers are not compromising on is the fact that animal testing for cosmetics is outdated and inhumane and we won't take part in any of it.
Cruelty-free beauty is defined as cosmetics that are not tested on animals during all stages of product development and production. Millions of animals are used for cosmetic testing every year so the animals need our help to get the cruelty-free message out! Sport one (or several) of these cruelty-free shirts to help spread the word!
1. Cruelty-Free Beauty is the New Black | ECCrueltyFree
There's a reason why cruelty-free is the latest beauty trend and that's because more consumers are waking up and demanding for more compassionate and kinder choices! Are you part of this growing cruelty-free trend? If so, rock it like you mean it with this stunning fitted cruelty-free shirt from ECCrueltyFree!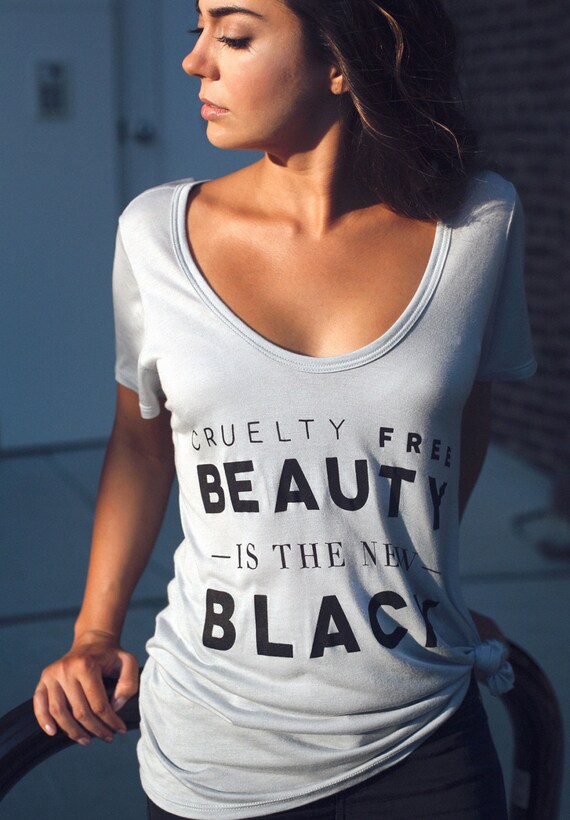 2. No Bunny Deserves To Be Tested On | Vaute Couture
This tank by a vegan fashion designer at Vaute Couture is in support of Humane Society's #BeCrueltyFree campaign. Show your support and let the world know that no bunny deserves to be tested on! P.S. Have you signed the petition yet? (Also available in a t-shirt)
3. Bunnies Before Beauty | ECCrueltyFree
No bunnies (or any animals for that matter) should have to suffer for the sake of beauty! It's unbelievable that our furry friends have chemicals dripped into their eyes and rubbed onto their skin in order to bring a new shade of lipstick to market. Well, there's actually no need to test on animals in this day and age! Make that statement heard with this eco-chic tank by ECCrueltyFree!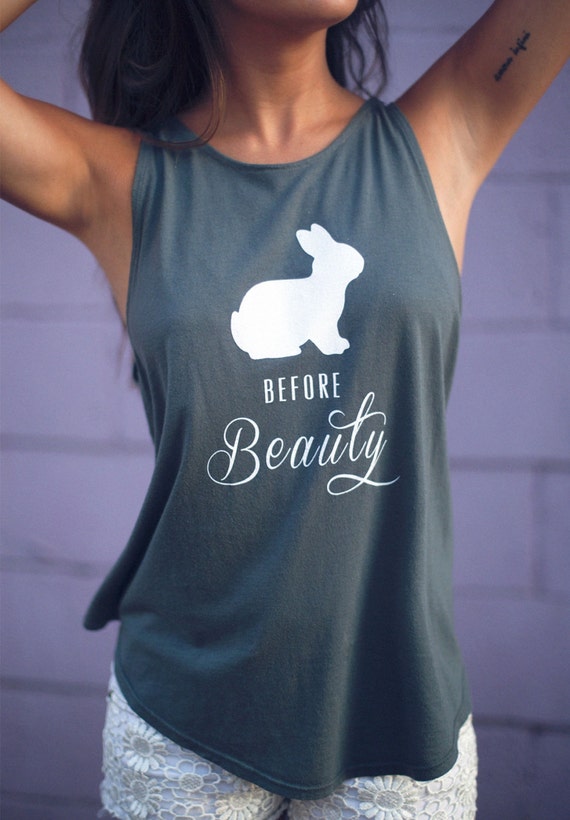 4. #noanimaltesting | Meaningful Paws
The only hashtag that matters, make your voice matter in the #noanimaltesting movement and stand up for the millions of animals used in product testing with this super adorable sweatshirt by Meaningful Paws! Can you believe it's made from recycled plastic bottles and organic cotton? (Also available in a t-shirt and sweater)
5. Don't Make Me Blush | Arm the Animals
Animal testing is so incredibly outdated and unnecessary to the point where it's embarrassing how some cosmetic companies are still doing it in the year 2016! Show them that there's absolutely no beauty in animal cruelty with this fabulous shirt from Arm the Animals! (Available in multiple colors)
6. Don't Mess With The Best Cause the Best Don't Test On Animals | Vaute Couture
Vaute Couture has done it again with this remarkable top benefiting Leaping Bunny, the gold standard for cruelty-free! Show your support to all that Leaping Bunny has done for making the process of finding truly cruelty-free products a whole lot easier with this shirt because they truly are the best!! (Also available in a tank top)
7. Beauty Not Cruelty | Arm The Animals
It's getting a lot easier advocating for cruelty-free beauty when there are beautiful shirts like this one from Arm the Animals that'll help get the word out — I choose beauty not cruelty! (Available in multiple colors)
8. Love Life, No Matter Whose | Herbivore
Sometimes people just need to be reminded that a life is a life. We don't reserve any rights to take ones life away especially to test our beauty products. Help remind others to Love Life, No Matter Whose with this super adorable top from Herbivore! (Also available as a t-shirt)
9. Animals Aren't Lab Tools – End Animal Testing | NZAVS
It's so obvious but sometimes we just need to say it out loud or in this case, have it printed on a shirt! Animals shouldn't be treated as mere property or equipment, let them free! This shirt supports the efforts of New Zealand Anti-Vivisection Society.
10. Rabbit's Kiss | Arm the Animals
Seeing make-up on animals is so silly. Just as silly as using them to test our makeup! The only makeup a rabbit should ever wear is a kiss from me and you! The shirt comes in multiple colors from Arm the Animals.
11. True Beauty is Cruelty-Free | Alba Paris
They say, true beauty comes from within. And within us, we know that testing cosmetics on animals is inhumane and unnecessary so that's why we pledge to be cruelty-free! Let your true beauty shine in this cruelty-free shirt from Alba Paris! (Available in multiple colors)
12. Friends Not Test Subjects | Vaute Couture
Why are we in this fight to help end animal testing you ask? Cause animals are our friends and we wouldn't dare let our friends be routinely blinded, poisoned, or killed in order for us to feel pretty! Your voice matters; help stand up for your friends with this cute shirt from Vaute Couture!
BONUS! Fight Animal Testing Tote Bag | Lamudita
But where are your going to put all of your fabulous new cruelty-free beauty purchases? Let your message be heard while you shop for cruelty-free goodies with this Fight Animal Testing tote bag by Lamudita!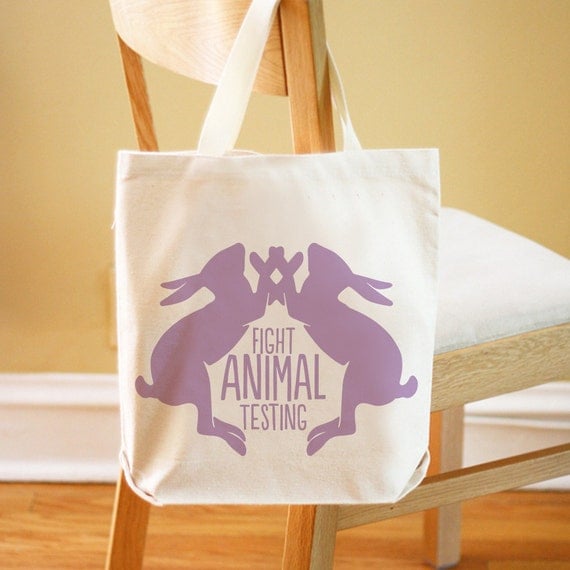 BONUS +1! I Do Not Support Animal Testing Pin | ThatVeganCow
When all said and done and you can't commit to any cruelty-free shirts, go for a pin like this one from ThatVeganCow that can be attached to just about anything instead!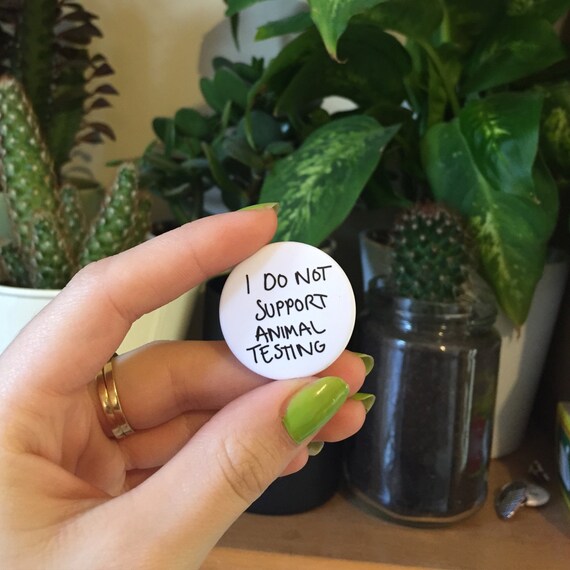 This post contains affiliate links which, while they don't change the cost for you, earn me a small commission.