This post may contain affiliate links.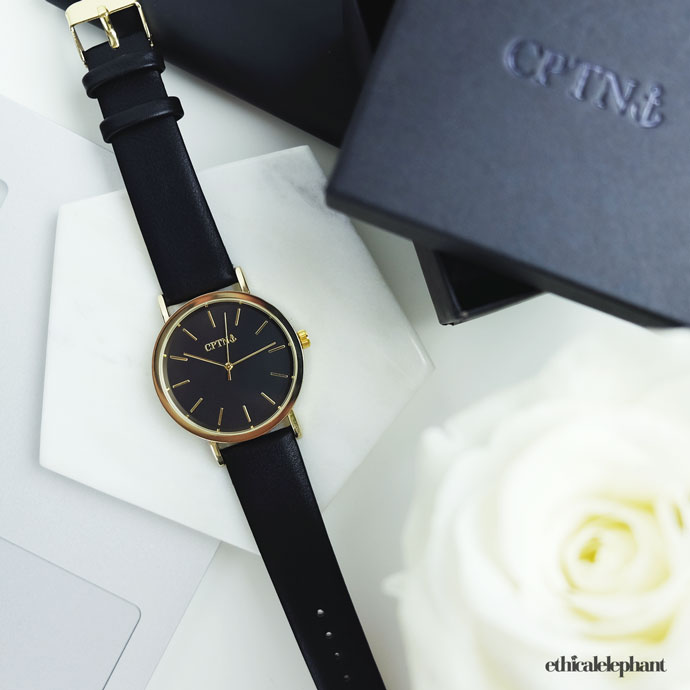 I'm excited to share with you all a vegan watch brand, called CPTN Watches, based in Australia.
Many of us don't consider the animal cruelty that comes with our small accessories but most traditional watches are made using leather derived from animal skin. This is often obtained in an inhumane manner where animals are put through poor and barbaric conditions.
But luckily, that's where CPTN Watches comes in! Their entire line of unisex watches are free from animal cruelty and does not contain any animal products, they're also PETA-Approved Vegan!
Their watches are ultra minimalist, modern, and versatile but best of all, they're one of the most affordable vegan watches available on the market.
The price of a CPTN Seafarer is USD$75 (Use coupon code: ETHICALELEPHANT to receive an additional 10% off). But you'll want to get on board quick because each style of CPTN Watches are limited to only 50 pieces!
There are a few color options available, choose between a black or tan vegan leather strap; matte white or black dial; and a polished gold, silver, or rose gold case!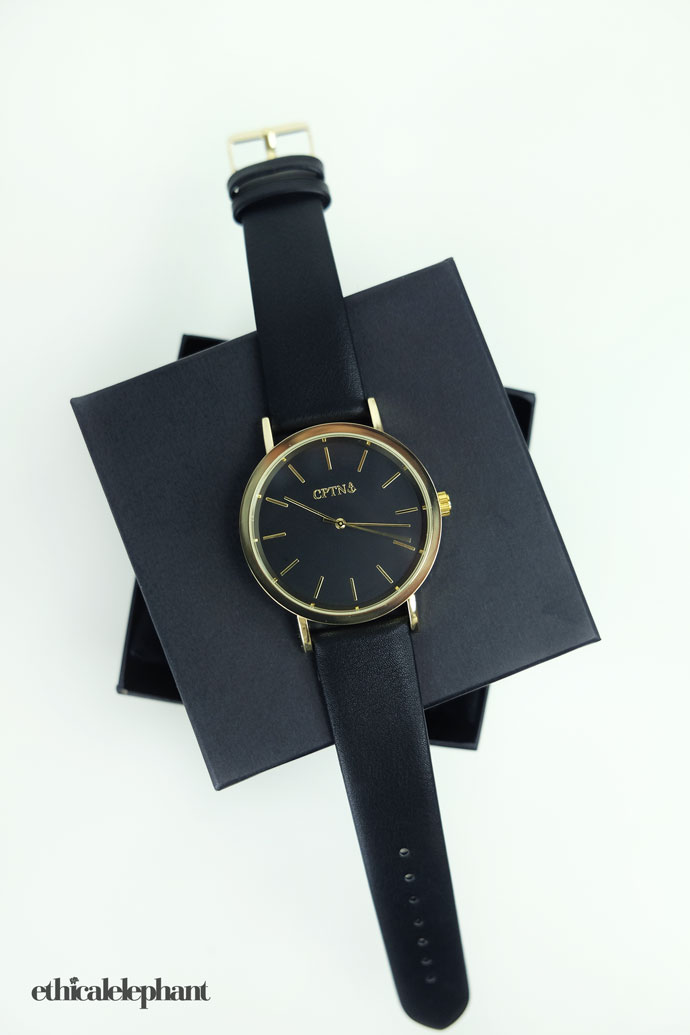 CPTN Seafarer Watch
I have the Seafarer CPTN Watch featuring a polished gold 40mm case, matte black dial, polished gold numerals and hands, and a black vegan leather strap.
The design is very minimalist yet modern and I love the CPTN logo in embossed gold at the top with the little anchor! These little details really bring the minimalist design together.
The vegan leather watch strap is soft as they claimed to be, which makes the watch very comfortable to wear throughout the day and to put on yourself.
The watch is water resistant of 3 atm, which means its suitable for everyday wear but won't hold up if you decide to shower or go swimming with it on.
The watch came in a small black box with a black watch pillow, making it perfect for gifting!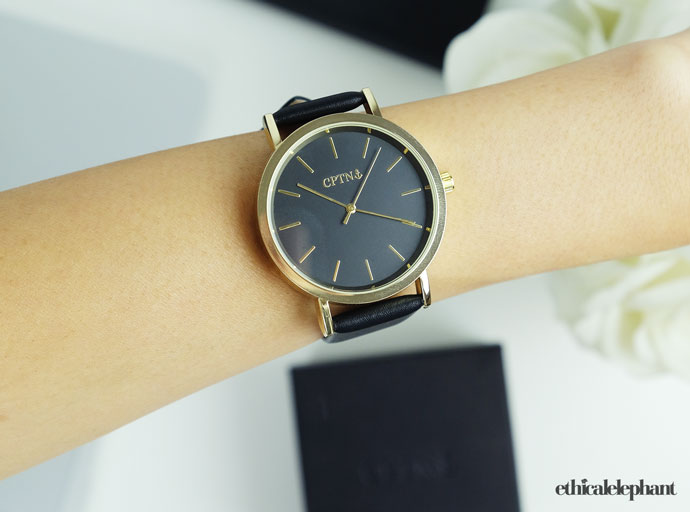 CPTN Seafarer in Black/Gold
Here is the CPTN's Seafarer 40mm in Black/Gold on my wrist. The strap was a little too big on me, as I expected, since I have really small wrists (like really small!). So this is sitting a little higher on my wrist than I'm used to. I did like how there were two loops, one being adjustable so that any hanging strap can be neatly tucked away.
I did however find it a little too bulky on my small wrist. This is actually the first unisex watch I've tried on and my taste in timepieces is more feminine, so I would have liked to see options that were a little smaller and dainty.
The overall appearance and style of the watch is chic, modern, and minimalist making it super easy to pair with a casual outfit or a night out on town.
Overall, I think this would make for a perfect gift idea or if you're looking for an affordable, minimalist watch that's free of animal cruelty, then I would recommend checking out CPTN's limited edition vegan watches!
What are your thoughts on these CPTN Watches?
---
Disclaimer: I received press samples in exchange for my honest review. I was not required to write a positive review nor was I compensated in any other way. All opinions expressed are always 100% my own.