This post may contain affiliate links that at no additional cost to you, I may earn a small commission.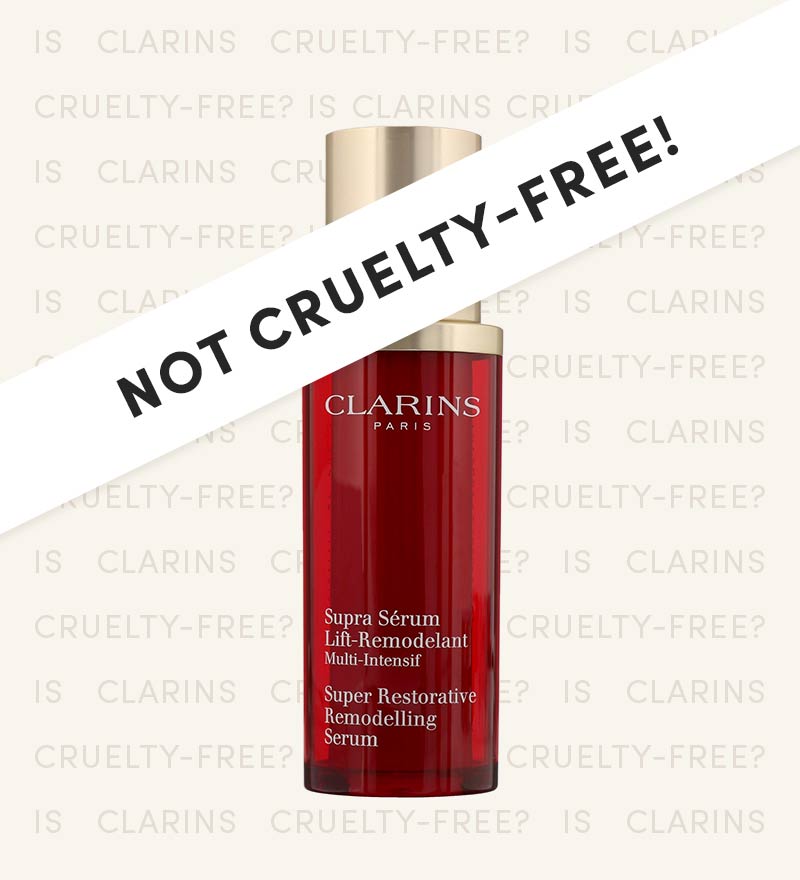 Is Clarins Cruelty-Free?
Clarins is NOT Cruelty-free. Clarins pays and allows their products to be tested on animals when required by law. Clarins also sells its products in stores in mainland China where animal testing is mandatory for most imported cosmetics.
Clarins Animal Testing Policy
Clarins claims they don't test on animals, however, in some countries, where Clarins is sold, require animal tests. This suggests Clarins is selling their products in stores in mainland China where animal testing is required for most imported cosmetics.
Below is what's currently stated on Clarins' website: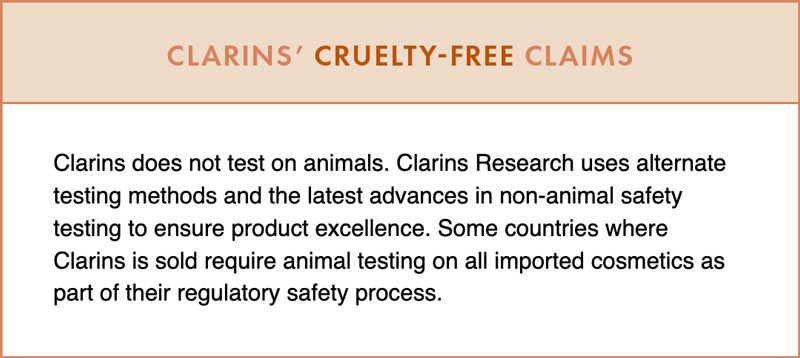 Also, when I emailed the brand asking if any of their products, ingredients, or formulations are tested on animals by the company itself or commissioned to a third party to test on their behalf, or by any of their suppliers. They responded saying,
"As a company, we utilize the latest advances in non-animal safety testing to deliver products of the highest quality to consumers.

Some countries unfortunately still require animal testing in order to validate the safety of cosmetic ingredients or products. As a Global company, we are committed to providing our products and services to our consumers where they live and to do so, we must comply with all legal requirements where we do business. Clarins continue to maintain its commitment to end animal testing around the world and to do this, we will continue to invest in scientific research to promote the full acceptance of non-animal testing methods by working closely with Global authorities in this area."
This, along with the couple of screenshots I took (see below) from their Chinese website, further confirms that Clarins does sell their cosmetics in mainland China's stores and must consent and allow Chinese officials to test their products on animals first.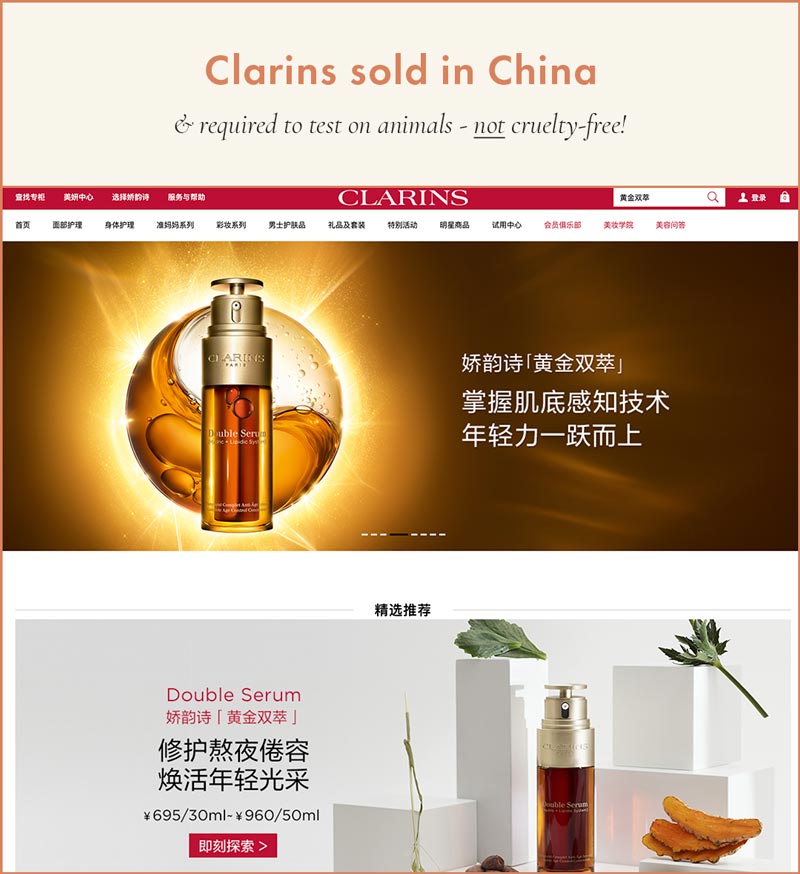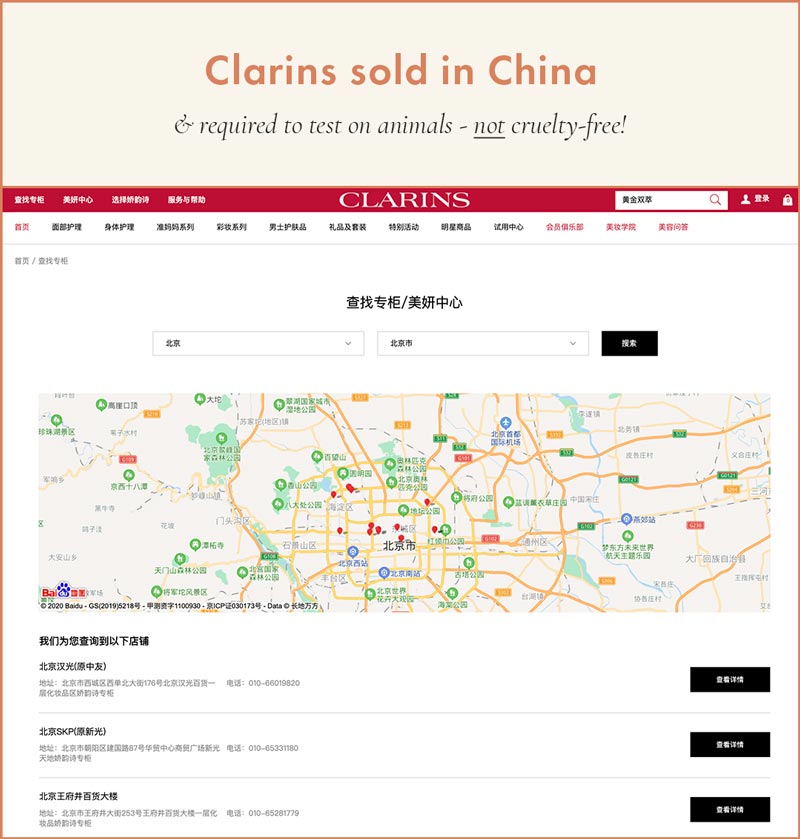 Many truly cruelty-free brands have chosen not to sell in mainland China because of their animal testing requirements, unfortunately Clarins refuses to do the same and has chosen to put profits before the welfare of animals.
Summary: Clarins is NOT Cruelty-Free!
By choosing to sell in mainland China, Clarins must have their products tested on animals. Therefore I would not consider Clarins to be a cruelty-free brand.
Clarins is on our List of Brands to Avoid – Animal Tested.
Is My Clarins Cruelty-Free?
In 2019, Clarins launched a skincare line called My Clarins targeted to the younger generation. They claim the products from the My Clarins are both cruelty-free and vegan but I wouldn't buy from this line.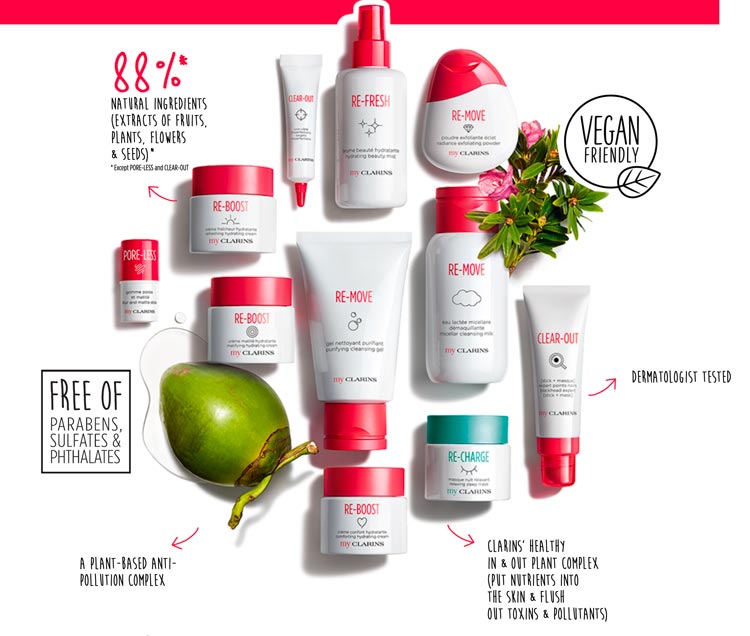 Clarins suggests that since their My Clarins line isn't sold in China and they have not been tested on animals, that this means they're cruelty-free.
"Through the My Clarins products' vegan-friendly label, Clarins is guaranteeing that you are buying cosmetic products that do not contain any animal-derived raw materials and have not been tested on animals, as they are not sold in countries where animal testing is mandatory."
However, My Clarins is just one small product line operating under the same umbrella as Clarins.
In my opinion, Clarins produced My Clarins as a cash-grab to try and sell to young, cruelty-free & conscious consumers. They're trying to appeal to the cruelty-free community but without actually making any changes to their bottom line. If Clarins really cared about helping to end animal testing for cosmetics, then they should stop testing their main product line, Clarins on animals!
Sorry Clarins, but you can't have it both ways.
When evaluating a brand's cruelty-free status, I review the overall brand itself and whether they conduct, commission, or condone any type of animal testing on their ingredients, formulations, or finished products.
To see Clarins produce a separate line of "cruelty-free" and "vegan-friendly" skincare and try to pass it off as if they're partially cruelty-free now isn't going to fly with me.
Is Clarins Vegan?
Since we would not consider Clarins to be cruelty-free as their products are tested on animals when required by law, we also wouldn't consider anything sold or manufactured by Clarins to be vegan.
Cruelty-Free Alternatives to Clarins:
Looking for cruelty-free options to Clarins, here are some of our recommendations:
---