This post may contain affiliate links that at no additional cost to you, I may earn a small commission.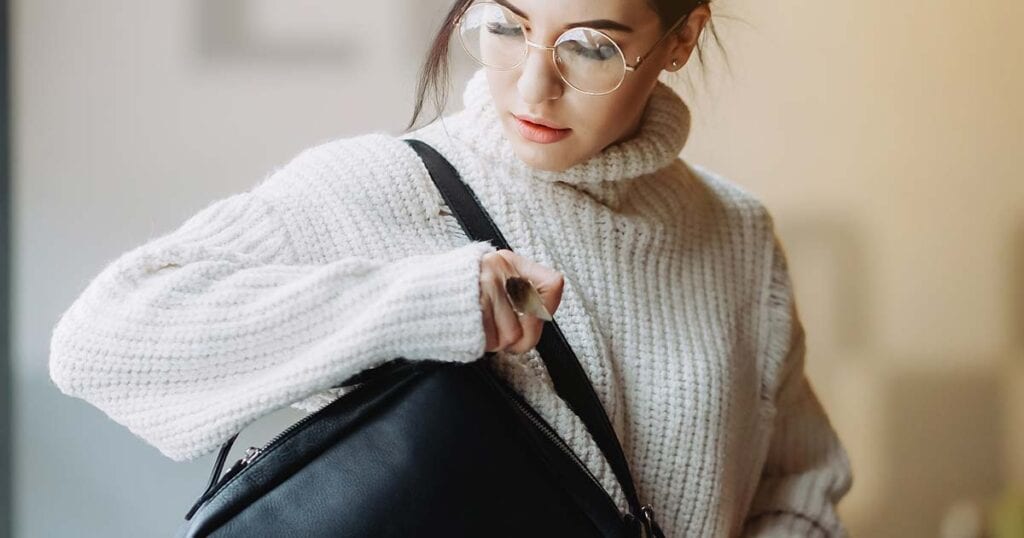 Discover from a wide selection of cruelty-free and vegan backpacks in this list of chic vegan leather backpack purses!
Whether you're looking for a vegan leather backpack to fit all of your essentials for work, school, travel, or for fun, I've rounded up some of the best eco-chic, stylish, and on-trend vegan leather backpacks for all occasions.
Most leather backpacks available on the market are made from animal hide and are not vegan. In addition, some fabric or canvas backpacks include leather straps or accents that are not always clearly labeled and may be made from animal leather.
To help you choose a vegan leather backpack purse that is both functional and fashion-forward, here's a list of chic and modern vegan backpacks for the compassionate fashionistas that cares just as much about style as she does about animals and the planet!
All of the vegan handbag brands mentioned in this post are 100% vegan and do not contain any animal-derived materials like leather, suede, fur, silk lining, wool, or any other animal skins/hides.
Vegan Leather Backpacks
No animals were harmed in the making of these vegan backpacks!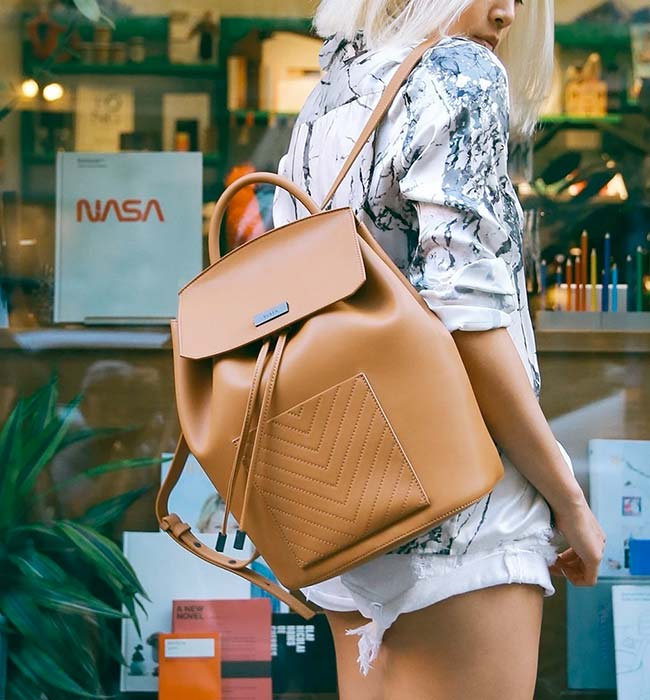 Vegan Drawstring Backpack by JW PEI ($179, On Sale $89!) – "This gorgeous backpack is made with our signature ultra-microfiber luxury vegan leather, which offers a soft touch, superior durability and luxurious texture. The backpack is also super lightweight. It weighs only 750g (approx. 1.6lbs.), about 40% lighter than similar leather bags. Like all our other products, this backpack is 100% cruelty-free." The lining of this backpack is also made from 100% recycled plastic bottles.
---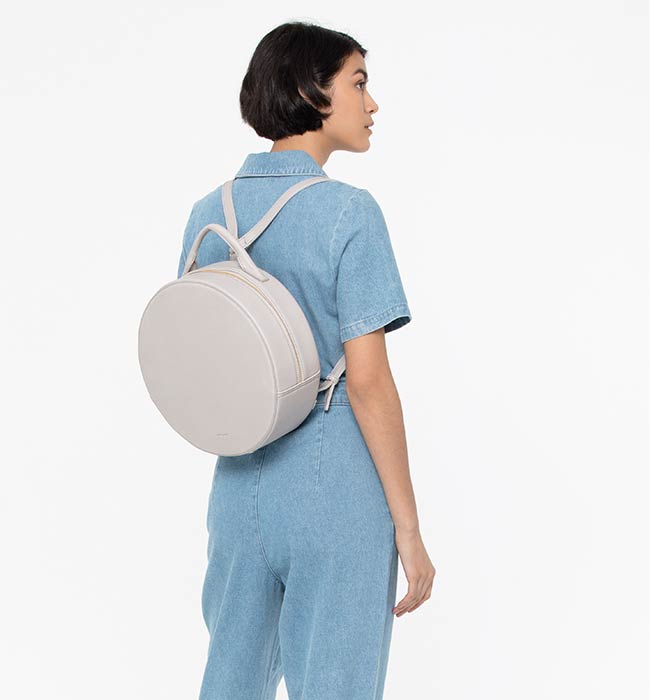 Circle Vegan Backpack by Matt & Nat ($160, On Sale $120!) – available in black, brown, and grey. This backpack has adjustable straps and a top carrying handle strap, also includes an interior smartphone pocket and zipper pocket. And like all of Matt & Nat vegan bags, the lining is made from 100% recycled nylon material.
---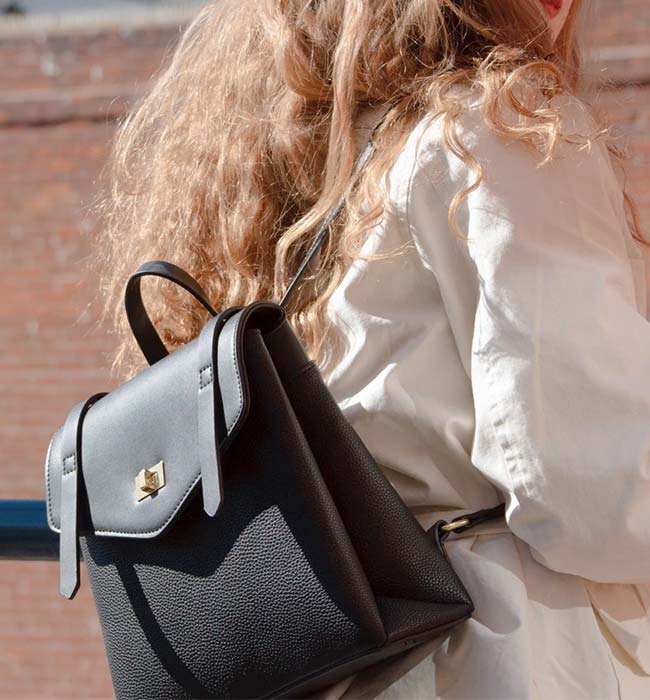 Cute Black Vegan Leather Backpack Purse by Melie Bianco ($135) – "Maxine is a style with a classic look and all the functionality you need in a backpack. Keep your things organized with the two compartments and multiple pockets. Features adjustable shoulder straps and a top carrying handle. This cute backpack is one you'll surely want to add to your collection."
---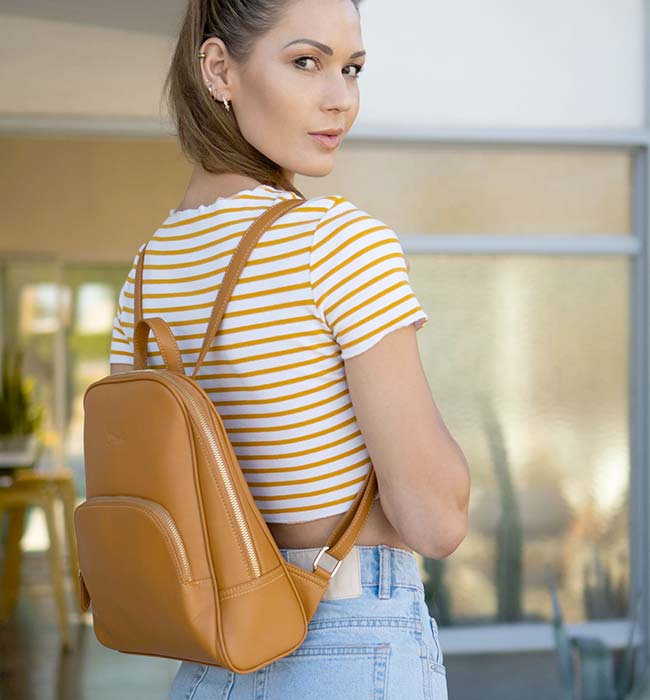 Slim Vegan Leather Backpack by Doshi ($79) – Available in Black, Green, and Caramel colors. "The Debut Slim Backpack is subtle, sleek, chic and made from a durable, microfiber vegan leather shell." The inside of this backpack features a zip pocket and a slip pocket for organization, as well as, a backside pocket for valuables.
Use Doshi Coupon Code: 'ETHICALELEPHANT10' to receive 10% off your order of $50+
---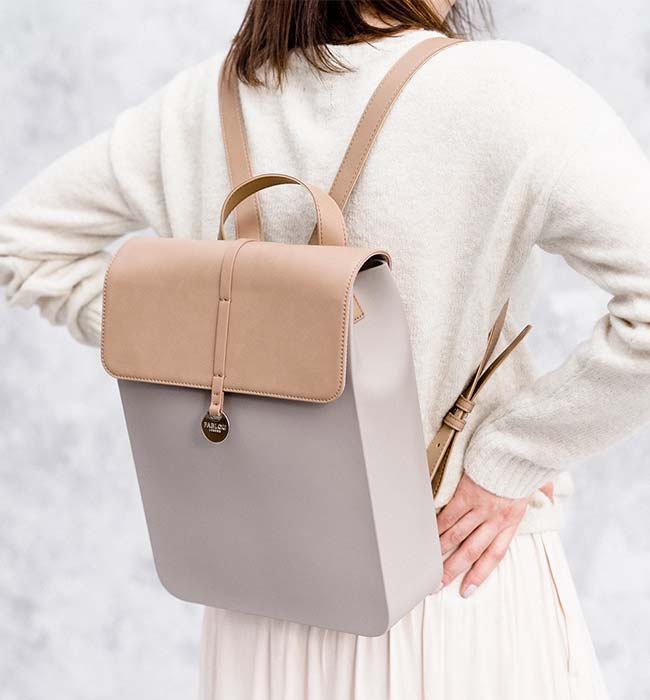 Silicone Backpack with Faux Leather Trim by Fablou (£99) – This ultra-chic minimalist backpack is made from soft and silky silicone that is highly resistant to stains, scratches & scuffs. Available in multiple colors: Blush, Berry, Navy, Yellow, Black. "Cosmopolitan is perfect busy city days and getaway weekends. Sized to fit 13″ laptop, A4 and all your essentials. Comes with large detachable inside pocket and adjustable shoulder straps. Unlined for an easy clean inside & out."
---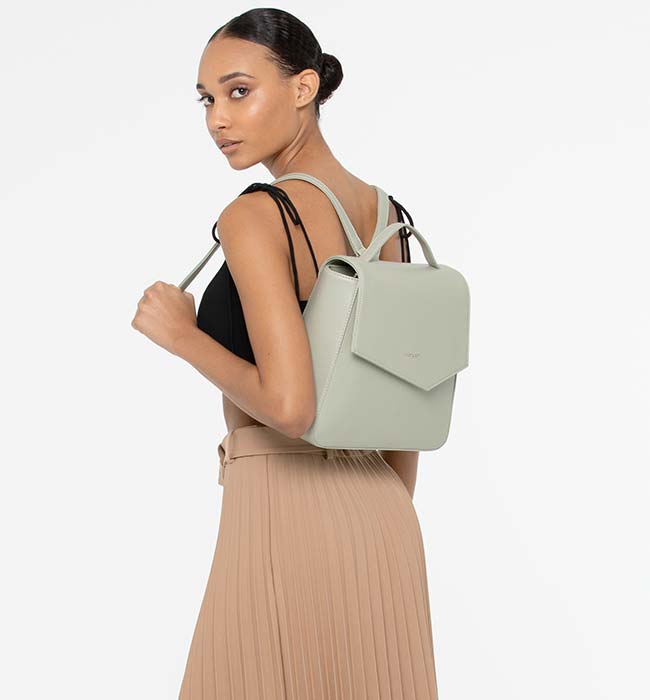 Asymmetric Flap Vegan Backpack Purse by Matt & Nat ($145) – Available in black, blue, cream, and mint green. Matt & Nat's Quena backpack is made from vegan materials and features an interior zipper closure for added security when wearing. Top handle to hand-carry, and adjustable back straps. The lining is made from 100% recycled nylon material.
---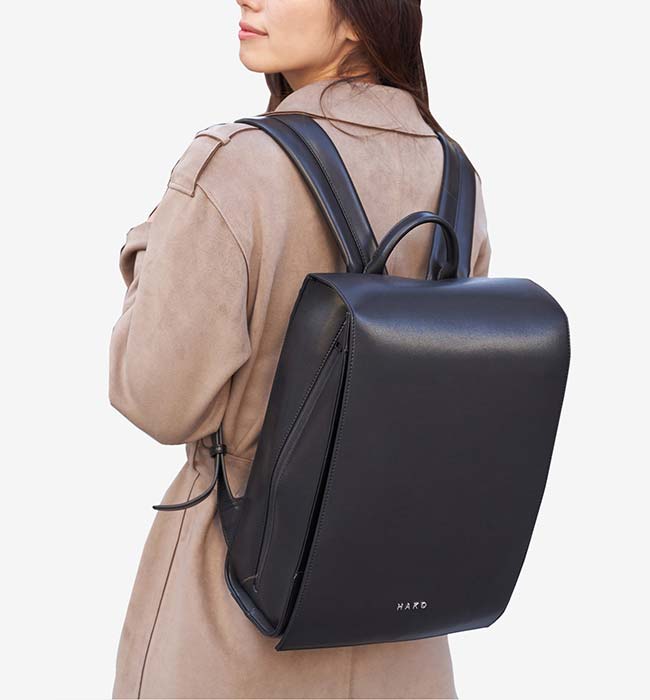 Hako One Randoseru Backpack by Tokyo Bags ($240) – "From the traditional Randoseru Japanese school bag, we abstracted the essence of practicality, functionality, and durability to create the Hako One Randoseru backpack. With a slimmer and modern profile, this enables both adults and children of all gender and ages to carry the Hako One backpack with exceptional comfort."
---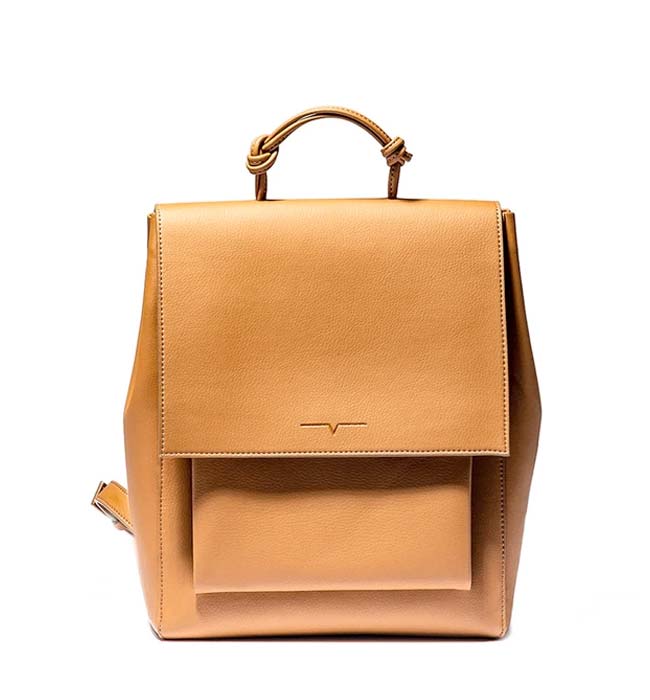 Vegan Leather Minimalist Backpack by von Holzhausen ($295) – Available in multiple colors. "The Technik-Leather Mini Backpack is made using our 100% animal-free and sustainable leather alternative. Features of the vegan backpack purse include: a magnetic snap for easy access into the main compartment, a large front pocket, a small exterior slip pocket on the back of the bag, and adjustable backpack straps. The liner is made from microfiber, constructed from recycled plastic. The interior has one open pocket."
---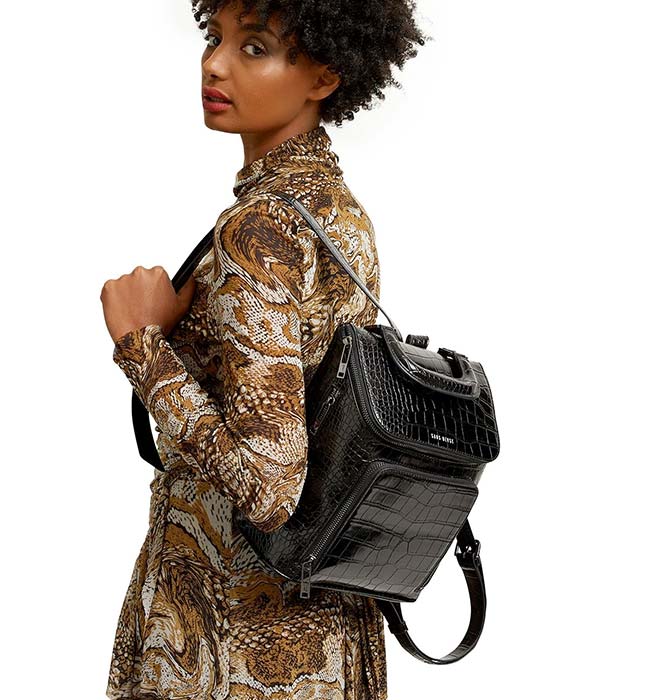 Vegan Alligator Backpack by SANS BEAST ($275) – "The Noir Alligator Brief Liaison Backpack is Sans Beast's signature box-style bag updated to include integrated backpack straps. Sans Beast functionality plus style with a padded vintage luggage-inspired handle, padded tech pocket, multiple internal and external storage compartments, and adjustable straps."
---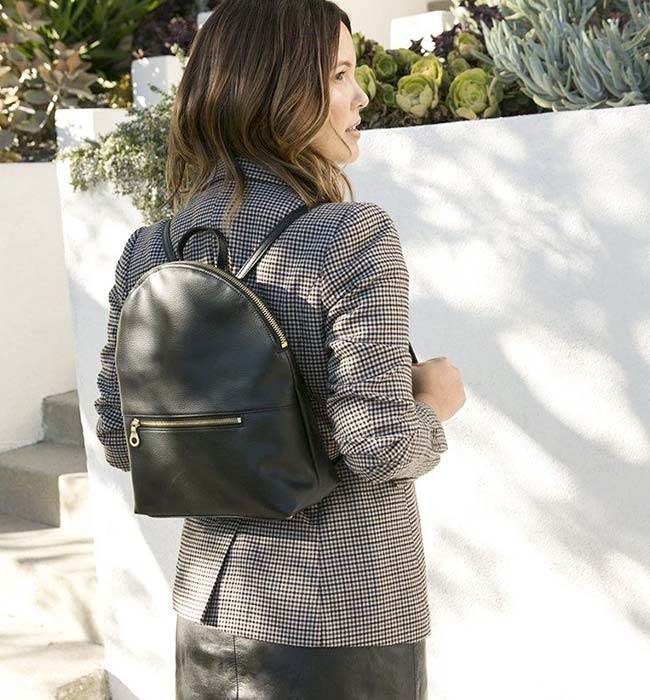 Petite Black Vegan Backpack by Filbert ($115) – "The Irving is the quintessential, everyday, cruelty-free backpack. She's crafted with the best vegan leather. She's got a lovely petite shape, and features an outside zipper pocket, an inside zipper pocket, and two inside small pockets which fit the iPhone 7 Plus. This handbag is offered in pebble, chestnut, and onyx, and features organic cotton lining, and solid brass hardware. Founded on a belief that handbags could be both luxurious and mindfully-made Filbert handbags and accessories are PETA-approved. Our ethical, high-end, luxe handbags are sustainably designed for women who are mindful consumers."
---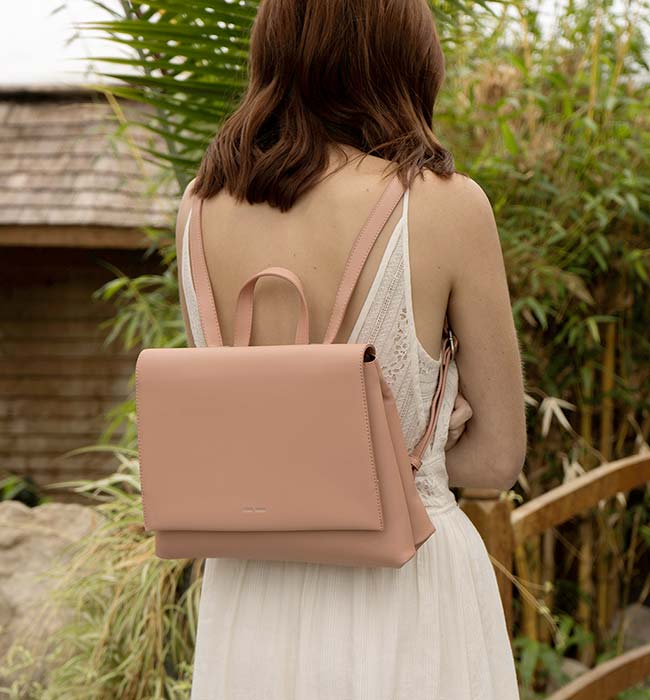 Briefcase Style Vegan Leather Backpack by Pixie Mood ($75-$100) – The Janice convertible vegan leather backpack laptop purse comes in multiple colors and in two sizes: small and large, with its largest fitting a 15″ Macbook Pro. This clean minimalist briefcase-style backpack can be converted from a traditional backpack with adjustable straps to a shoulder bag. The lining is also made from recycled water bottles and features an interior slip pocket.
---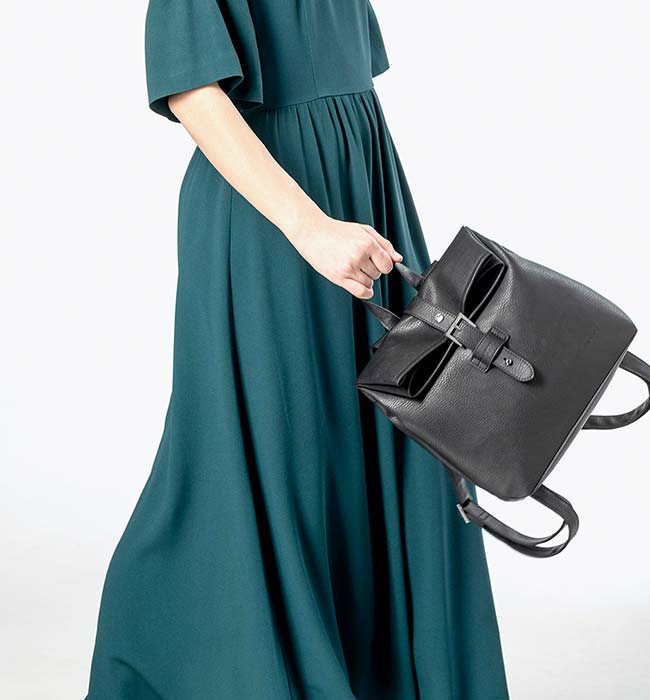 Vegan Mini City Leather Backpack by Miomojo (€70) – "Fashion and luxurious style don't need to come at the expense of our animal friends, and our new Ethicool styles in the eternally classy and versatile black are prime examples of that. Crafted with PETA-approved vegan leather (free of PVC or heavy metals), the new total black line is designed for the modern woman who wants to look good, feel good and do good with her purchase. This minimal and classy mini City – Backpack offers compact carrying for your essentials and is enhanced with beautiful details and great functionality."
---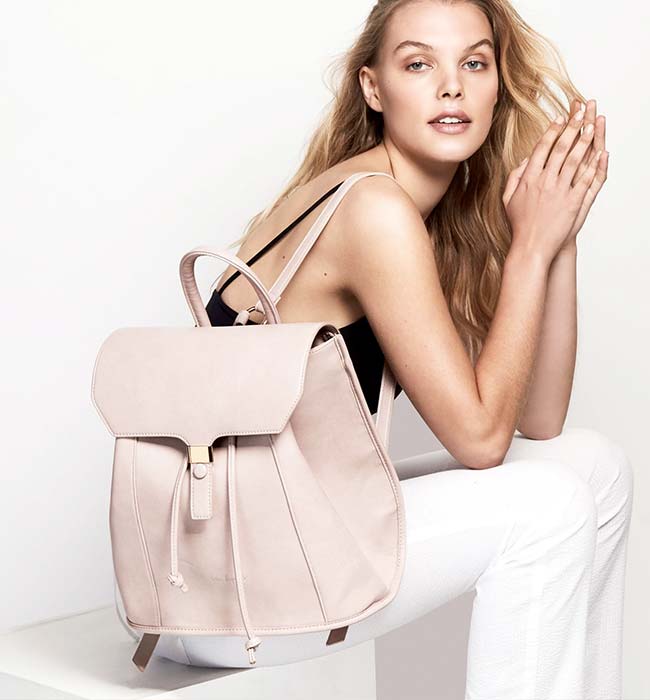 Rose Pink Vegan Leather Backpack by Urban Originals ($88) – The Foxy Backpack by Urban Originals honors the brand's commitment to luxury and practicality; it features one large main compartment with drawstring and magnetic closure, two zip pockets and is crafted in soft vegan leather. Fits 13″ laptop.
---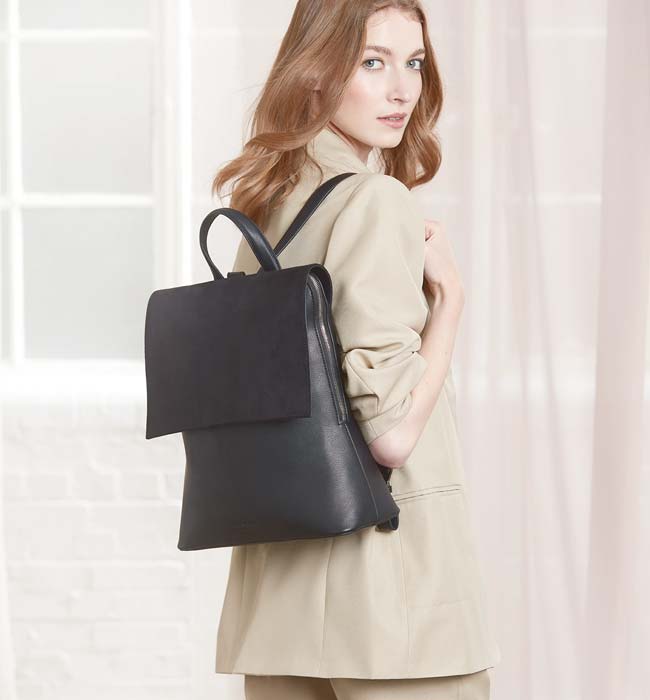 Minimalist Work Backpack by Lawful London (£160) – "The Dahlia backpack is designed to help you balance your lifestyle in the chicest, minimalist and most practical way possible. This sleek, medium sized backpack is modest enough in size for daily use and sensitive to your work, fitness and weekend needs. Whether you're searching for a women's backpack for work or a weekend travel bag, this contemporary yet functional accessory will fast become your new favourite personal and professional lightweight companion, readily available to support productivity and organisation in all aspects of your life."
---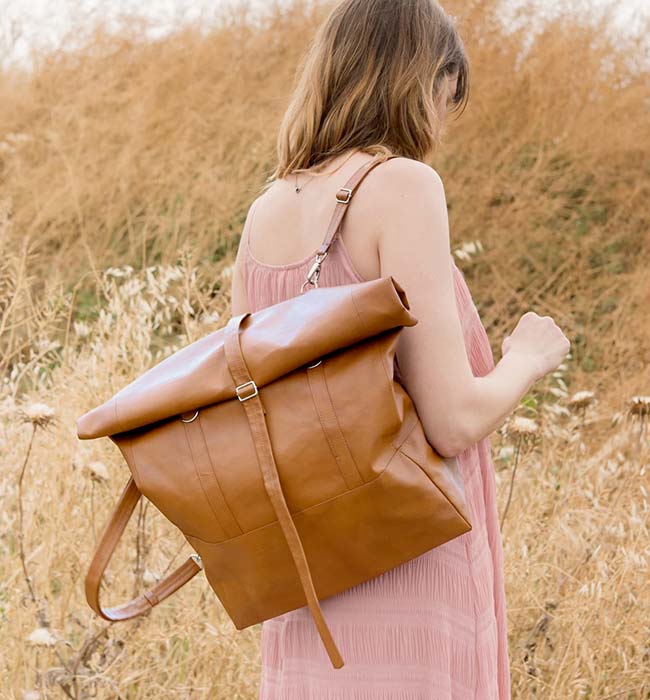 Vegan Convertible Backpack Tote by Lee Coren ($159) – Available in black, tan, and grey. "If your days are stacked like we think they are, then this versatile vegan convertible backpack tote is going to make your week! Designed with busy commuter life in mind, it'll be perfect for your everyday & travel, easily switching from backpack into a large shoulder bag. Its soft-shell construction allows for it to hold a lot or little, so you can even fit your coat inside instead of carrying it on your arm all day long."
---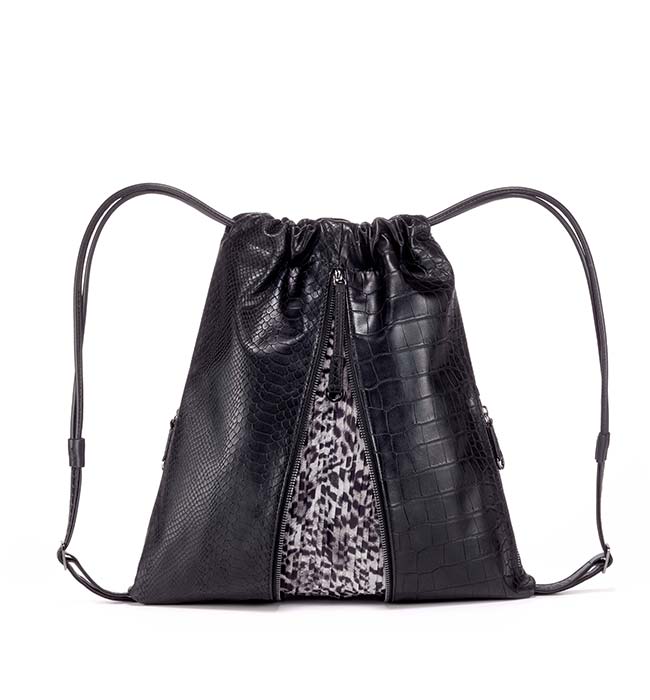 Vegan Leather Drawstring Backpack by FruitenVeg ($220) – "MISHI backpack is made of python and croco textured faux leather. This vibrant style has a spacious interior with a detachable pouch for organizing your essentials. Keep your cell phone and keys close at hand in the 2 side pockets, lined with soft faux suede. Unzip the central zipper to reveal the leopard print pleats extension allowing the bag to grow up to twice its original volume. MISHI's surprising versatility makes it a practical and refreshing addition to your accessories line-up."
---
Vegan Backpack Made From Apple Skin Leather by LUXTRA (£295) – Available in Burgundy, Black, Silver, and Black & Blue. "A sophisticated and practical vegan backpack made from AppleSkin. Neatly fits a 13″ laptop along with phone, A4 documents, water bottle and other daily essentials."
---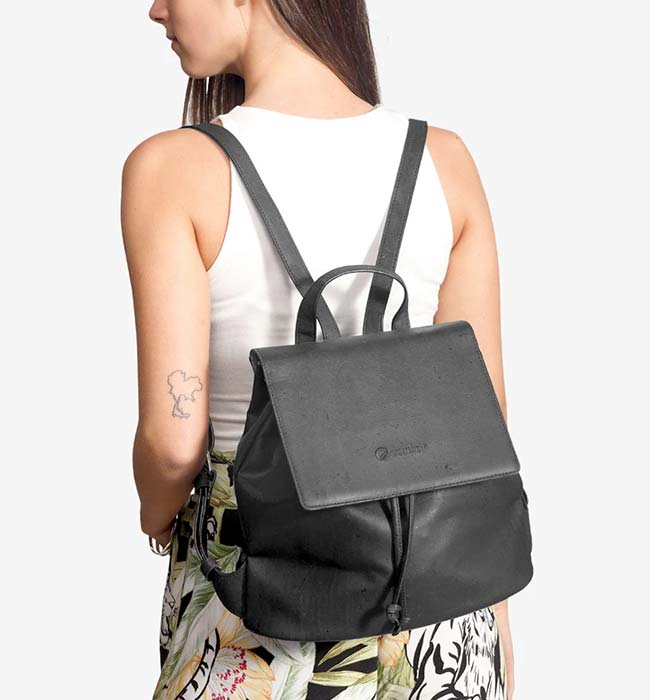 Cork Backpack by Corkor ($200) – "The Cork Backpack is a feminine take on a sporty classic, perfect to fit your essentials in your day-to-day adventures. Handcrafted from genuine cork, this vegan backpack is sized just right to hold your wallet, smartphone, and small essentials, without weighing you down."
---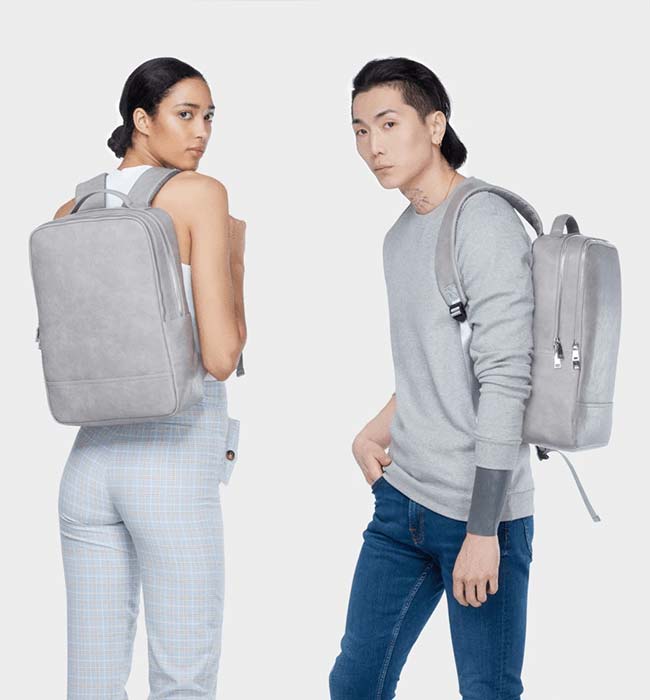 Unisex Vegan Laptop Backpack by Labante ($169) – "A gender neutral Backpack from Labante London, this Acacia Unisex Laptop Backpack in Grey is perfect for your day to day commute to work or your hiking and travelling needs. Featuring a 15 inch laptop compartment completely made from recycled plastic bottles, this is one backpack that will sit comfortably on your shoulders due to its padded adjustable straps. It has two main zipper compartments that is perfect for your laptop and files. Finished with a zip pocket for your card and keys."
---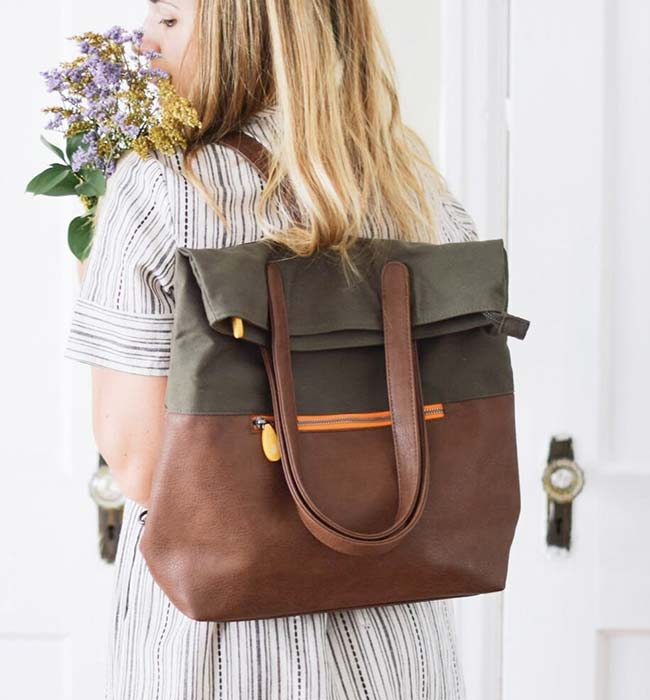 Organic Cotton & Vegan Leather Backpack Purse by Canopy Verde ($179) – "Convertible backpack that will become your go-to bag! It's a work tote for your laptop, a comfortable backpack that keep your hands free, and a versatile travel bag. To transform the bag into a tote, simply tuck the backpack straps into a back panel."
---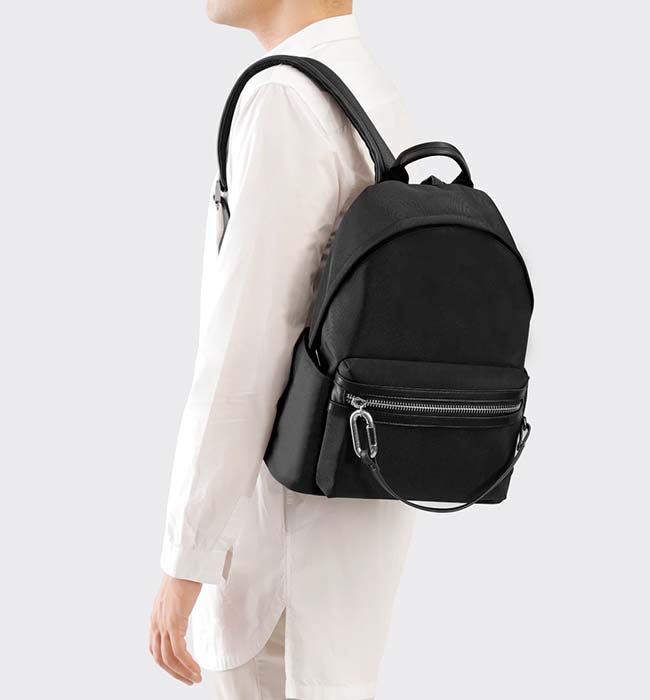 Unisex Vegan Backpack made from Recycled Materials by Charlie Feist ($150) – This sleek backpack is made from recycled PET construction with vegan leather zipper pullers and accents and a removable hook. 100% waterproof and fits a 15″ laptop with side pockets to store your water bottle.
---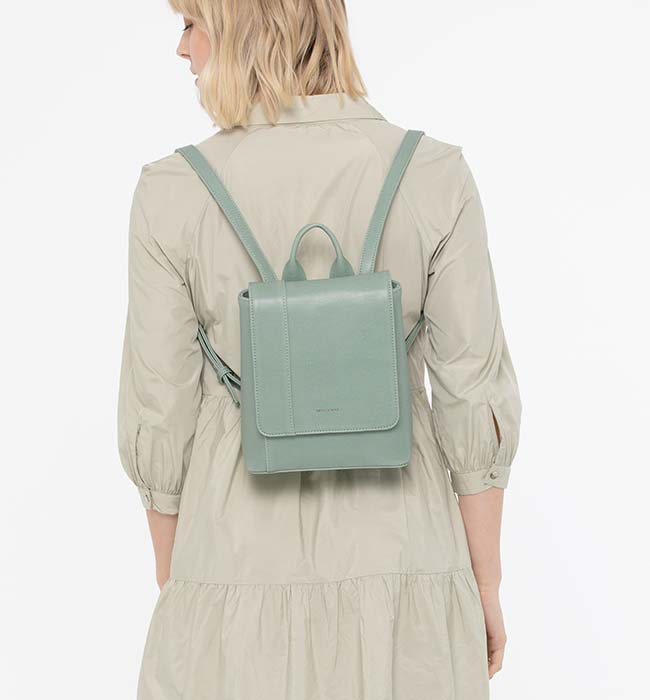 Vegan Mini Backpack by Matt & Nat ($120, On Sale $90!) – Available in multiple colors. Matt & Nat Deely Mini backpack features a top handle and hidden magnetic snap closure under flap. Inside the backpack includes a zipper pocket and a smartphone pocket. 100% recycled nylon lining.
---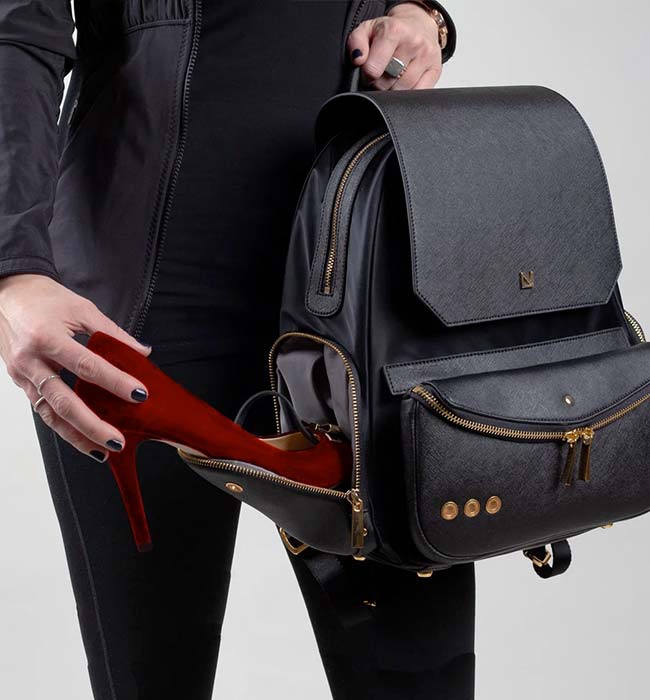 Work & Travel Vegan Backpack by Lux and Nyx ($255) – "The game changing backpack. It has everything you need to help you conquer more in life– with over 18 compartments and functions, take it from the gym to work, on a plane or just a day wandering town without skipping a beat."
---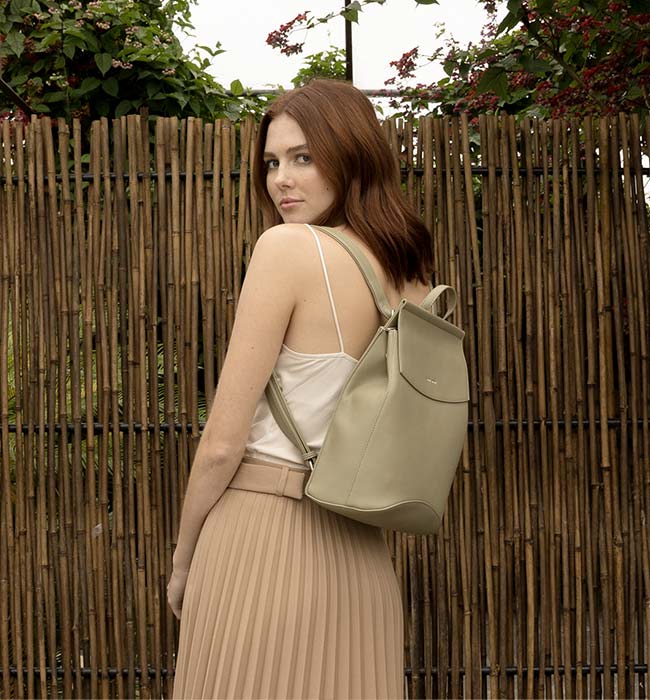 Versatile Vegan Leather Backpack by Pixie Mood ($85, On Sale $72.25!) – Available in multiple colors. "This backpack is a bestseller for a reason; its versatility allows for it to be worn as a backpack or shoulder bag." Made with recycled water bottle lining.
---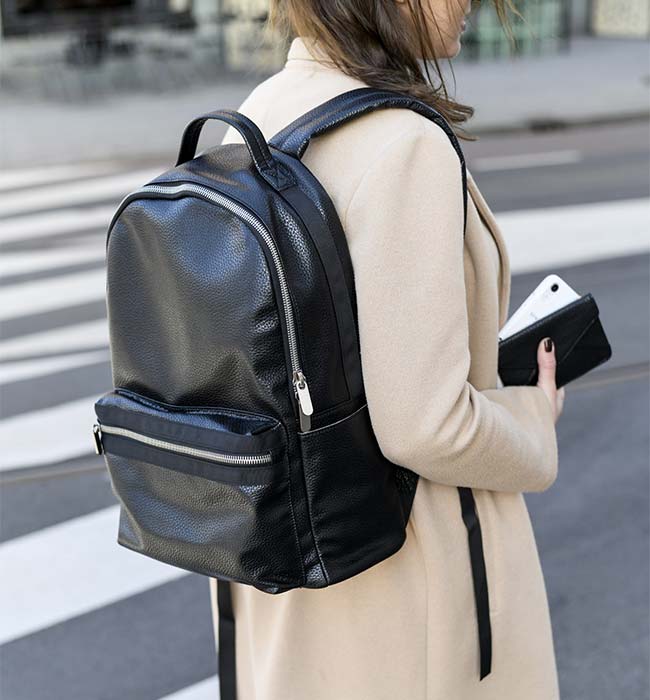 Black Vegan Backpack by Denise Roobol (€180) – "The DR backpack is the first unisex bag in the collection. It's made and developed with some practical tools, you can click the envelope-keyholder on the strap to have your valuable (bank)cards always by your side. Inside you will find a pocket suitable for a 13 inch laptop. On the outside there are two pockets at the side of the bag which can be used for a waterbottle, so the stuff inside will be kept savely dry."
---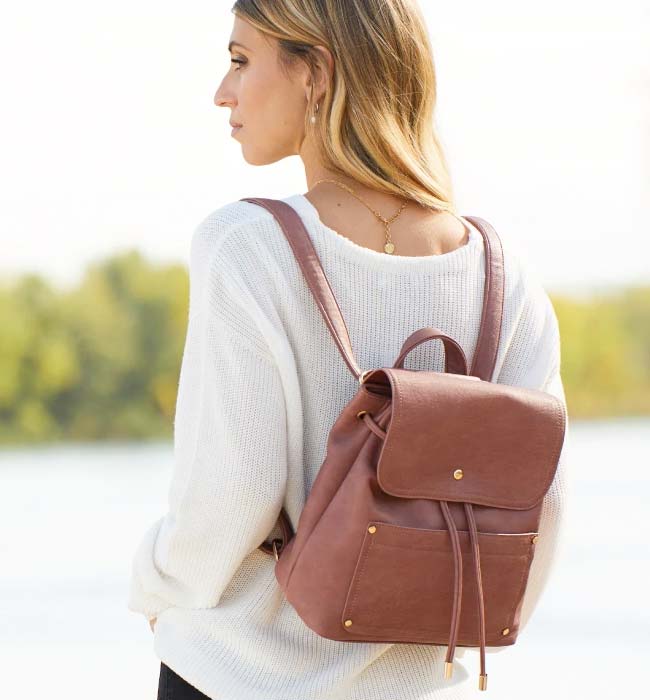 Button Snap Vegan Backpack by Jeane & Jax ($100) – "Backpack with magnetic snap flap and drawstrings with metal detail. Top tote handle and adjustable back straps. Front pocket with magnetic snap closure. Interior phone pouch and zip pocket."
---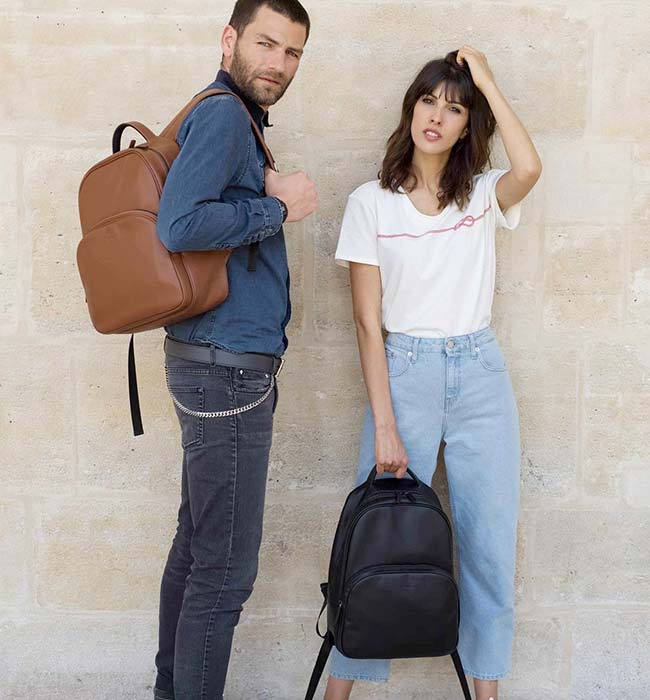 Luxury Vegan Backpack by Ashoka Paris ($275) – "Raphaël is a mixed vegan backpack, contemporary, functional and design. For your leisure or business meetings, Raphaël is a versatile backpack. Its modern design and its "leather" goods finishes make Raphael a bag that is both chic and relaxed. Its two large outer pockets and interior compartments make it very convenient. Its neoprene interior pocket can accommodate and protect a 13-inch computer. The inner lining of the Raphael backpack, here in Bordeaux, is made from recycled plastic bottles."
---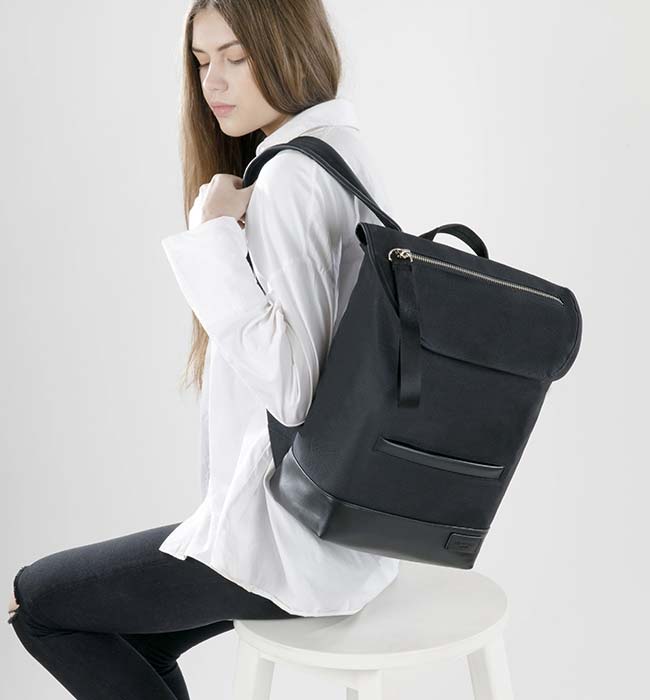 Vegan Backpack made from Recycled Materials by Charlie Feist ($100) – "Combining sustainability and minimalist design, the Sakai backpack is rendered in recycled PET and vegan leather. Accented by an iconic zipper puller, the backpack is inspired from vintage Japanese bomber jackets. Its vibrant orange cotton lining brings ease to locating your essentials." Fits a 15″ laptop.
---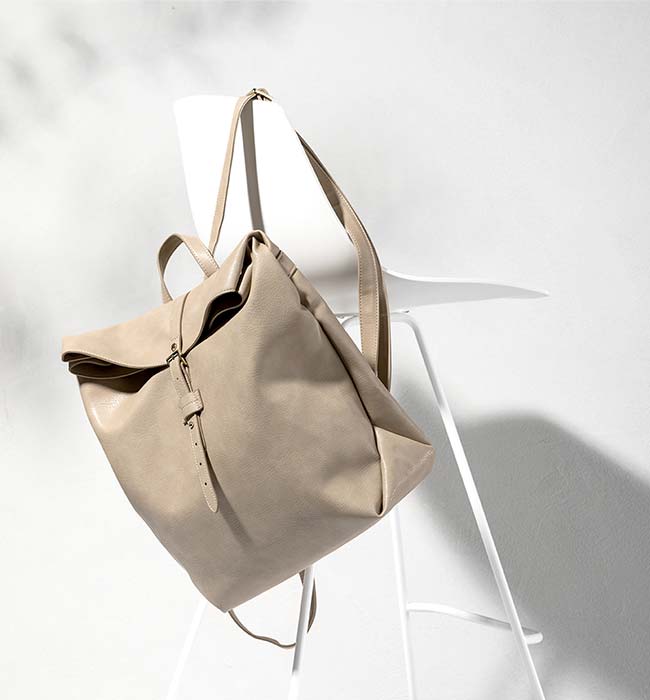 Vegan Leather City Backpack by Miomojo (€78) – "A must-have city backpack, perfect from day to night. Designed with the modern, creative and dynamic woman in mind, the ethicool backpack offers functionality with a feminine, sleek touch." Made from certified, high-qualitative, cruelty-free vegan leather (PU).
---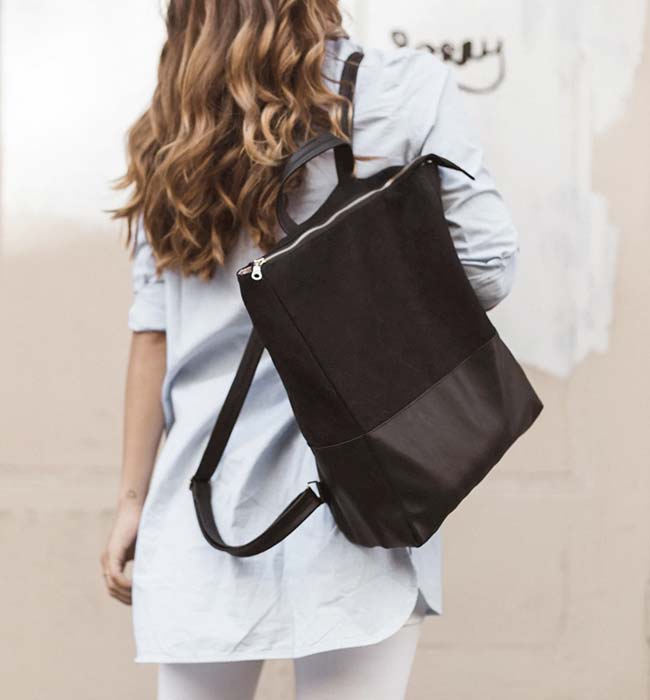 Metropolitan Backpack by Lee Coren ($160) – "If your days are anything like our, fast and busy, then the Metropolitan backpack is going to make them so much easier! With pockets in all the right places and a slim and soft shape, it'll be perfect for your 9-5 laptop carry and all those work meetings, but also for everyday errands and weekend explorations. The Metropolitan rucksack is light to carry yet can carry a lot, and sits perfectly on the shoulders. A hidden compartment in the back secures your belongings on the go, leaving your hands free."
---