This post may contain affiliate links that at no additional cost to you, I may earn a small commission.
Is Charlotte Tilbury Cruelty-Free?
It is currently unclear whether Charlotte Tilbury is 100% cruelty-free 2021. Charlotte Tilbury's products are not sold in physical stores in mainland China. But consumers in China can try some of Charlotte Tilbury's display and tester products at a pop-up shop in China.

Because of this, some cruelty-free consumers believe the risk of post-market animal testing of these Charlotte Tilbury testers in China is not something they want to support.
If you want to learn more about Charlotte Tilbury's cruelty-free status then keep reading as I break it all down.
Charlotte Tilbury's Animal Testing Policy
Below is what's currently stated on Charlotte Tilbury's website: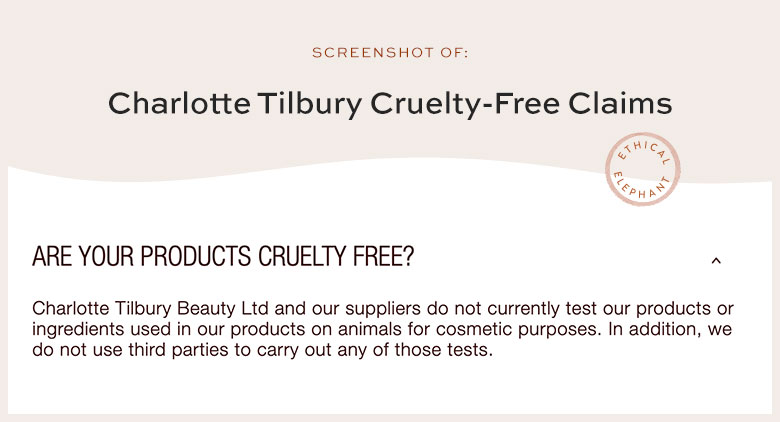 Before 2020, Charlotte Tilbury was listed in our Brand Directory as a cruelty-free brand. As Charlotte Tilbury confirmed none of their products, ingredients, or formulations are tested on animals, anywhere in the world.
But that all changed in late 2019/early 2020. Here's what happened:
Is Charlotte Tilbury Sold in China?
At the beginning of 2020, news broke that Charlotte Tilbury had testers of their products in a pop-up store in mainland China.
Chinese customers weren't able to buy Charlotte Tilbury products at this store location. But instead were directed to order and purchase Charlotte Tilbury products online on their website or on TMall Global.
Charlotte Tilbury Sold Online Only
Cosmetics sold online in China do not require animal testing. So Charlotte Tilbury can sell their products online and ship directly to customer's homes in China without pre-market animal testing.
However, Charlotte Tilbury has done something that no other cruelty-free brand has done before. And that is having some of their products for "display purposes only" in mainland China stores.
Charlotte Tilbury Not Sold in Stores in China
Charlotte Tilbury is not selling any of its products in physical stores in mainland China. They've confirmed this many times stating,
"I can confirm that our products are not sold in stores in mainland China!"
According to China's current animal testing laws, as of May 1, 2021, some ordinary or general cosmetics can be exempt from animal testing but only under certain conditions. Meeting these pre-conditions is not easy or cheap, and this is all still relatively new. Currently, no company has been approved to export and sell in China without animal testing. Therefore, animal testing is still legally required for most cosmetics currently sold in mainland China stores.
Pre-Market Testing
Because they're not actually selling anything at that pop-up store location, Charlotte Tilbury did not have to register their products for pre-market approval. Therefore they were able to bypass China's pre-market animal testing requirements.
Post-Market Testing
But then there's the issue of post-market animal testing. In the event of a customer complaint, non-routine post-market testing may be issued and authorized by officials. This is where they'll pull products off the store shelves and conduct independent tests.
Currently, there are conflicting opinions about whether post-market testing for cosmetics in China is still being done on animal test subjects. Some experts say it's unlikely and hasn't been done in years. But others say it's not ruled out yet, and it's still a risk, no matter how small.
As a result, some cruelty-free consumers choose not to support Charlotte Tilbury because of the small risk that Chinese officials will test their display tester products on animals.
Verdict: Cruelty-Free or Not?
Because Charlotte Tilbury is doing something I haven't seen any other cruelty-free brand doing, I'm unsure what to make with Charlotte Tilbury's cruelty-free status.
And because Charlotte Tilbury isn't certified cruelty-free by a third-party certification like Leaping Bunny or Cruelty Free International, Charlotte Tilbury's cruelty-free policy and commitments are self-regulated by themselves.
So at this time, I'm labeling Charlotte Tilbury as 'Grey Area' until we get the official word that post-market animal testing is no longer happening in China and/or Charlotte Tilbury becomes Leaping Bunny certified.
Charlotte Tilbury Owned by Puig
In June 2020, Charlotte Tilbury announced that Puig would own a majority stake in the brand. And Puig is NOT a cruelty-free corporation because they allow some of their other brands to test on animals.
It's your choice whether you want to support or boycott cruelty-free brands owned by a parent company that is not cruelty-free. There is no 'right' or 'wrong' answer to this. I encourage you to do what you're comfortable with, but I think it's important to disclose that Puig owns a majority stake in Charlotte Tilbury.