This post may contain affiliate links.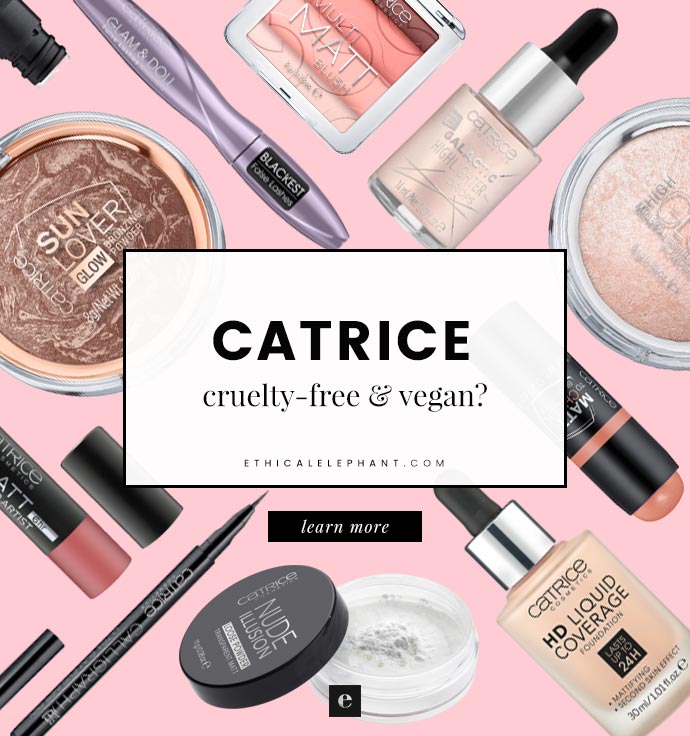 Is Catrice cruelty-free?
Answer:
Yes. Catrice is cruelty-free (not tested on animals) with some vegan options.
Catrice Animal Testing Policy (2018)
Catrice has a thorough animal testing statement on their website, stating:
"We do not carry out or commission any testing on animals for the manufacture of our products. This applies to the end products as well as to all ingredients. Our suppliers are also required to certify in writing that their products have been manufactured without testing on animals."
Catrice has also confirmed in an email response that none of their products are sold in countries that may require animal testing by law (ie. Mainland China).
I am happy to report that Catrice is a cruelty-free brand!
Catrice Vegan Product List
Not all of Catrice's cosmetics and products are vegan as some do contain animal-derived ingredients but they've kindly provided me with a list of Catrice vegan products:
Eyes
Allround Beautifying Concealer Eye Lip Pencil
Allround Mascara Ultra Black
Better Than False Lashes Volume Mascara – Ultra Black 010
Better Than Waterproof Wash Off Waterresistant Volume Mascara
Eye & Brow Contouring Palette – 010, 020
Eye Brow Set – 010
Eye Foundation Waterproof Eyeshadow Primer
Eye Liner Pen – 010
Eyebrow Filler Perfecting & Shaping Gel – 010, 020
Eyeshadow Stix – 010, 030, 040, 050, 060, 070, 080, 090
Glam & Doll Sculpt & Volume Mascara
Glam Fusion Powder To Gel Eyeshadow – 010, 020, 040, 060
Highlighting Eyeshadows – 010, 040
Inside Eye Highlighter Pen
Inside Eye Kohl Kajal
Lash Glue – 010
Liquid Liner Waterproof – 010
Liquid Metal Eyeshadow – 010, 030, 040, 080, 120
Liquid Metal Gel Eye Pencil – 010, 020, 040, 050, 080
Liquid Metal Longlasting Cream Eyeshadow – 010, 020, 030, 060, 070
Longlasting Brow Definer – 020, 030, 040
Metal Sensation Ultra Creamy Eyeshadow – 030
Precious Pigments Loose Eyeshadow – 010, 040, 050, 060
Prime And Fine Smokey Effect Eyeshadow Base 010
Rock Couture Liquid Liner – 30, 40
Sensitiv' Eyes Kohl Kajal
Sensitiv´ Eyes Liquid Liner
Smokey Matt Powder Liner 010
SpectraLight Eyeshadow Glow Kit – 10, 20
The Glitterizer Mix N' Match Eyeshadow Palette
The Ultimate Chrome Collection Eyeshadow Palette
Velvet Brow Powder Artist – 010, 020, 030
Velvet Matt Smokey Eyes Pencil – 020, 040
Face
12h Matt Mousse Make Up – 010, 015, 025, 030
All Matt Plus Shine Control Make Up – 010, 015, 020
All Matt Plus Shine Control Powder – 010, 015, 025, 030
Allround Concealer 010
Allround Coverstick – 010, 030
Blush Artist Shading Palette 020
Bronzing Highlighter Pen
HD Liquid Coverage Foundation – all shades
HD Multitalent Powder + Make Up – 010, 020, 030, 040
Highlighting Powder 010
Illuminating Blush – 010, 020, 040
Illuminating Highlighter Pen
Nude Illusion Loose Powder
Prime And Fine Anti-Shine Blur Stick
Prime And Fine Pore Refining Anti-Shine Base
Prime And Fine Professional Contouring Palette 010
Sun Glow Matt Bronzing Powder – 020, 030
Lips
Beautifying Lip Smoother – 020, 030, 040, 050, 060
Infinite Shine Lip Gloss – 040, 150, 210, 220, 240
Luminous Lips Lipstick – 010, 050, 090, 100, 120, 140, 160, 170
Matt Lip Artist 6hr – 02, 40  50, 60
Shine Appeal Fluid Lipstick  – 010, 020, 030, 040, 050, 060, 070, 080, 100, 110
Ultimate Stay Lipstick – 020, 050, 060, 070, 080, 090, 100, 120, 140, 150, 160
Vitamin Lip Treatment – Born To Be Wild-Berry
Volumizing Lip Booster – Pink Up The Volume, Nuts About Mary
Nails
#peeloff glam Easy To Remove Effect Nail Polish
Colour Corrector Nail Beautifier
ICONails Gel Lacquer
ICONails Top Coat
LuxChrome 2in1 Base & Top Coat
LuxChrome Foil Effect Polish
LuxChrome Nail Powder Kit
Power Gel 2in1 Base & Top Coat
Shake & Seal Top Coat
Spectra Light Effect Nail Lacquer
Speed Dry Drops
Super Dry Gloss Top Coat
---