This post may contain affiliate links.
Some vegans and caring consumers choose to avoid cosmetics and food products containing an ingredient called carmine because it is derived from crushed bodies of insects. Yes, you read that right.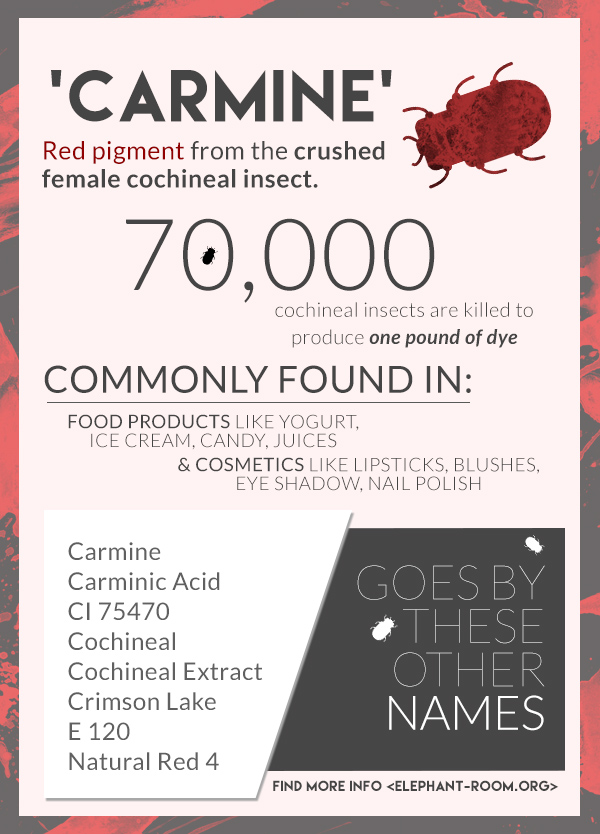 The red dye or food coloring is obtained from cochineal insects and it takes about 70,000 insects to produce a pound of dye. If you want to learn more on the harvesting and production process, I definitely recommend checking this post from Gentle World. Although carmine is considered safe to be used in food products and EWG classifies it not to be potentially toxic or harmful, there have been some reported cases of severe allergic reactions in consuming or using products that contain carmine.
Consequently, the FDA now requires food and cosmetic manufacturers to "specifically declare the presence of the color additive by its respective common or usual name, 'cochineal extract' or 'carmine,' in the ingredient statement of the food label." (Source: LiveScience)
Lucky for us, that means it's easier for us to identify and avoid products containing crushed insects. However carmine goes by a number of different names (like cochineal extract, CI 75470, E120, Red 4) and I always seem to forget them all so I've created a handy graphic (above) that can be saved and referenced on the go!
Carmine in Food and Makeup
Carmine is widely used in food and cosmetics as a 'natural' dye and can be found in just about anything. To paint a picture of how common the ingredient is in our consumer products, I've compiled some examples below: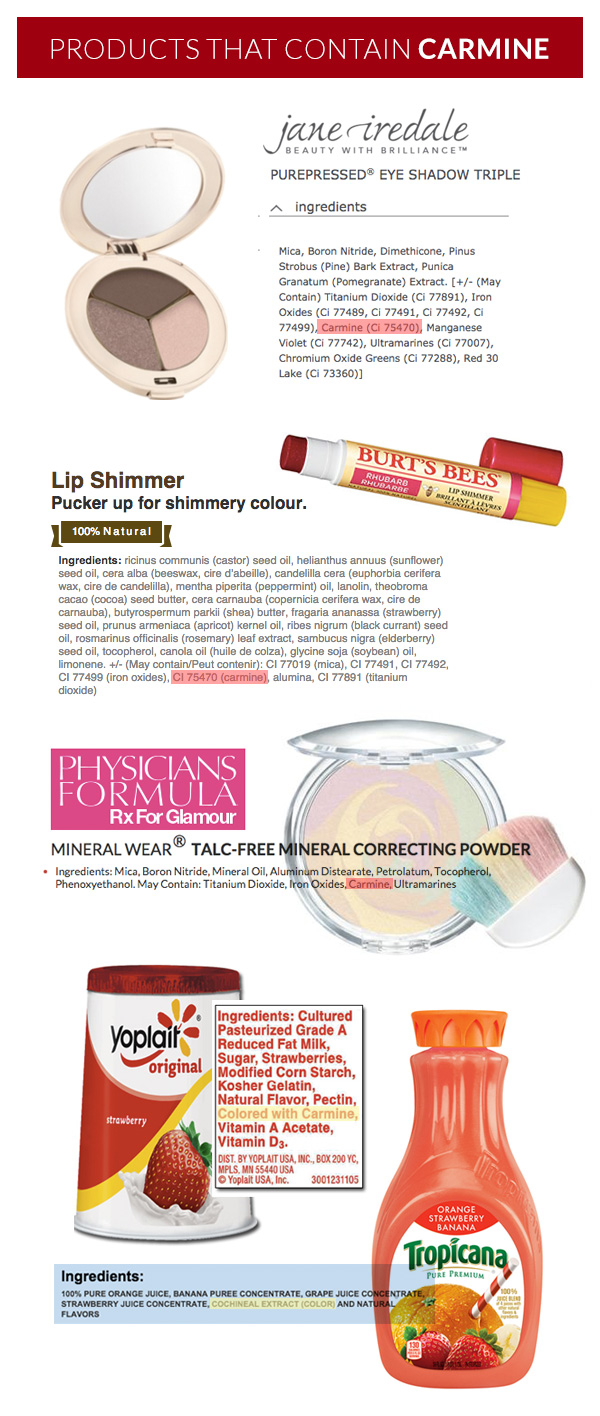 Links to Products Mentioned Above: 1/ 2/3/4/5
Carmine is Not Vegan
Anything that contains carmine or a derivative from the cochineal insect is not vegan. For cosmetics, if a product claims to be cruelty-free, natural, or organic, it doesn't necessarily mean that it is carmine-free. Most cosmetic manufacturers label carmine under "may contain +/-" which makes it a tad annoying because they're using the same label and ingredient list across multiple products or shades. It may not even contain carmine but may have been manufactured in the same assembly line with products that do contain the ingredient and in that case, people who are allergic to carmine should avoid such products. When in doubt, always contact the company directly and ask if the product your interested in or the specific shade/color contains carmine.
I want to know, how often do you read labels and try to avoid products containing carmine? Leave a comment below =)