This post may contain affiliate links that at no additional cost to you, I may earn a small commission.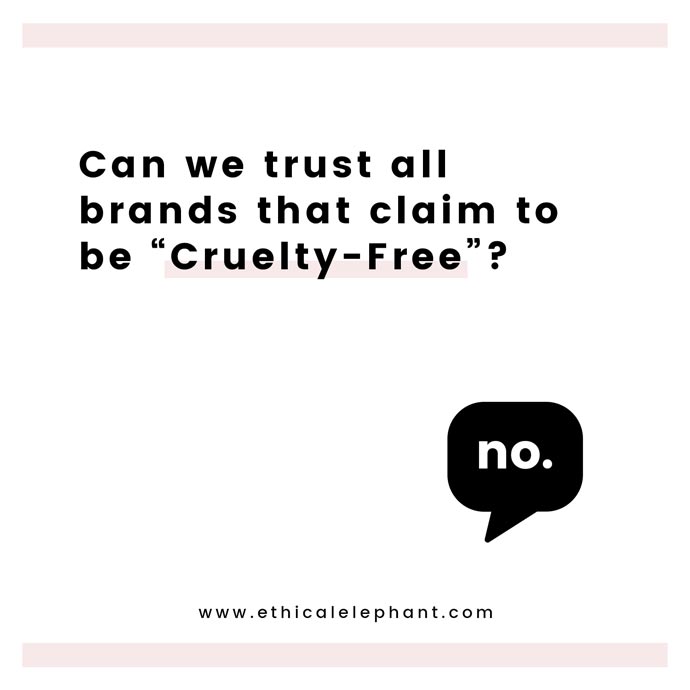 I get a bunch of emails and comments asking why certain brands aren't on my Cruelty-free Brands List when the company clearly says they're "Cruelty-Free" or they don't test on animals somewhere on their website or product labels.
Sadly, we can't trust self-proclaimed "Cruelty-free" brands on the basis of "because they said so."
"Cruelty-Free" Labeling Laws
The reality is, there are absolutely no legal definitions for the term "Cruelty-free".

That means, companies can promote their products with claims like "Cruelty-free" and phrases like "Not Tested on Animals" and it can mean whatever they want it to mean.
The law actually does not require cosmetic labeling to be approved by the FDA before cosmetic products go on the market, and the FDA does not have a list of approved or accepted claims for cosmetics.
"Because FDA does not have the authority to approve claims before cosmetics go on the market, you may see cosmetics with claims that go beyond what that the law permits."
In fact, the FDA is well-aware that claims like "Not Tested on Animals" and "Cruelty-free" are unregulated and are pretty much meaningless.
On the FDA's website, they warn consumers that some cosmetic companies claim their finished products are not tested on animals but these companies may rely on raw material suppliers or contract laboratories to perform any animal testing necessary to substantiate product or ingredient safety. (Source: FDA)
Read More: Cruelty-free Labeling Loopholes
So the next time you see a cosmetic brand or product calling themselves "Cruelty-free", do a little more research to see if they're listed on any reputable Cruelty-free Brand Lists like the Leaping Bunny or Logical Harmony.
If they're not listed, then you can simply ask the company yourself, but avoid asking the ambiguous question "Are you cruelty-free?"
Instead, you should ask if any of their finished products, ingredients, or formulations are tested on animals by themselves or commissioned to a third party on their behalf?
See More: