This post may contain affiliate links that at no additional cost to you, I may earn a small commission.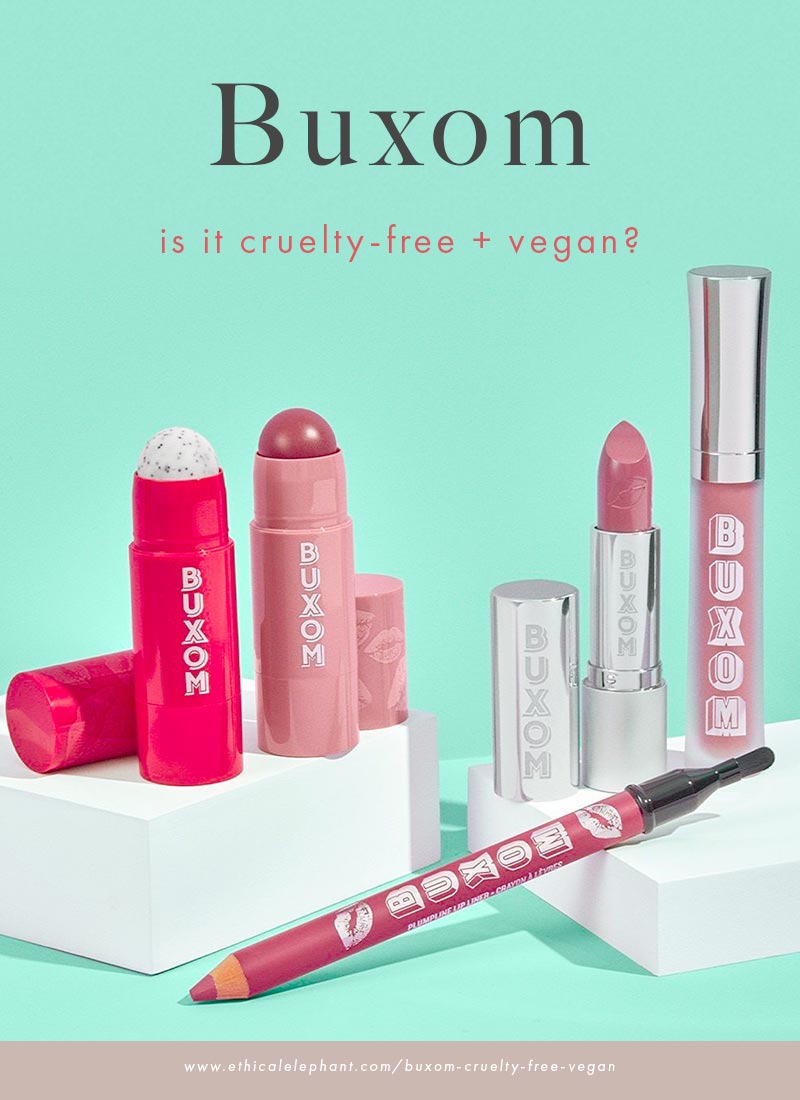 Buxom Cosmetics is a popular color cosmetics brand known for its plumping lip glosses and big, bold, sexy eye makeup products but is Buxom cruelty-free, vegan, or sustainable? We've got the answers here!
Is Buxom Cruelty-Free?
Buxom is Cruelty-free! None of Buxom's ingredients, formulations, or finished products are tested on animals, anywhere in the world.
However, it should be noted that Buxom is owned by Shiseido, a parent corporation that does test on animals when required by law.
Additionally, Buxom sells makeup brushes made with animal hair.
Buxom Animal Testing Policy
Buxom has confirmed they do not test their products or ingredients on animals or ask others to test on their behalf. Their suppliers also do not test on animals nor do they allow their products to be tested on animals when required by law. And finally, their products are not sold in stores in mainland China or any other country that may require animal testing.
Below is a screenshot of Buxom's official animal testing statement: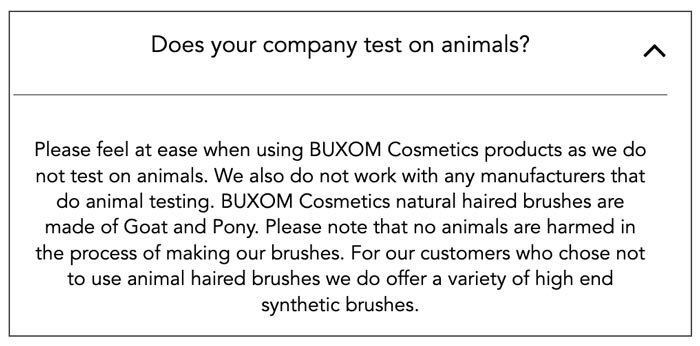 Buxom Owned by Shiseido
Buxom is owned by Shiseido. And Shiseido is not a cruelty-free corporation as some of their subsidiary brands test on animals and sell in China where animal tests are mandatory for most imported cosmetics.
Although Buxom Cosmetics is owned by Shiseido, Buxom has remained committed to being a cruelty-free brand.
Buxom has met all of the criteria in our Cruelty-Free Checklist and is included on our List of Cruelty-Free Brands.
You can find Buxom's cruelty-free products at buxomcosmetics.com, Sephora, and Ulta.
Is Buxom Vegan?
Most of Buxom's products are not vegan as they're made with some animal-derived ingredients or by-products. They also sell some makeup brushes made of animal hair.
The one and only product BUXOM claims to be vegan is their Buxom Lash Waterproof Mascara.
Below is what's currently stated on Buxom's website about their vegan options: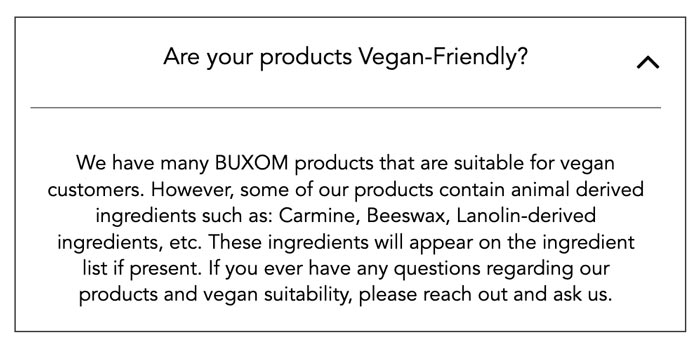 When I emailed Buxom to ask for a list of their vegan-friendly products, they replied stating
"We have many Buxom products that are suitable for vegan customers. However, some of our products do contain one or more of the following: Carmine, Beeswax, or Lanolin-derived ingredients. Such ingredients are clearly identified on our website and can be found on the product page. Our Buxom Lash Waterproof Mascara is completely vegan-free and does not contain any of the animal ingredients listed above."
At this time, Buxom's Lash Waterproof Mascara (not to be confused with their other mascara that isn't a waterproof formula) is the only product from BUXOM that we would classify as vegan, in which it doesn't contain any animal-derived ingredients or by-products.
Hopefully Buxom will release more vegan-friendly makeup products in the future!
---
Is Buxom Cosmetics Sustainable?
Buxom's headquarters is based in: the US
Buxom's products are manufactured in: the US
Buxom does not claim to be a sustainable company.
Unfortunately, I wasn't able to find any public information on Buxom's sustainability, environmental, and social initiatives.
Ingredients and Formulations Claims: Buxom claims, "all BUXOM products are formulated without parabens."
Is Buxom's Mica Ethically-Sourced? Buxom claims their mica is ethically-sourced without the use of child labor.
"We can confirm that BUXOM Cosmetics does not use child labor to source mica and prohibits suppliers from using child labor. At this time, we do not have a certificate that we can provide. You can find more information regarding our Human Rights Policy, by visiting our parent company, Shiseido, here: https://corp.shiseido.com/en/sustainability/rights/index.html.
I would be happy to help you with your Mica inquiry. I am sorry, but due to where we mine our mica for our products is proprietary information and we do not disclose this. Please be assured, we do not mine our mica where children are involved. We are very strict in following the Child Labor Laws."
---
I hope this article helped you to understand BUXOM's cruelty-free and vegan status and by choosing cruelty-free together, we can help end animal testing for cosmetics once and for all!