This post may contain affiliate links that at no additional cost to you, I may earn a small commission.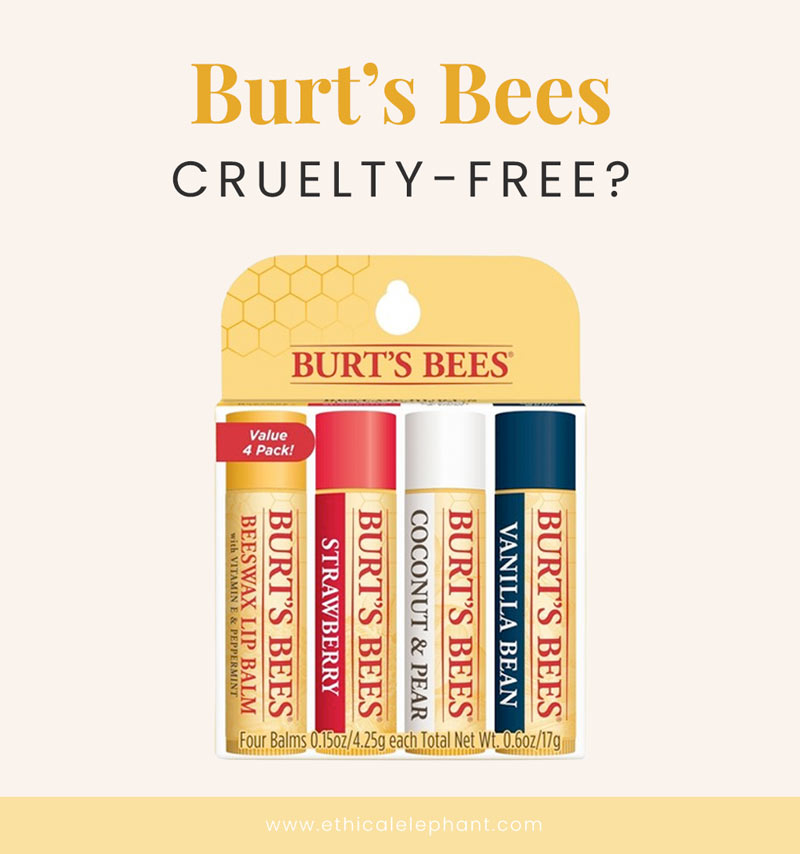 Burt's Bees is known for their earth friendly and natural personal care products but is Burt's Bees cruelty-free and vegan?
Is Burt's Bees Cruelty-Free?
Yes, Burt's Bees is Cruelty-free! None of Burt's Bees ingredients, formulations, or finished products are tested on animals, anywhere in the world.

Burt's Bees is also certified cruelty-free by Leaping Bunny.

However, it should be noted that Burt's Bees is owned by The Clorox Company, a parent corporation that tests on animals when required by law.
Does Burt's Bees Test on Animals?
On Burt's Bees website, it states "Burt's Bees does not test its products on animals nor do we ask others to do so on our behalf. You'll see the Leaping Bunny seal on our packaging to reinforce our commitment. Please know we are absolutely committed to our no animal testing policy."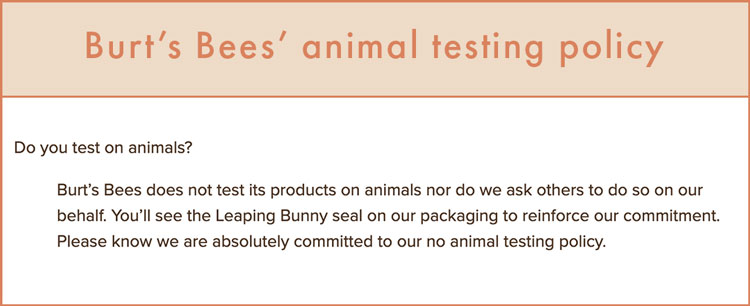 Is Burt's Bees Sold in China?
None of Burt's Bees products are currently sold in-stores in mainland China.
However, in 2015, Burt's Bees did sell four of their products in China, which they claim was for a test to protect their business from counterfeit in China. This test was for a limited time only and they claim they didn't make any money out of it and that it was not driven by profits.
Here is the official statement Burt's Bees explains on the process:
"In early 2015, we sold four products in China as part of a limited program necessitated to ensure our business was protected in that market, where counterfeit products were falsely being sold under our name. This limited test was not driven by and did not result in profit, but involved extensive resource investment and consultation with experts in multiple fields to ensure we proceeded without any compromise to our unyielding commitment to our no animal testing policy. The formulas for these products, which were classified as "non-special use cosmetics," used only ingredients listed on the Inventory of Existing Cosmetic Ingredients in China (IECIC), underwent a paper risk assessment of raw materials, and therefore were exempt from pre-market animal testing. Our in-market regulatory experts advise us that China has not been actively engaged in post-market animal testing since 2008, and are instead focused on specific restricted substances, which did not apply to these Burt's Bees products. As you can see on China's current CFDA site detailing their testing, Burt's Bees products are not listed among those subjected to post-market testing during this limited test.

With this test complete, Burt's Bees is currently only selling products in China via direct-to-consumer ecommerce, a channel which is exempt from Chinese animal testing regulations (pre or post-market). Please know that we are absolutely committed to our no animal testing policy, and we are proceeding only in the instances where we can maintain strict adherence to it."
In summary, Burt's Bees products and ingredients are currently not tested on animals, anywhere in the world. And Burt's Bees currently only sells their products online to Chinese customers but not in a physical retail store in China, therefore they are not required to test their products on animals.
Burt's Bees is cruelty-free!
Is Burt's Bees Vegan?
Burt's Bees does not claim their products are suitable for vegans.
Unfortunately, none of Burt's Bees products are classified as being suitable for vegans.
In an email response, they told me
"We don't have a list of products made without animal products. Some of the animal products we use include milk, lanolin, honey, royal jelly and carmine. These are all listed on the ingredients label on the packaging and on our website. Please note, many of our products are produced on shared lines, which is why we don't call out "vegan" or "vegetarian" on our products."
Although Burt's Bees products are not tested on animals, they do not have any vegan products therefore, Burt's Bees is not included on our Cruelty-Free and Vegan Brand Directory.
Vegan Alternatives to Burt's Bees:
---
I hope this article helped you to understand Burt's Bee's cruelty-free and vegan status and by choosing cruelty-free together, we can help end animal testing for cosmetics once and for all!