This post may contain affiliate links.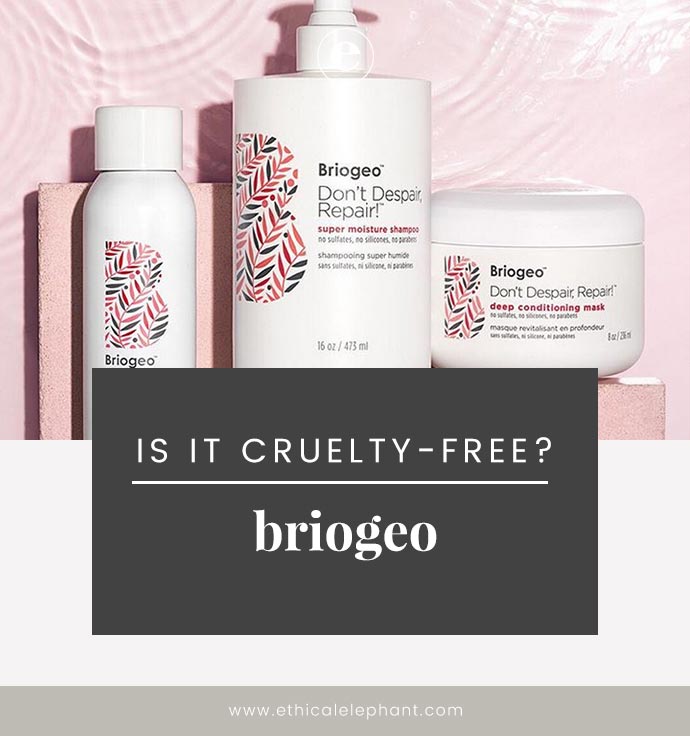 Briogeo offers a full selection of natural hair care products that are fortified with hair healthy oils, antioxidants and vitamins. But I first wanted to know, is Briogeo cruelty-free or vegan?
Is Briogeo Cruelty-Free?
Briogeo is cruelty-free in 2019; none of Briogeo's products or ingredients are tested on animals, anywhere in the world.
Briogeo Animal Testing Policy (2019)

Briogeo is certified cruelty-free by the Leaping Bunny program. This means Briogeo has verified and confirmed none of their products, ingredients, and formulations are tested on animals. The same goes with their raw ingredient suppliers.
Briogeo confirmed to me that they do not sell their products in-stores in Mainland China (where animal testing is required by law).
I am happy to add Briogeo to ethical elephant's list of cruelty-free brands!
Is Briogeo Vegan?
Not all of Briogeo products are vegan. At the beginning of 2019, Briogeo informed me that all of their products have been reformulated to be vegan however since then, they have released new products containing honey and have been unclear about the source of the keratin used in their products.

Although not all of Briogeo products are vegan, Briogeo does offer some products suitable for vegans that don't contain any animal-derived ingredients or by-products.
Briogeo Vegan Product List
Briogeo has told me on two occasions (March 2019 and July 2019), "Starting in 2019, all of our products are now fully vegan! All previous proteins are now plant derived :)" but when asked about the keratin used in some of their products, they were unable to provide any clarifications.
I was previously misinformed and misguided that Briogeo is a 100% vegan brand in 2019, however, the recent release of their 'Honey Bear Repair' has led me to conclude Briogeo cannot be considered as a 100% vegan brand.
Although Briogeo is not 100% vegan, they do offer some vegan options. Below is a list of their products that they consider to be vegan:
This vegan product list is updated as frequently as possible, please be aware that formulations may have changed since the publication of this post. If you have new information to suggest one of the above products isn't vegan, please email me at info@ethicalelephant.com to let me know.