This post may contain affiliate links that at no additional cost to you, I may earn a small commission.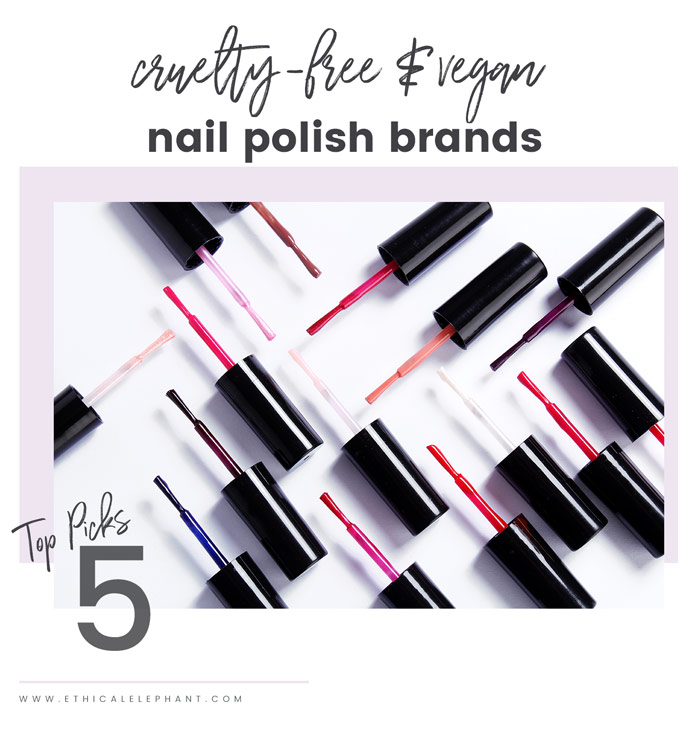 I remember when I first created ethical elephant's List of Cruelty-Free and Vegan Nail Polish Brands three years ago, it was sort of easy to find 40+ nail polish brands that weren't tested on animals and had plenty of vegan nail polish options.
It's so great to see so many fab options but let's be real, it's a little overwhelming to see 50+ options. So I thought I would list out my top 5 favorite cruelty-free and vegan nail polish brands.
Best Vegan Nail Polish Brands
These brands don't test on animals and none of their nail polishes contain any animal ingredients like fish scales (for shimmer) or shellac (obtained from lac bugs).
I've personally tried and tested each of these brands, some were gifted in PR for me to try and some I have purchased myself. Even if it was gifted to me, I have used them over and over again and personally recommend them to my close families and friends, including you!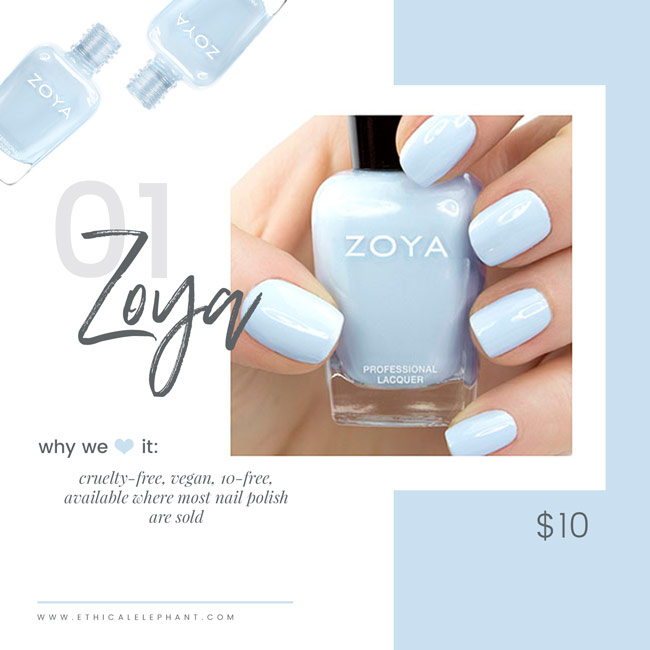 ZOYA Vegan Nail Polish
You've probably heard of ZOYA nail polish before, they're one of the most popular cruelty-free and vegan nail polish brands and for good reasons, because ZOYA polishes are high-quality and they're available where most nail polish are sold. The color in the photo is called Blu and is hands down one of my favorites!
All of ZOYA nail polish are vegan and 10-free.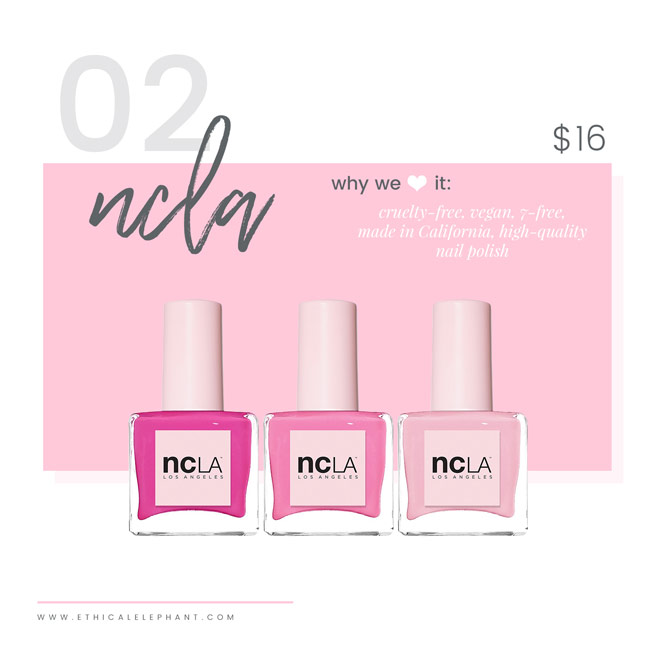 NCLA Vegan Nail Polish
If you've been following me for awhile then it's no surprise that NCLA is in my top 5. I purchased my first nail polish by NCLA on NailPolishCanada.com and was instantly hooked. Beautiful color pay-off, stunning color range, and I can't go without their Gelous? Top Coat!! They also have some nail wraps which are super fun to apply!
All of NCLA nail polish are vegan and 7-free.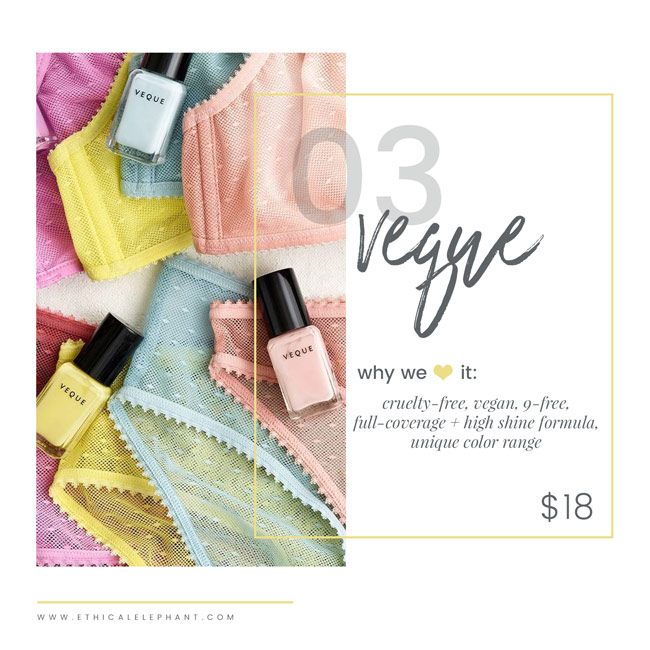 VEQUE Vegan Nail Polish
I recently got to try VEQUE nail polish and with one brush stroke, I knew I found a favorite!
VEQUE nail polish are full-coverage and very opaque, they're applicator brush is also bigger so you literally can get away with just one easy coat. I especially love applying VEQUE when I'm in a rush, I can finish my manicure in minutes while achieving a high-shine finish and professional-looking nails!
All VEQUE nail polish are vegan and 9-free.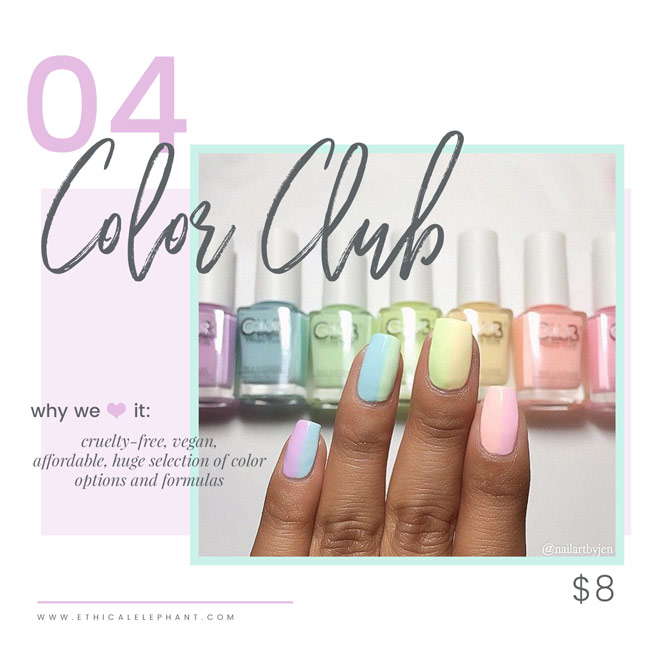 Color Club Vegan Nail Polish
Color Club seems to be popping out a new color everyday! They have an endless selection of nail polishes and they're all super affordable, which is why they made my top 5 list! I've tried a handful of Color Club's nail polish and they're a hit or miss.. some are opaque and others are streaky but for the price and color range, I definitely think they're worth it!
All Color Club nail polish are vegan.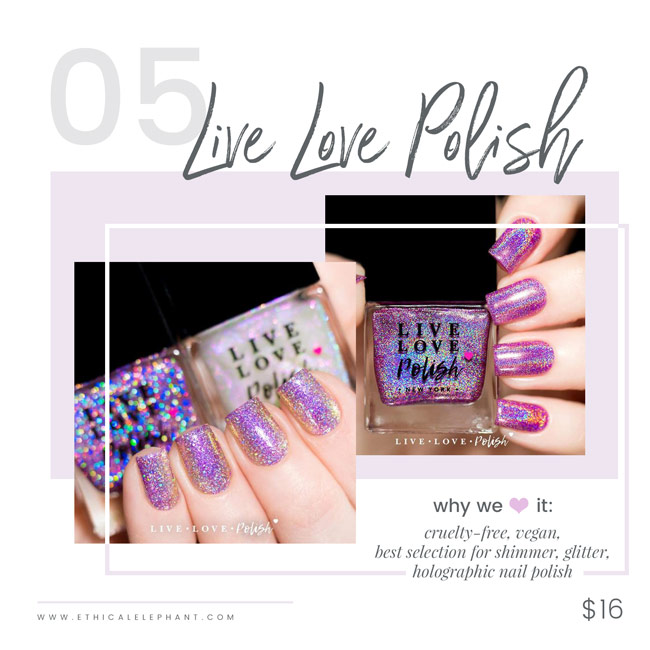 Live Love Polish Nail Polish
This is the newest nail polish brand I've tried and Live Love Polish has the BEST selection for shimmer, glitter, and holographic nail polish! I've tried a bunch of their glitter and holographic nail polish and the color pay-off is unlike anything I've ever tried before. I have not been disappointed with any of their polishes so far!
All of Live Love Polish nail polish are vegan.
---
Let me know what are some of your favourite cruelty-free and vegan nail polish brands are in the comments below!