This post may contain affiliate links.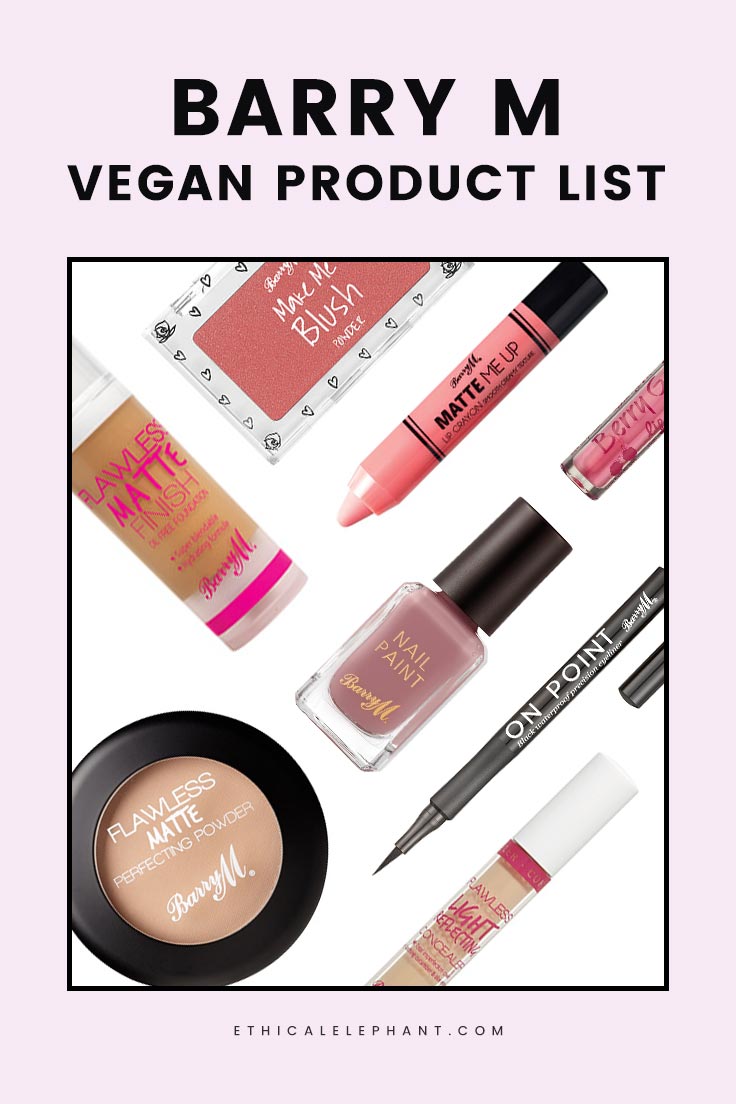 If you're looking for affordable cruelty-free and vegan makeup in the UK, I highly recommend giving Barry M a try!
Barry M offers a great selection of cruelty-free makeup products that are super affordable and accessible. You can find Barry M products on their website, ASOS, or at Superdrug. Most of their makeup products from foundation, eyeshadow palettes, eyeliner, makeup brushes, and nail polish are anywhere between £2 – £8.
Although not all of Barry M's makeup is vegan as some products do contain beeswax and other animal ingredients, but most of their products are considered vegan. They clearly label which products and shades are vegan on their website when you click "Ingredients" and see this logo

.
For those of us who aren't shopping directly off their website, I thought it would be helpful to have a list of Barry M's vegan products. In addition, I also made another list of Barry M products that are not vegan which you can find at the bottom of this post.
Face
Eyes
Bold Waterproof Eyeliner (all shades are vegan except Silver and Purple)
Crown Jewels Eyeshadow Palette
Crushed Jewel Cream Eyeshadows
Dazzle Dust (all shades)
Deluxe Metals Eyeshadow Palette
Eyeshadow Pencil (Gold Cream, Bronze, Green, and Brown Black are vegan)
Glitter Bomb
Glitter Fixer
Holographic Eyeshadow Toppers
In The Buff Eyeshadow Palette
Kohl Pencil (all shades are vegan except Black Glitter)
Lash Vegas 2
Meteor Storm Eyeshadow Palette
Pressed Eyeshadow (all shades)
Treasure Chest Baked Eyeshadow Palette
Lips
Nails
Nail Art Pens (all shades)
Nail Polish (all shades are vegan)
Peel It! Peel Off Basecoat
Top Coats (all are vegan including Wet Set Quick Dry, Plumpy, All in One, Matte)
Accessories
Body
---
NOT VEGAN
Below is a list of Barry M products that are NOT vegan:
Brow Kit
Bold Waterproof Eyeliner (Silver and Purple)
Colour Changing Lip Paint
Concealer Palette
Cor Balmy
Eyeshadow Pencil (Gun Metal, Midnight Blue, Purple)
Feature Length Mascara
Gloss Me Up Kits
Kohl Pencil (Black Glitter)
Matte Lip Paint (with the exception of Undressed)
Natural Glow 2 Shadow & Primer Palette
Natural Glow Shadow & Blush Palette
Showgirl Extra Lengthening Mascara
Showgirl Extra Volumising Mascara
Super Mani 7-in-1 Treatment
Super Soft Eye Crayon
That's How I Roll Waterproof Mascara
Ultra Moisturizing Lip Paint
---
Disclaimer: This post contains affiliate links.