This post may contain affiliate links that at no additional cost to you, I may earn a small commission.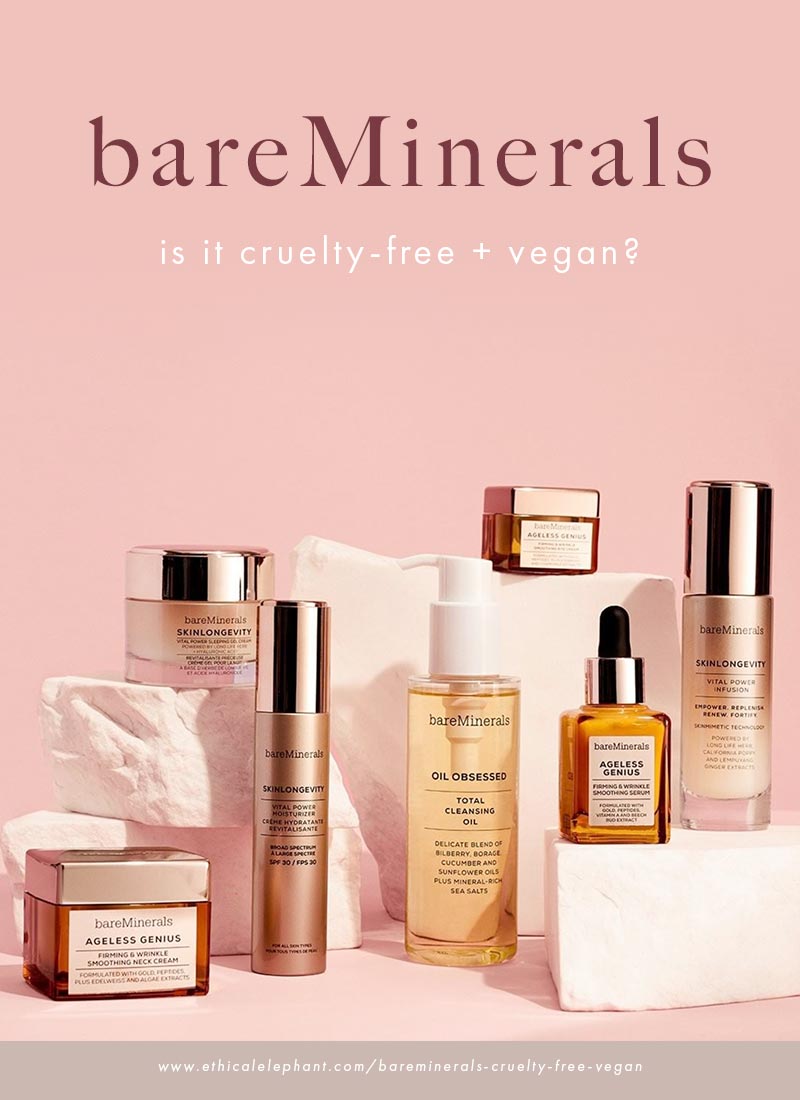 bareMinerals is a mineral makeup brand, most known for their natural mineral makeup and skincare but is bareMinerals cruelty-free or vegan?
Is bareMinerals Cruelty-Free?
bareMinerals does not test any of their products, ingredients, for formulations on animals, anywhere in the world. But some of bareMinerals' makeup brushes are made with animal hair.
It should be noted that bareMinerals is owned by Shiseido, a parent corporation that does tests on animals when required by law.
bareMinerals' Animal Testing Policy
bareMinerals has confirmed they do not test their products or ingredients on animals, they do not allow others to test on their behalf, their suppliers also do not test on animals, and their products are not sold in stores in mainland China or any other country that may require animal testing by law.
Below is what's currently stated on bareMinerals' website: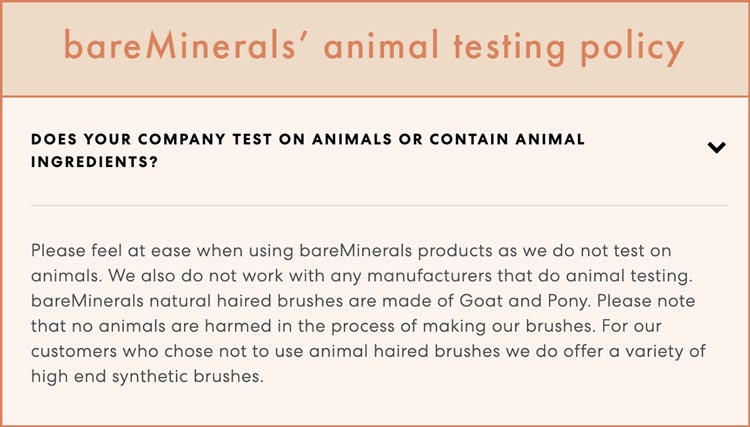 Is bareMinearls Sold in China?
Most imported cosmetics sold in mainland China are required by law to be tested on animals in 2021. However, bareMinearls has confirmed they do not sell their products in retail stores in mainland China and therefore they are not required to test on animals.
"we do not have any retailers in China, and that we do not ship to China."
bareMinerals Acquired by Shiseido
In 2010, Bare Escentuals (bareMinerals) was acquired by Shiseido, a corporation that does test on animals when required by law.
Although bareMinerals is owned by Shiseido, bareMinerals remains committed to not allowing any of their products or ingredients to be tested on animals.
You can find bareMinerals' cruelty-free products at Sephora, Ulta, Nordstrom, and on Amazon.
Is bareMinerals Vegan?
Not all of bareMinerals' products are vegan as some of their products contain carmine, beeswax, lanolin, or other animal-derived ingredients or by-products. Note that bareMinerals also sells some makeup brushes made with animal hair.
bareMinerals does have some vegan options. Please reference below for a list of bareMinerals vegan products.
You can also find out which of their products are vegan as they're marked accordingly on their website under each product description. See below for an example.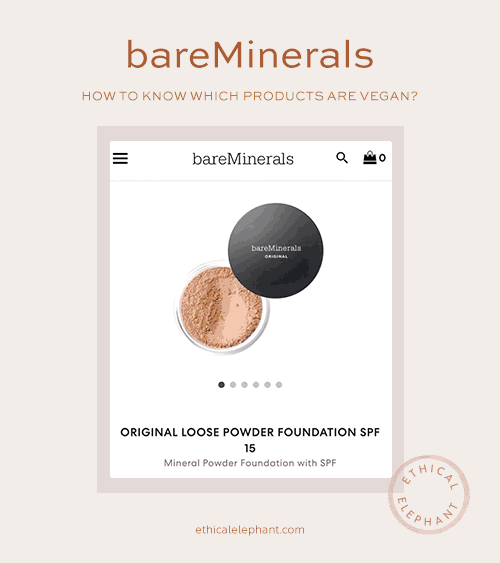 bareMinerals Vegan Product List
As of 2021, I will no longer be regularly updating this list of bareMinerals vegan products as all of their vegan products are now clearly marked. Check their website for the most up-to-date and accurate information on which products are vegan or not.
Below is a list of bareMinerals products that are suitable for vegans and do not contain any animal-derived ingredients or by-products.
Face – Makeup
Eyes – Makeup
Lips – Makeup
Skincare
---
Is bareMinerals Sustainable?
Sustainability and Environmental Initiatives: bareMinerals has a Give Back, Get Back Recycling Program that allows members of their loyalty program to bring their empty makeup containers to a store location in exchange for points toward their next purchase.
Eco-Friendly Packaging Initiatives: During the holidays in 2020, bareMinerals released their new recyclable palettes. They replaced plastic with FSC-certified paper and state they're working to reuse existing materials.
"This year, we used less plastic in the holiday collection than ever before, so you can feel good about gifting. To achieve this, we reduced our packaging sizes, eliminated plastic windows and trays, and incorporated post-consumer recycled plastic into our product packaging to reduce the amount of virgin plastic used."
Giving Back Initiatives: bareMinerals donates 1% of sales to The Power of Good Fund, a women's empowerment project of Hopewell Fund that provides women with support for education, mentorship, and entrepreneurialism.
In addition, proceeds generated from their recycling program are donated to help alleviate hunger in local communities, in partnership with the g2 revolution® Feed the Future initiative.
Ingredients and Formulations Claims: bareMinerals products are paraben-free, phthalate-free, formaldehyde-free, chemical sunscreen-free, triclosan-free, triclocarbon-free, propylene glycol-free, mineral oil-free, coal tar-free, and microbead-free.
Is bareMinerals' Mica Ethically-Sourced? bareMinerals is unable to disclose where their mica is sourced or mined from but claim they have a Code of Conduct that prohibits their suppliers from using child labor.
"We understand your concerns regarding the ingredients used in our products. The exact source of the ingredients we use in our products is proprietary information however, as part of our quality control, we only use raw materials from reputable and socially accountable suppliers who share our strict views on health and safety requirements. The bareMinerals Code of Conduct promotes and expects lawful, ethical and honest behavior by our suppliers around the world. We prohibit suppliers from using child labor and encourage their compliance with all labor, health and safety requirements. "
---
I hope this article helped you to understand bareMinerals' cruelty-free and vegan status and by choosing cruelty-free together, we can help end animal testing for cosmetics once and for all!