This post may contain affiliate links that at no additional cost to you, I may earn a small commission.
I've been getting lots of questions about Avon's cruelty-free status so I thought I'd provide an update and address the question, is Avon cruelty-free in 2021?
Avon is working to become cruelty-free but they're not there yet.
Avon is still selling their products in China. Although they claim to have stopped testing their ingredients on animals in China, they were unable to clarify exactly how or what they're doing to be exempt from China's animal testing requirements.
They also haven't verified with all of their ingredient suppliers that they are all cruelty-free too.
Therefore, Avon is on our 'Grey Area Brand List – Brands with Unclear Policies.'
Note that Avon Products and New Avon are two separate companies. In this post, I'll only be looking into Avon Products' cruelty-free claims and statements.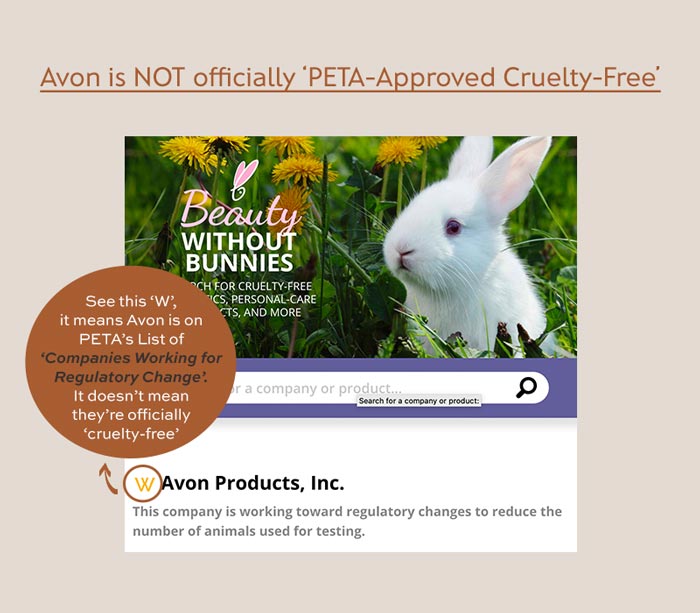 Avon & PETA
There's been some confusion about PETA and Avon's partnership. As of May 2021, Avon is still NOT officially certified cruelty-free by PETA. When you type 'Avon' in PETA's directory, it says that Avon is "working towards regulatory changes to reduce the number of animals used for testing."
This does NOT mean Avon is cruelty-free. It just means PETA acknowledges that Avon is working on it.
PETA reports, "Avon Products, Inc., is no longer testing on animals anywhere in the world and is putting systems in place to ensure that none of its suppliers test on animals, either. When that process is complete, the company will be moved to our cruelty-free list."
According to this statement made by PETA, Avon is putting systems in place to ensure that none of its suppliers test on animals but that process is not completed yet. And that's why Avon is not yet certified cruelty-free by PETA.
Avon & China
I'm currently waiting to receive a response from Avon about their cruelty-free claims while selling in China. I will provide an update here once I receive a response from the company.