This post may contain affiliate links.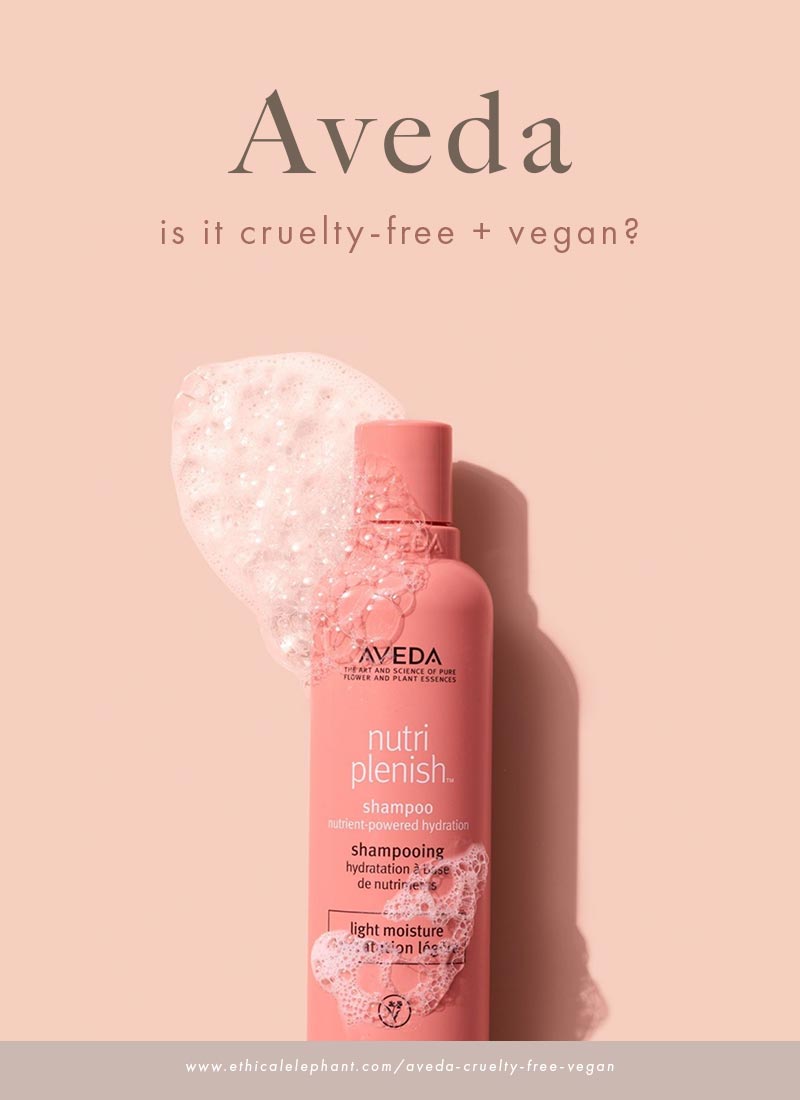 Aveda is a natural hair care brand known for its use of natural ingredients and commitment to environmentally responsible manufacturing and packaging, but is Aveda cruelty-free and vegan?
Is Aveda Cruelty-Free?
Yes, Aveda is Cruelty-free! None of Aveda's ingredients, formulations, or finished products are tested on animals, anywhere in the world.

However, it should be noted that Aveda is owned by Estee Lauder, a parent corporation that does test on animals when required by law.
Aveda has confirmed they do not conduct animal testing on their ingredients or products and never ask others to do so on their behalf, their suppliers also do not test on animals and Aveda products are not sold in stores in mainland China or any other country that may require animal testing by law.
Below is what's currently stated on Aveda's website: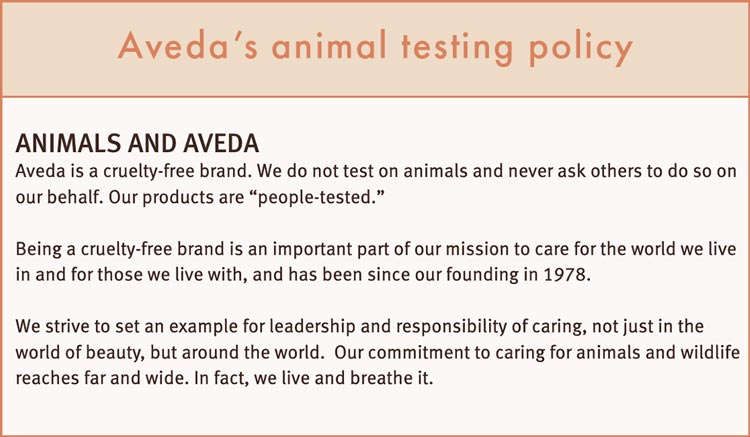 Aveda products are available in Hong Kong, however, Hong Kong is not part of mainland China and they do not follow the same animal testing requirements as mainland China. So, Aveda products that are sold in Hong Kong are not required to be tested on animals.
Aveda Acquired by Estee Lauder
In 1997, Aveda was acquired by Estee Lauder, a corporation that does test on animals where required by law.
Some cruelty-free consumers choose not to support or buy from brands that are owned by a parent corporation that does test on animals as they feel their purchases are indirectly supporting and funding more animal testing done by their parent company. To read more about some of the reasons to buy or boycott cruelty-free brands owned by a non-cruelty-free parent company, check out this post here.
Although Aveda is owned by Estee Lauder, Aveda remains committed to being a cruelty-free brand.
Aveda is included on our List of Cruelty-Free Brands.
You can find Aveda products at aveda.com
Is Aveda Vegan?
Not all of Aveda's products are vegan as some of their products contain beeswax, honey, or whey-based protein. However, Aveda does have some vegan options.

Please reference below for a list of Aveda vegan products.
Aveda states on their website that "Aveda is going vegan. As of July 2019, all products manufactured are 100% vegan. And we are committed to having all vegan products on shelves by 2022."
Which of Aveda Products is Vegan?
Below is a list of Aveda products that are suitable for vegans and do not contain any animal-derived ingredients or by-products.
You can also find out which of their products are vegan as they're labeled accordingly on their website under each product description.
Hair – Aveda Vegan
Skin & Body Care – Aveda Vegan
Makeup – Aveda Vegan
This vegan product list is updated as frequently as possible, please be aware that formulations may have changed since the publication of this post. If you have new information to suggest one of the above products isn't vegan, please email me at info@ethicalelephant.com to let me know.
Is Aveda Ethical?
Based in: US
Products Manufactured in: "The majority of Aveda products are manufactured in our state of the art facility in Blaine MN."
Sustainability & Environmental Initiatives: All of Aveda products are manufactured with 100% wind power through renewable energy credits and carbon offsets. Learn more about Aveda's responsible manufacturing practices.
Eco-Friendly Packaging Initiatives: Aveda is committed to responsible packaging, they use 100% post-consumer recycled PET and now more than 85% of their skincare and hair styling PET bottles and jars contain 100% post-consumer recycled materials. Learn more about Aveda's responsible packaging initiatives.
Giving Back Initiatives: Aveda has an impressive list of ongoing contributions to several charities and organizations over the years. "Aveda has been caring for the world since 1978. To date, our guests, artists, employees and leaders have raised nearly $65M to help fund environmental initiates globally. And our goal is to increase this number to $80M by 2021 through our annual Earth Month initiatives. We've partnered with charity: water to provide clean water access, sanitation and hygiene to communities in India, Nepal, Madagascar and Ethiopia – all countries where we source ingredients."
Ingredients and Formulations Claims: All Aveda products are formulated without: parabens, mineral oil, petrolatum, paraffin, formaldehyde and its donors, SLS and SLES, oxybenzone, benzene, retinyl palmitate, microcrystalline wax, polyethelene beads, triclosan, triclocarban, lanolin, carmine, talc or synthetic fragrance.
"Through fair compensation, we positively impact the people and economies from which some of our products' ingredients are sourced." Learn more about Aveda's green ingredients and ingredient sourcing.