This post may contain affiliate links that at no additional cost to you, I may earn a small commission.
Animal-Free mobile app has been around since 2011 and is "an online product checker and pocket reference guide for identifying common and hidden animal ingredients." I've used the app for both food and beauty products although the app description doesn't specify if its more suitable for one over the other.
The app is available to download for free for both iPhone and Android users.
Tech Tuesdays is a weekly feature review of the latest tech gadgets and apps specifically designed for the conscientious consumer in mind!
Barcode Scanner
The app description says you can "scan a barcode to lookup products in an online database and find out what users think." I tried scanning a few products at the store but it wouldn't read any of the barcodes. I tried it again at home and it worked but the app froze every time while loading the database and I had to close and restart the app.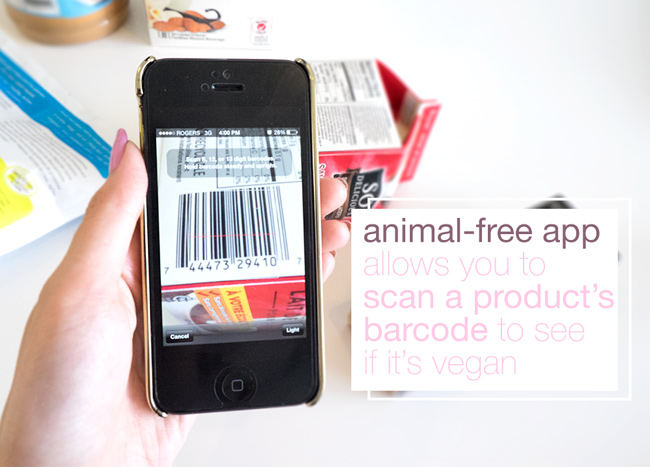 Several other users also experienced similar problems with Animal-Free's scan feature as noted in the app's reviews. Perhaps it's just a bug issue. Your best bet is to use their product search functionality which I'll get into in a bit.
Ingredient Database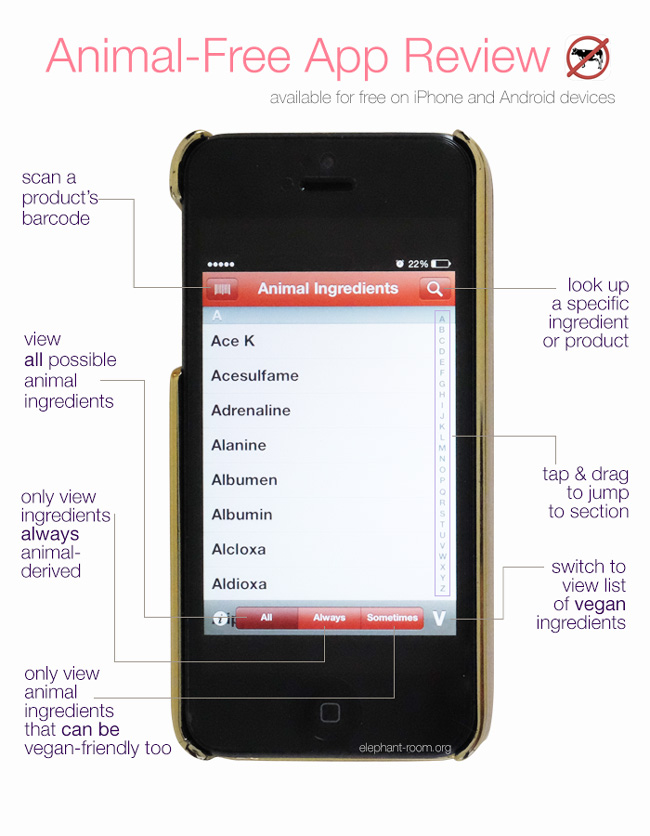 The list of ingredients is ordered alphabetically and you can easily scroll through the list or tap and drag on a letter displayed on the side to jump to the section of the list you want to view. They do have an impressive database with over 400 ingredients.
There's four different ways users can browse the list of ingredients, by:
ALL: All ingredients that may have animal sources
ALWAYS: Ingredients that are always animal derived
SOMETIMES: Animal Ingredients that may also have possible vegan-friendly sources
(V)EGAN: All vegan-friendly ingredients
How I used it: I first look to see if the ingredient is listed as vegan in the "V" tab . If it's not listed there, then I would move onto the ALL animal ingredients and see if it's listed there.
I didn't think it was necessary to have the two list of animal ingredients that are always animal derived and a list for sometimes animal derived. It's important to note the difference between the two but probably not required to have separate lists.
Ingredient Descriptions
The ingredient descriptions are accurate and concise, perfect for someone on the go! I also like how the app gives you examples of products that commonly contain the ingredient.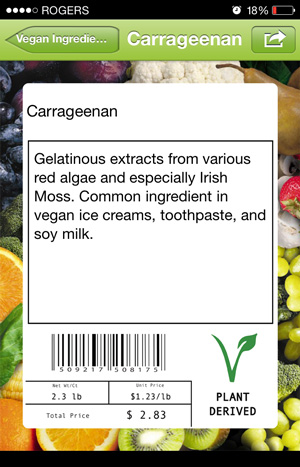 I liked how the vegan ingredients were easily distinguishable from the animal ingredients with a bright, vibrant green and vegetable background along with the V symbol. This is helpful because sometimes I don't want to read the full ingredient description and just want to know if its vegan or not.
However there's no way to distinguish between an ingredient that is always animal derived versus sometimes. The only way you can tell is if you scroll to the bottom of the ingredient description and see that it says "may also have vegan sources" or by the small asterisk on the animal derived symbol.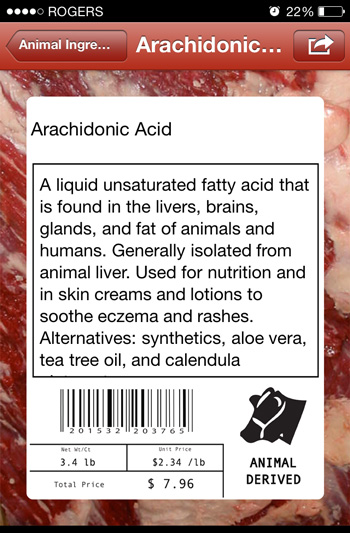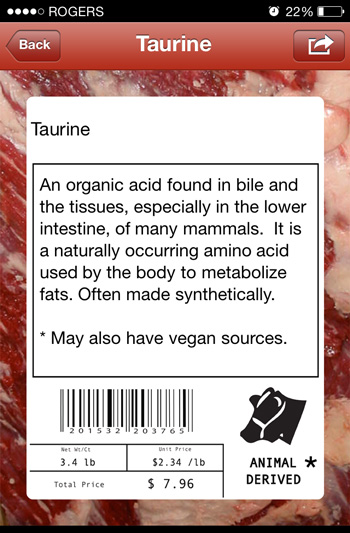 For example, for the ingredient "Taurine".. at first glance, it looks like its an animal ingredient but if you read the description, you'll see at the bottom that it's "often made synthetically"
Search Functionality
Users also have the option to type into the search bar to quickly find ingredients or products and determine if they are vegan-friendly or not.
Ingredient Search
I prefer to just enter the ingredients than going through the alphabetic list of ingredients because it's a lot faster. I found that you have to be very specific and there's no room for spelling mistakes or typos when using the search function. Nothing comes up when I type "insect" although it's in the ingredient description for "carmine"
Product Search
There is a bit of redundancy in the product database; 6 different results showed up for my product search for 'Redbull'. Each Redbull also had different 'status' and 'ratings' so there was a lack in consistency.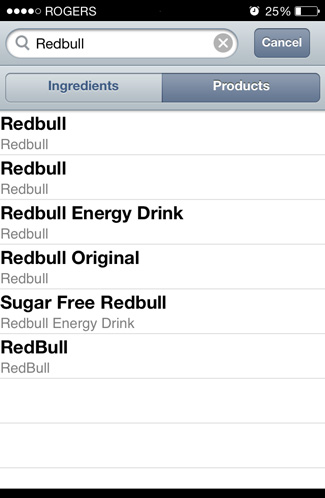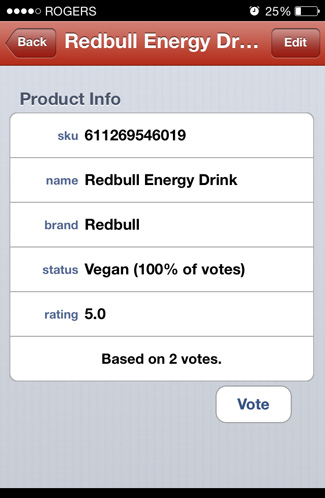 I think the biggest flaw in the database is that it is user-generated and depends on app users to add new products to the database and vote whether they consider the product to be vegan or not. This makes me doubt the credibility of the app and I find that I get more accurate and up-to-date information from opening my browser and Googling "is Redbull vegan?" than using this app.
Final Thoughts
The app definitely has some bugs and room for improvements here and there. The scan feature needs to be fixed and they need to simplify the whole user experience if they expect people to use this as a "full-featured pocket reference guide." The app's intentions are clear and the ingredient database is accurate and reliable. The major drawback is their product database needs to be closely monitored and updated.
Who should use this: This is a free app, so I encourage everyone to download it and try it out for themselves! How often you will rely on this will depend on your individual lifestyle and goals. This is a great vegan starter tool to get you familiar with the different animal vs. vegan ingredients but some follow-up research is required.
Have you tried the Animal-Free app yet? What were your thoughts on the app? Comment below with your experience =)