This post may contain affiliate links that at no additional cost to you, I may earn a small commission.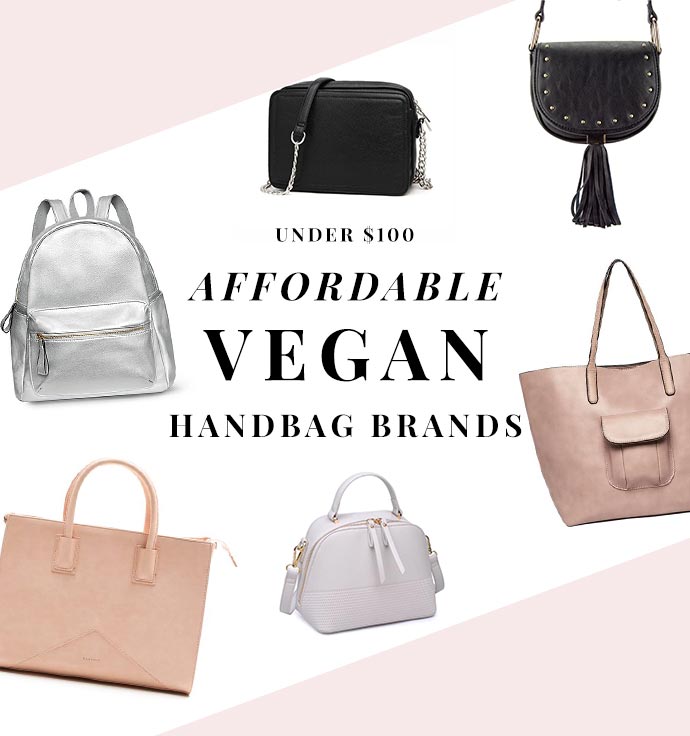 When we think of vegan handbags, we might think of Stella McCartney's $1,000+ designer handbags or some of Matt & Nat's popular and versatile vegan bags that typically start at $150.
A common misconception about vegan fashion is that it comes with a hefty price tag but being cruelty-free and caring about animals doesn't mean we have to go broke trying to keep up with the latest fashion trends. Just like buying Louis Vuitton Replica Bags, there are always affordable alternatives when it come to fashion.
I've managed to find 10 cruelty-free and vegan fashion brands offering affordable and chic handbags without compromising on style or quality. So that we can stay on-trend without the animal cruelty!
Vegan Handbags Under $100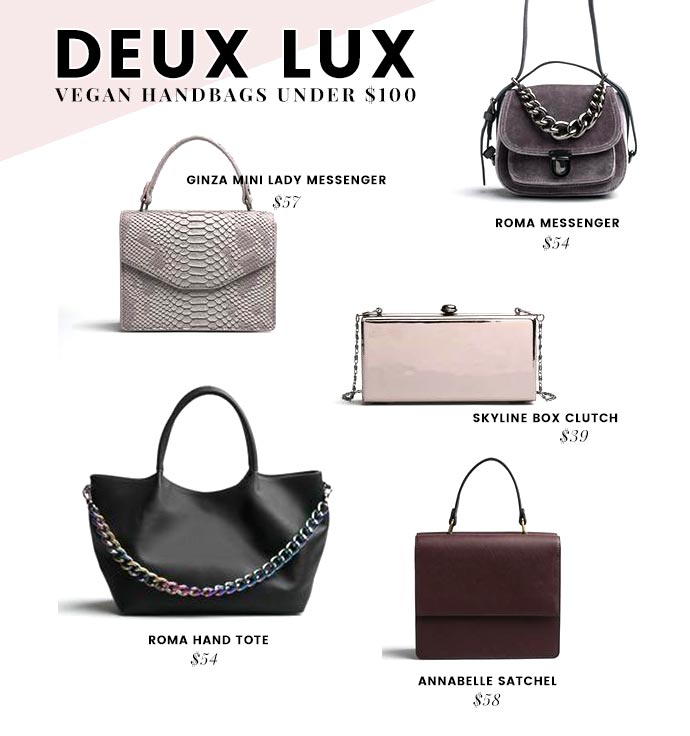 Deux Lux Vegan Handbags
Deux Lux offers glamorous, edgy, flirty, and ethical vegan handbags at an affordable price point. Deux Lux is PETA-approved vegan and their handbags and accessories are "inspired by art, architecture, movies, vintage jewelry, the runways, and (our favorite muse) color, Deux Lux strives to bring grace and whimsy to every collection in a way that is accessible to all women."
---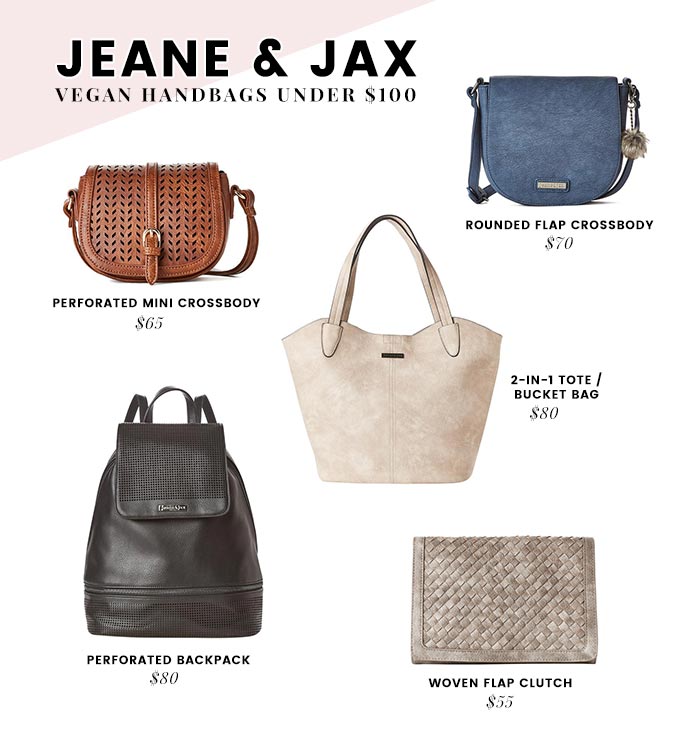 jeane & jax Vegan Handbags
jeane & jax is a luxury PETA-approved vegan leather handbag company based out of Montreal, Canada. "jeane & jax is committed to using the highest quality vegan materials as we believe that handbags can be just as fashionable and on trend without causing harm to any animals. Our collections are ethically sourced and fall in line with our dedication to social responsibility."
---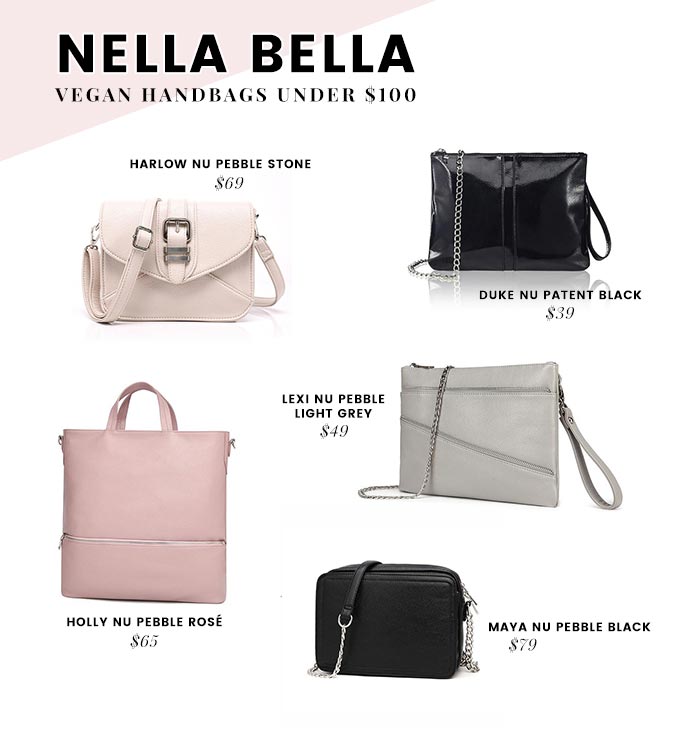 Nella Bella Vegan Handbags
Nella Bella is a Canadian-based and PETA-approved vegan handbag brand. None of Nella Bella handbags contain animal skins, they use eco-friendly materials to ensure you not only look good while rockin a Nella Bella bag, but you also feel great doing it!
---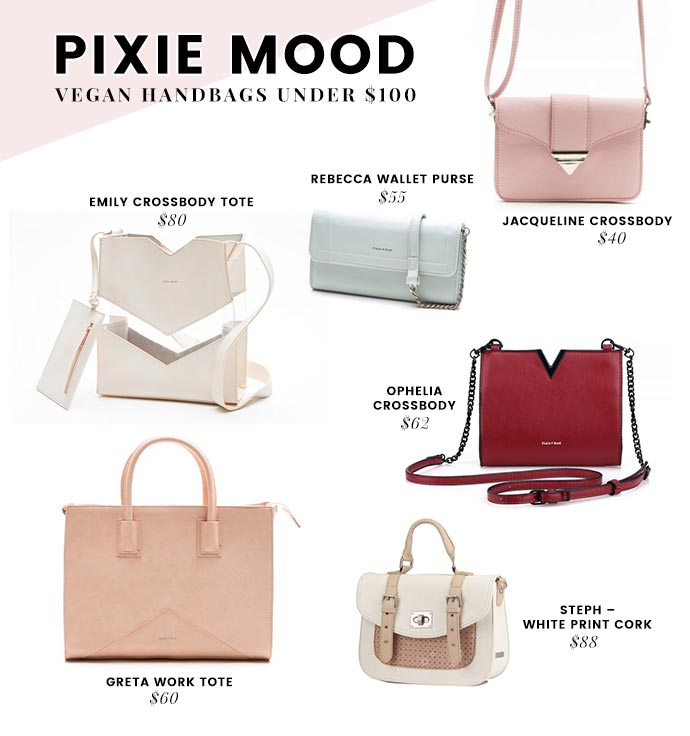 Pixie Mood Vegan Handbags

Pixie Mood is a Canadian PETA-approved vegan handbag brand. All of Pixie Mood bags are made from vegan leather (polyurethane) and cork materials.
Pixie Mood offers a range of beautiful, stylish, and functional bags, wallets, and accessories.
---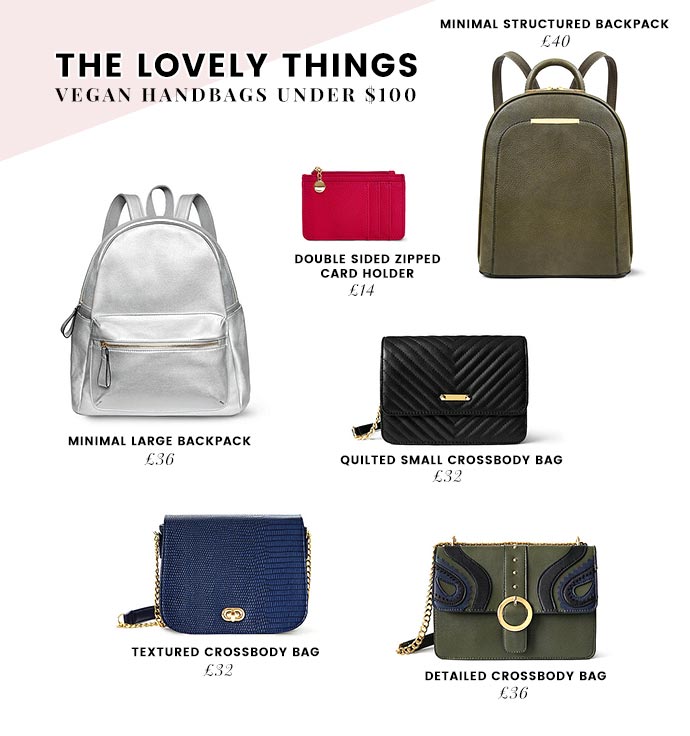 The Lovely Things Vegan Handbags

The Lovely Things is a UK-based vegan handbag brand that guarantees all of their stylish bags and accessories are animal-free, meaning The Lovely Things does not use leather, fur, silk, or wool!
---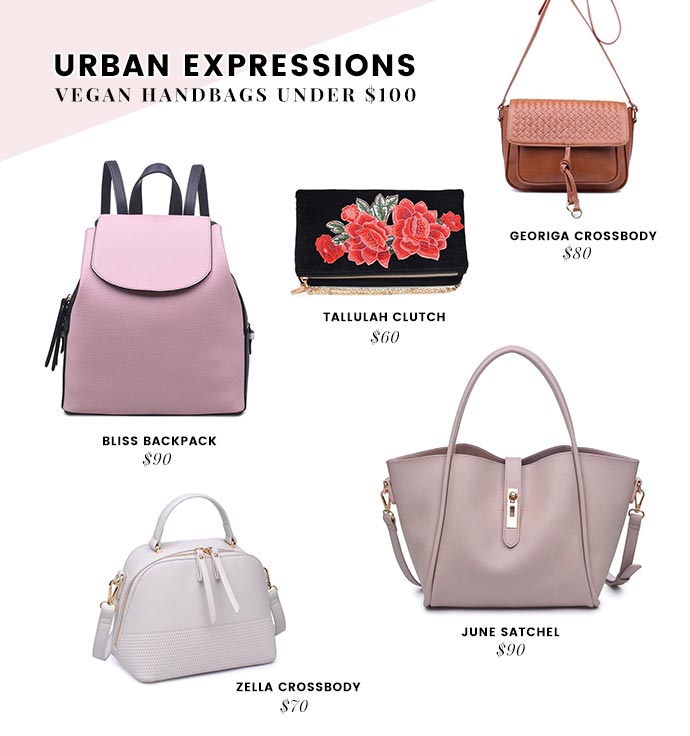 Urban Expressions handbags and accessories are PETA-approved and Vegan.org certified. Urban Expressions carries an extensive range of on-trend and unique vegan handbags including backpacks, wristlets, totes, belt bags, duffle bags and more!
---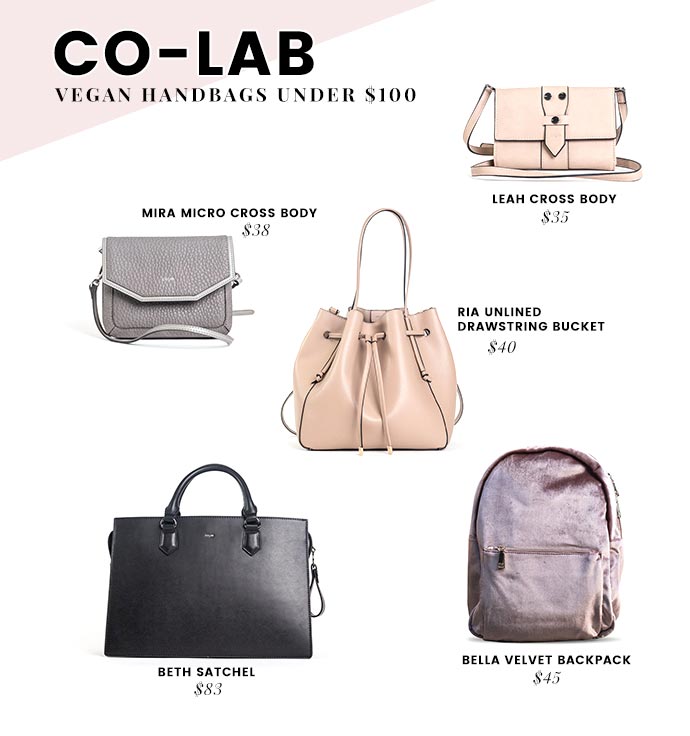 COLAB Vegan Handbags
COLAB handbags are made from PVC.
COLAB is a chic vegan handbag brand based out of Montreal, Canada where "each piece is created with beauty, simplicity & catered to the everyday girl."
---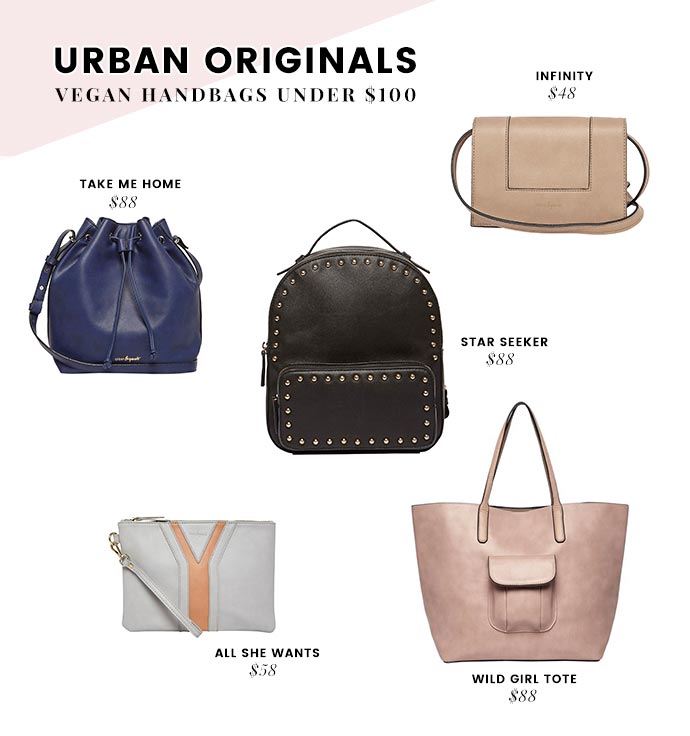 Urban Originals Vegan Handbags

Urban Originals is an Australian PETA-approved vegan handbag brand. Urban Originals handbags are animal-free and made from high quality vegan leather materials.
---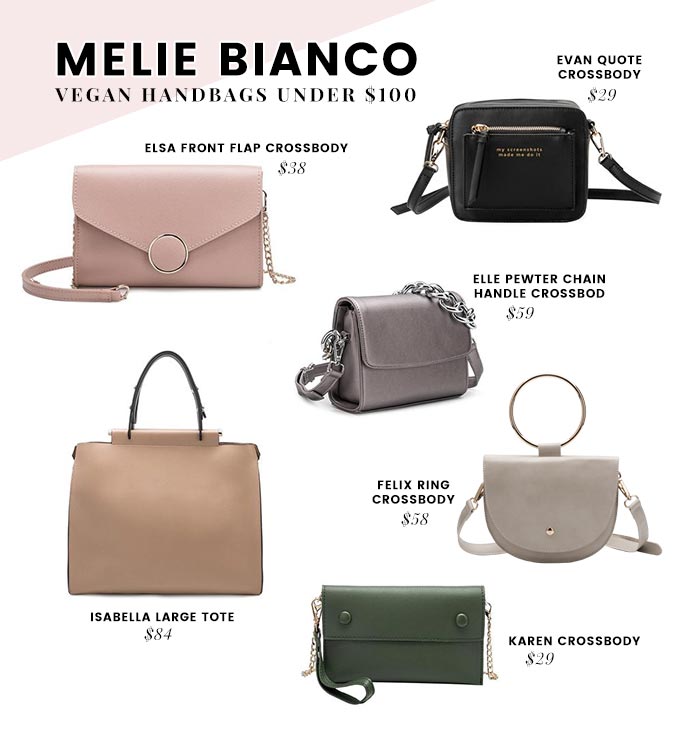 Melie Bianco Vegan Handbags

All of Melie Bianco handbags are vegan and designed in Los Angeles. Melie Bianco sweat-shop free handbags are made out of PU (polyurethane) for a look and feel that is very similar to animal leather but without the cruelty!
---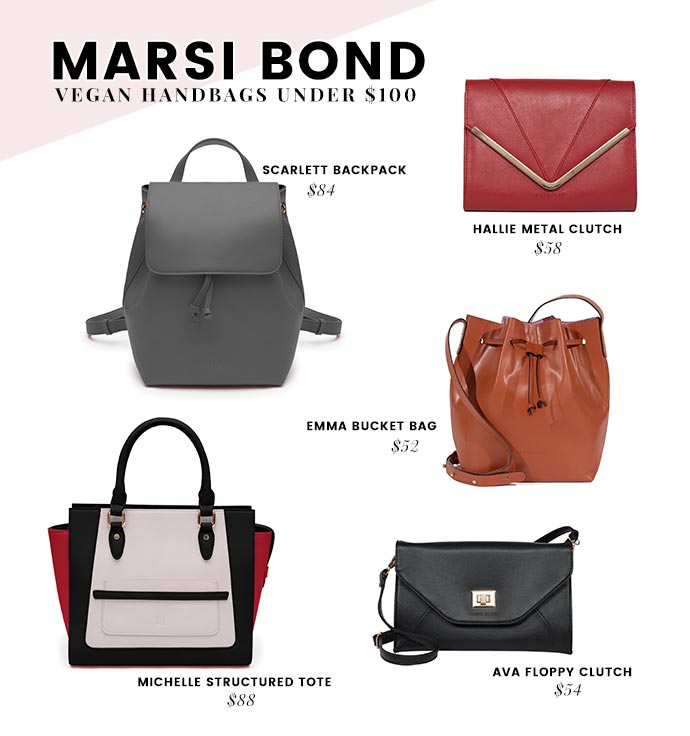 Marsi Bond Vegan Handbags

Based in Denver, Colorado, Marsi Bond is on a mission to provide customers with statement pieces – without the statement prices! All of Marsi Bond vegan leather handbags are fashion forward and eco-friendly.