This post may contain affiliate links that at no additional cost to you, I may earn a small commission.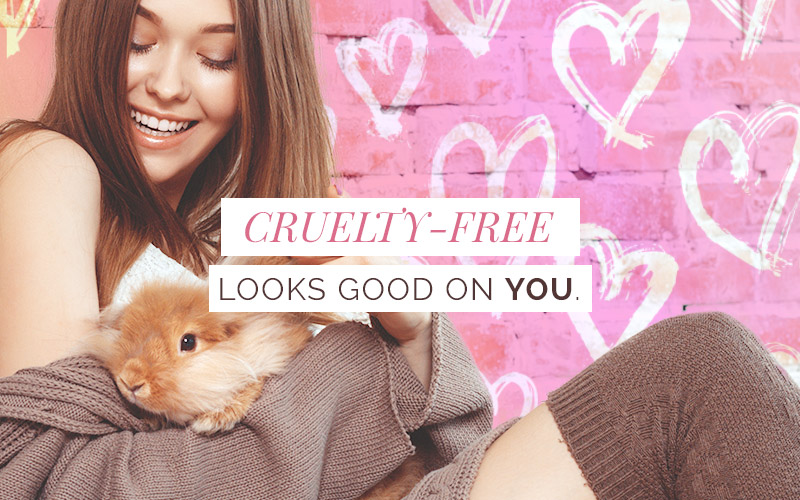 Animal testing for cosmetics stinks. But most people aren't aware that it's still happening and how millions of innocent animals are being blinded, poisoned, and killed every year for cosmetics and its ingredients!
So that begs the question, how can we help spread awareness about the atrocities of animal testing for cosmetics in a compassionate and creative way without subjecting ourselves and others with horrifying images and videos of helpless animals being tested on?
Well, my friends! I'm here to show you how we can use our creativity in order to help spread the cruelty-free message!
Some of these ideas can even earn you some extra dough, which you can use to help fund your cruelty-free shopping obsessions or you can donate your earnings to a non-profit of your choice!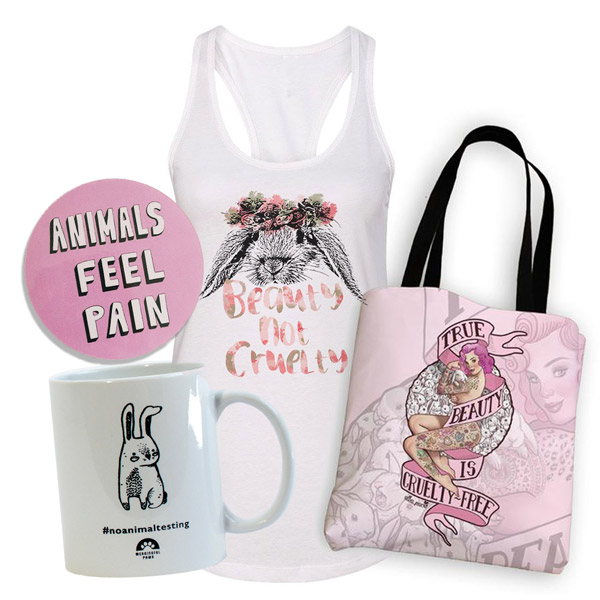 1. Design some cruelty-free apparel or merchandise
If you're artsy or know your way around Photoshop, you can design some cruelty-free merchandise to sell (or give away!). You can get your designs printed on a t-shirt, mug, jewelry, or as simple as a sticker.
Online marketplaces, like Etsy or Redbubble, lets anyone with a reliable internet connection to instantly start designing and selling apparel & merchandise right from their home!
2. Draw for the movement!
@thefuzzydot on Instagram creates adorable doodles about animal-related issues and they sometimes incorporate cruelty-free products into their doodles! Such a creative way to use one's artistic abilities to spread awareness!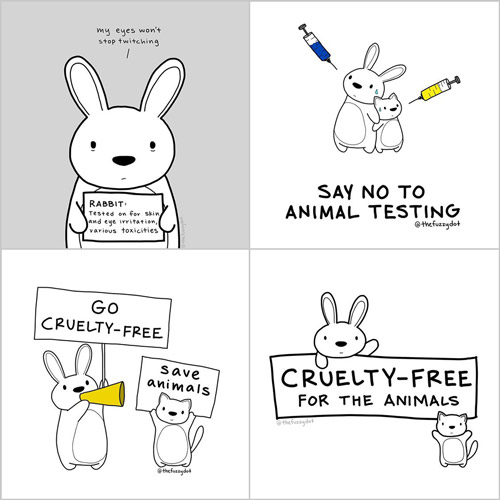 3. Start a Blog
I know what you're thinking, does the world really need another blog?? YES!! But not just any blog, we need more blogs writing and spreading the cruelty-free message!
Whether it's a CF beauty blog, an online CF resource, or even just a Tumblr page sharing all the awesome CF stuff you come across. We all have different tastes and preferences so there's bound to be someone who likes what you like, why not create a blog to connect with your peeps?!
4. Write as a Contributor
Starting your very own blog may be a little too ambitious for some, so you'll be happy to hear you can easily be a contributor to an already established platform. Natacha Cole has contributed a series of entries to the Huffington Post Canada talking about animal testing for cosmetics in Canada. See Natacha Cole's work, here
5. Volunteer
The idea of volunteering for a non-profit isn't anything new or creative but you might be able to land a really cool volunteer opportunity like oh, I don't know.. dressing up as a bunny and walking around downtown Vancouver! Can you tell which one is me?! =) You can check the video of the campaign here!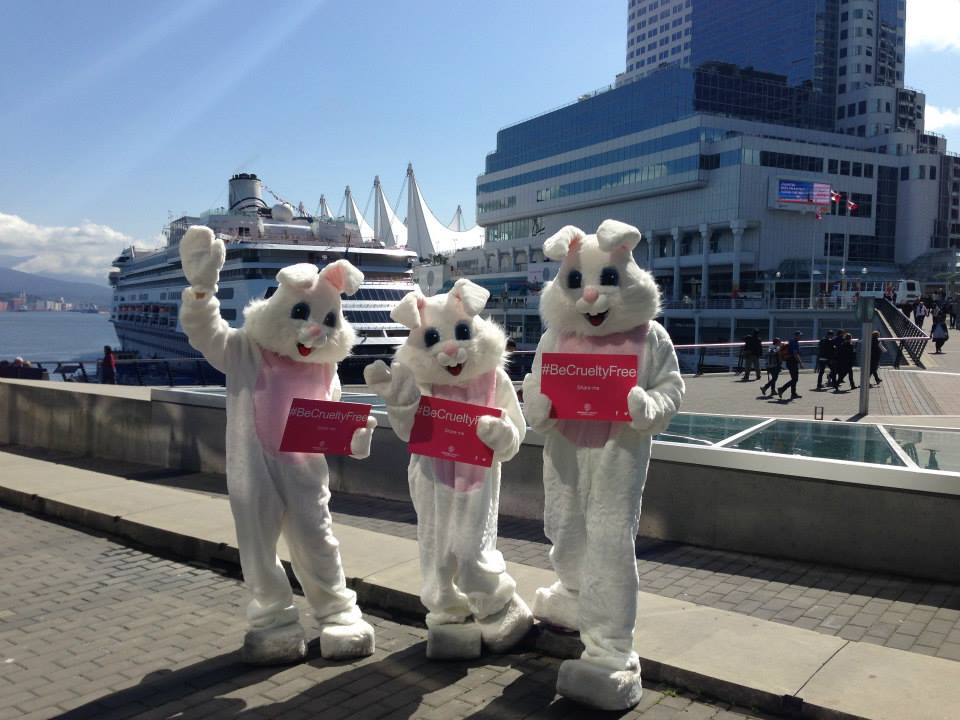 6. Start a Youtube Channel
Although it feels like there's a gazillion Youtube videos out there but there isn't one in your unique voice! All of us in the cruelty-free community may be sharing the same message but we could use your unique voice to capture a wider or different audience!
Speak another language? A parent with a child who is passionate about cruelty-free lifestyle? Dude that's into CF cosmetics? Think about the endless possibilities!
7. Do a school project or report to raise awareness!
If you're in school, there's always an opportunity to write a report or do a presentation about the issues of animal testing. I remember in my Advertising course, someone brought in an anti-fur advertisement and that started a class discussion about wearing and buying fur!
I also remember in another course of mine, a classmate did a presentation about the business of shark fin soup! A topic that I knew very little about at the time and at the end of the presentation, I was protesting against every restaurant that was serving shark fin soup!
8. Use your photography skills
People often forget or disregard that animals are sentient beings, capable of feeling love and pain. But we all just need a little reminder, and I find the best way to show that is through a beautifully captured photo! Animal activist and photographer, Jo-anne McArthur has dedicated her life to doing just that. You can also do the same by taking photos of your own pets, like this photographer capturing photos of his adorable rescued bunnies!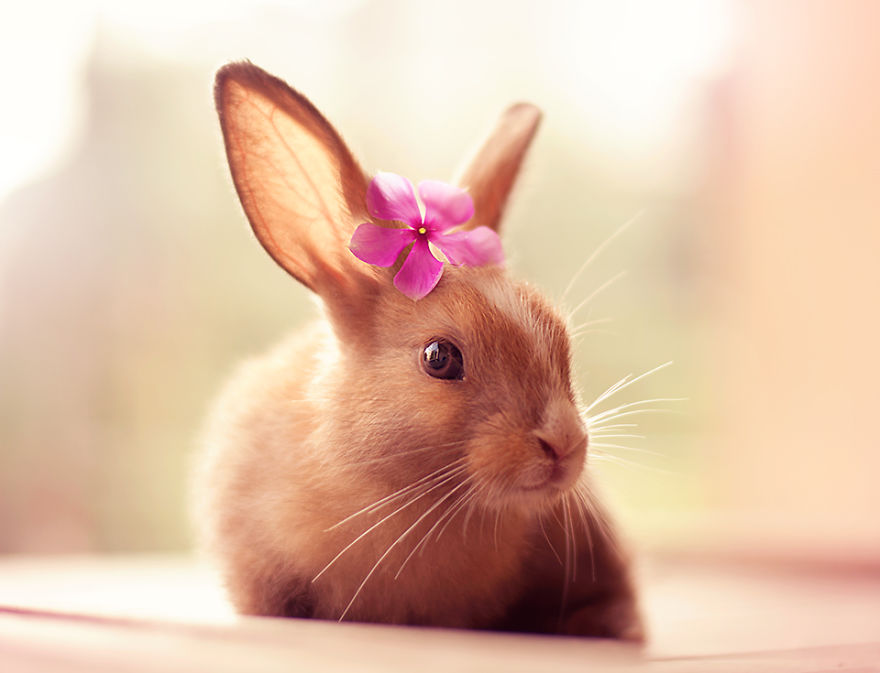 9. Start your Own Campaign!
If you enjoy creating and executing projects, then starting your very own campaign may be just what you're looking for to help animals in need!
I did this when I was tired of waiting around for some volunteer opportunity to become available. I started a cruelty-free campaign where we designed and printed some awesome reusable grocery bags so shoppers can use the cruelty-free guide when they're at the store!
We handed out the bags with tons of information and asked people to sign the petition to end animal testing for cosmetics in Canada!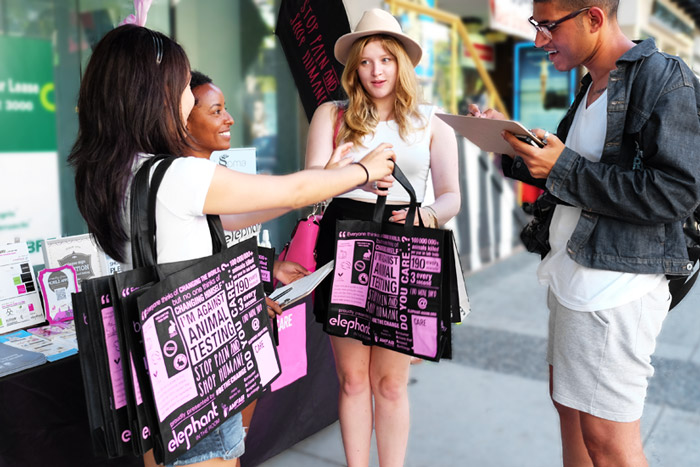 But you don't need to go that BIG! Erin from Cruelty-Free Goddess created her own online campaign, urging compassionate consumers to simply take a selfie sporting a cruelty-free orange lipstick! What a simple yet effective way to spread awareness for animals!
---
I'd love to know, what are some creative ideas or things you do to help animals in need? Please share your story below in the comments!