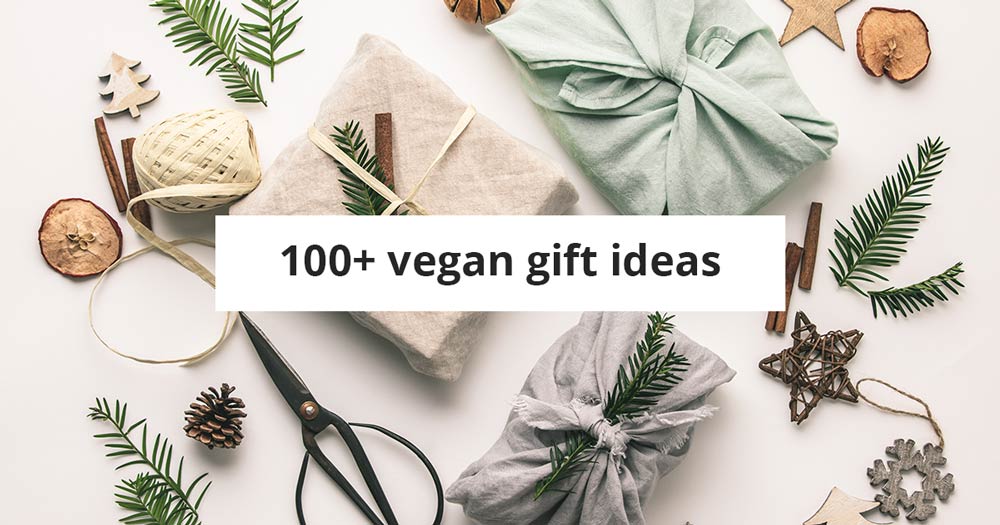 Whether you're vegan yourself or looking for a gift for a vegan this Holiday season, here is an utlimate list of over 100 awesome vegan Christmas gift ideas.
In addition to all of the items not containing any animal ingredients or materials, most of these gift ideas are also eco-friendly and sustainable. So they're better for people, the animals, as well as, the planet!
Gifts That Are
Not

Vegan:

Let's first start by listing what's not vegan and items that should be avoided:
Food and beverages that contain meat, seafood, dairy, eggs, or bee-products. Watch out for candies that contain gelatin and wine clarified with egg whites or isinglass.
Clothes, shoes, or accessories made from animal materials like leather, suede, fur, shearling, sheepskin, wool, cashmere, down, and silk. That includes wool scarves/hats, watches with leather straps, and silk pajamas.
Beauty products that were tested on animals or that contain animal-derived ingredients or by-products like carmine, lanolin, keratin, honey, beeswax.
Home decor & furnishings made with animal materials like wool throws, down and feather-filled pillows and duvets, silk bedding, and leather chairs. Also, watch out for candles made with stearic acid or beeswax.
Note that this is not a complete list of non-vegan items, but it's enough to get you started on the basics. And if you ever find yourself not sure if something is vegan, try searching "is ___ vegan?" into Google. There's surely someone else that has asked the same question before you.
Now, let's get into the list of 100+ vegan Christmas gift ideas!
Quick Links:
For ease of browsing and navigation, I've categorized the list of vegan and eco-friendly gift ideas into sections. Click to jump to the corresponding sections.
Vegan Christmas Gifts for Him
Some sustainable and vegan Christmas gift ideas for the men in your life.
---
---
---
---
---
---
---
---
---
---
---
---
---
---
Vegan Christmas Gifts for the Homebody
Technically, we're all homebodies lately. So here are some cozy vegan gift ideas to making staying-at-home a little more enjoyable.
---
---
---
---
---
---
---
---
Vegan Christmas Gifts for the Vegan Fashionista
For the trend-setting compassionate fashionista in your life.
---
---
---
---
---
---
---
---
---
---
---
Vegan Christmas Gifts for The Vegan Home Cook
For the ones that loves to cook & bake the best plant-based and vegan dishes.
---
---
---
---
---
---
---
---
Vegan Christmas Gifts for Your Bestie
Not sure what to get your partner-in-crime this season? Times may certainly be different this year but thank god we have our BFFs to get us through this. Here are some vegan Christmas gift ideas for the ones that's got your back 24/7.
---
---
---
---
---
Vegan Gift Exchange Ideas
Gift exchanges and swaps can be difficult as a vegan as you want to get something that everyone else would enjoy but that's also not wasteful like novelty gifts that never get used. So, here are some great vegan Christmas gift exchange ideas.
---
---
---
---
---
Vegan Christmas Gifts for the Ethical Entrepreneur
For the eco-CEO running on plants and coffee, here are some vegan Christmas gift ideas to help the ethical entrepreneur stay organized & inspired.
---
---
---
---
---
Vegan Christmas Gifts for Moms
Finding a gift for moms and mothers-in-law are always the hardest. They have just about everything they need so anything you get them is just a luxury. So, here are some luxurious vegan Christmas gift ideas for our moms.
---
---
---
---
---
Vegan Christmas Gifts for Moms-to-be & Baby
Not sure what to get an expecting mom for Christmas? Here are some eco-friendly gift ideas to get you started!
---
---
---
---
---
Eco-Friendly & Vegan Stocking Stuffers
Some eco-friendly stocking stuffers that are actually useful. Perfect for those wanting to make the switch to green and eco-conscious products!
---
---
---
---
---
---
---
---
---
---
---
---
Vegan Funny Christmas Gifts
Looking for a funny vegan Christmas gift idea? I've created a list of some laugh-out-loud, hilariously clever vegan gifts before, and here are some of my faves for this season.
---
---
---
---
---
Vegan Christmas Cards
We may not be able to gather like we used to, so why not send your best wishes with a vegan season's greeting card? Etsy has some of the best designs and prints, you can also personalize them! Here are some of my top picks.
---
---
---
---
---
---
---
Well, that's it! You've made it to the end. I hope this ultimate list of over 100 vegan Christmas gifts gave you some inspiration or ideas on what to get this holiday season!